Figueira da Foz:
Start & End: Figueira da Foz railway station.
Duration: 1 day.
Walking distance: 15 km.
Orientation: Beaches, modern architecture, promenades, salty air breathing, a lot of walks. A city with a lot of untapped potential. Very little past and history relics but, probably, a bright future.
Note: In Figueira street signage does not exist or is not clearly visible in many cases. We use, in this itinerary, as placeholders, in buildings or easily visible objects instead of street names.
The train from Coimbra leaves from Coimbra B station. There is one train every hour. Check exact times in the CP.PT web site. The ride takes 75 minutes approx. The morning trains are at: 08.54, 09.54, 11.54, 12.54. The return trains (Figueira->Coimbra) are at: 14.58, 15.58, 16.58, 17.58, 19.58 and 21.58.
Figueira is located 40 km west of Coimbra, at the mouth of the Mondego River, and sheltered by hills (Serra da Boa Viagem). The city proper has a population of 46,600. It is the second largest city in the district of Coimbra. It is a coastal city with several beaches, summer and seaport facilities on the Atlantic Ocean coast. As a tourism city, it plays an important part in the centre of the country. With its old and renowned casino (Casino da Figueira), the marina, several hotels, restaurants and other tourist facilities, Figueira is actually a very important Atlantic beach resort, in the center of Portugal's Silver Coast/Costa de Prata tourism region. Its fabulous beach attracting a vibrant holiday crowd throughout the summer. Figueira da Foz has a Mediterranean climate characterized by mild, rainy winters and dry, warm summers. In the summer afternoons moderate to (occasionally) strong north-westerly winds are common. It is quite probable that you'll feel breeze along your visit in the city. Most summer visitors, however, are here for the enormous sandy town beach which is 2km long and very wide. Waves here can be pretty huge, making it a popular spot for surfers, who also frequent the nearby Praia do Cabadelo, on the other side of the Rio Mondego. At the southern end of the beach are the remains of an old sea fort, Forte de Santa Catarina, and the Mercado Municipal, good for fresh produce as well as beachwear, lace, embroidery and other crafts. Out of season, the place has a lonelier charm, but come here in summer and things are upbeat, with sizzling bodies and candy-striped beach huts filling the beaches (mainly, in Augusts).
From Figueira da Foz railway station walk west to Rua de Republica - a central shopping street. Walk along Rua de Republica westward - when Rio Mondego is on your left. You'll see the river only after 15 minutes walking along the Rua de Republica. Cross Rua de 10 Agosto and continue walking until you arrive to a pleasant square, on your left - Largo Doutor Nunes - with a simple metal sculpture. Here Rua de Republica ends and continues with Avenida Foz do Mondego:

On your left a small commercial depots pier/port (Porto de Figueira da Foz) and on your right - a lighthouse. Continue walking west - when on your left is the Marina and on your right - you'll see a white house in a Moorish/oriental style:
Our walk westward, from now, is along a splendid, elegant, tastefully designed promenade paved with typical Portuguese pavement. The Marina reception is on our left. On your right a lighthouse and the old city walls. The Marina of Figueira da Foz is located on Avenue of Spain, at the edge of the River Mondego. It has floating platforms with a capacity of 200 points mooring for boats up to 15 meters and a pier for boats above. It is equipped with numerous facilities dedicated to mariners as repair shop hulls and engines, fuel, water, stores, bars, restaurants, etc:
On our right an entrance to a park and a sculpture:
Further west, we pass Skqiper Bar on our left. Here, starts a brown asphalted track for cyclists. There is a new, impressive regeneration project for the river/sea front including: piers, snowboard spaces, trees plantations. You'll observe young pine trees just planted all around. In this section the Mondego river connects with the Atlantic ocean:
We arrive to the first formal ocean beach. Here it is quite tiny and limited:
A few minutes of walk further to the west and a little surprise on the beach - exactly where the river and the ocean merge together. A statue of Peace Run founder Sri Chinmoy on the beach where the Mondego river meets the Atlantic ocean. Figueira Da Foz has a rich history with the Peace Run and World Harmony Run organization and projects. Through the pose of this statue—with Sri Chinmoy's hand on his heart and passing the Peace Torch like this - he is spreading the peace to others In a world where peace is sorely lacking. Sri Chinmoy was a man who dedicated his entire life to the cause of peace. He served the United Nations for 37 years related to programmes whose goals were to spread the message of peace. He found in running one of the best ways to foster peace:
The statue in the evening light: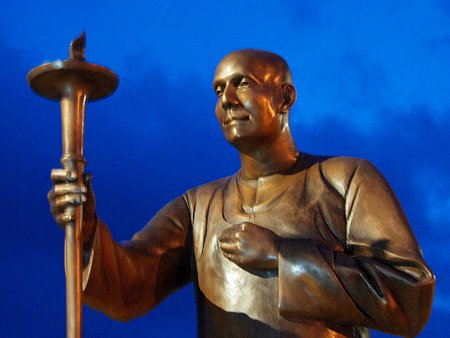 We return to the north side of the Avenida Espanha - to the Fortress and Chapel of St. Catherine and the city walls. The Fort of Santa Catarina form part of the coastal defense elements, along with the Fortress of Holes and Fortim Palheiros, its function being to defend the entrance of the river Mondego. Its construction began in the sixteenth century is located on Avenue of Spain. It has a triangular shape and within its walls are the Chapel of Santa Catarina, in the quadrangular highlighting its dome and the image of Santa Catarina eighteenth century, and faro courtyard. The entire set is classified as Public Property of interest since the year 1961:
From here we change direction and head, now, to the NORTH along the sea/ocean shore. The Avenida Espanha street changes its name to
Avenida 25 de Abril. On your right - there is a gorgeous square or lake, with wood decks, sculptures and manicured grass and flower-beds. In the background - Figueira houses:
Walk north along Avenida 25 de Abril. On your right shops, cafe's, hotels and residence complexes with view over the ocean and on your left - a clock tower with a flag of Portugal:
Torre do relógio:
Avenida 25 de Abril changes its name to Avenida do Brasil. You pass, on your right the following hotels: Atlantic, Mercure, Costa de Prata, Eurostars. The beach, on your left, is with crystal-clean white sand and it is quite large and spacy. more northward the white sand is replaced by fallows - but then the access to the seashore is through wooden bridges and decks.
I had lunch at Restaurante Por do Sol in Av. do Brasil 184. See Tip below.
From here, more or less, we slightly change direction and we walk along the sea-shore which heads, now, north-west. Avenida Brasil ends in a wide-space square: Rotunda de Pescador - with an extensive pond and impressive sculpture of a fisherman. Opposite - entertainment park. Here, Avenida Brasil changes its name to Avenida Infante Dom Pedro:
Now we are in Buarcos. It is a traditional fishing town that has grown also as a noted beach resort due to the calm waters of its sea, which is protected by the Boa Viagem small mountain range (Serra da Boa Viagem). Many of its inhabitants still work in the fishing industry but tourism is also an important activity. It has many seafood restaurants and bars. With view over the bay and the extensive beach, Buarcos is now considered a suburb of the city of Figueira da Foz. Rotunda dos Navagantes - houses No. 70-74:
On the tiny pebbled promenade stand a wooden boat and several wood cabins:
Opposite the beach you can enter the local museum of the Bacalau (Bakala fish) or, with its formal name, Núcleo Museológico do Mar, Rua Governador Soares Nogueira, 32 Buarcos. I felt this museum is doing its first steps in consolidating its self-identity - although the exhibitions and artifacts, inside, gained several years of reputation and support:
Buarcos singer - 1933 - Núcleo Museológico do Mar:
We continue along the Praia de Buarcos (beach of Buarcos) until we arrive to Praça Mar Português:
This is the last point we see the ocean from a distance of metres. We turn, now, into the heart of modern Figueira da Foz - looking, in-depth in its residence suburbs, architecture and its commerce and habitation pulses. We turn right to Rua de Cima. Here is a picture of typical house:
Turn right (2nd. turn) to Rua Torre Eiffel. Then, left to Travessa da Torre Eifel. We are still in Buarcos. On your left a small church - Casa N. Srª dos Navegantes - the religious centre of Buarcos residents:
Turn left (east) to Rua S. Pedro. Look at the ceramic tile in house No. 68:
The ocean beach is not far from us, on our right (south). We cut to the south (right) in one of alleys (that diverge from Rua S. Pedro) - and arrive to Rua 5 de Outubro. We see the ocean, but, again, leave it on our back. We returned to the Rotunda dos Navigantes and, on our left is the Mercado Municipal. It is an interesting place during the morning hours. Now, presumably, during the afternoon hours - it is almost closed. Continue along Rua 5 de Outubro. Passing Largo Buarcos on our right - we arrive to a large intersection of 5-6 roads. Take the steepest road (...) and climb along Rua Rancho das Cantarinhas. In the beginning of this street you'll see (on your right) a pillar with names of various countries and on your left - a big palm tree. Along your climb - you see many nice-looking housing complexes (Condominios). They look, partially, empty and deserted. In the end of your climb, on the left, Pingo Doce supermarket:
On your right - you can see, among the high apartments towers, the Palacio Sotto Mayor - the main landmark of Figueira da Foz. The Palace is open to visitors, most of the year, ONLY by appointment and only for groups. See how the situation is today, before heading up there !. Beautiful gardens and a fantastic architecture. It is a Private property, was built by Joaquim Sotto Mayor in the early century. XX. It is a luxurious French-style villa, designed by Gaston Landeck, with sumptuous façade, integrating ample green space around. For interior decoration the designers hired some of the best artists of the time: Dordio Gomes, Joaquim Lopes and António Ramalho.
In case - you give up: skip the following lines. The palace is located in Rua Joaquim Sotto Mayor which diverges right (south) from Rua Rancho das Cantarinhas. You can try to arrive to Palacio Sotto Mayor by turning RIGHT in the last intersection of Rua Rancho das Cantarinhas, before its end in Rotunda Engenheiro Coelho Jordão.
Anyway, when you arrive to a cross-lights in Rua Rancho das Cantarinhas - DO NOT TURN RIGHT. Continue direct (with the signposts pointing to Porto, Lisboa, Coimbra) until the end of the street - arriving to Rotunda Engenheiro Coelho Jordão. On your left Parque de Campismo. Turn right to Avenida de 1 Maio. On your right - Pavilaho Galamba Marques. Further, on your right soccer pitch. In the end of this street - you arrive to Rotunda 31 de Janeiro (a square with a sculpture). Turn and climb LEFT to Rua Doutora Cristina Torres. Cross two squares (the second is Rotunda Doutor José Nascimento Costa) and continue along Avenida Amália Rodrigues. This street slopes down. You get nice view on part of Figueira and on your right and left empty fields. Be careful. Several small sections without pavements. You arrive to Rotunda Maria Clara. Turn right to Avenida Bissara Barreto (?) or Avenida Dom João Alves (?) and in the next square - take the most right road, a narrow commercial road, when, on your right is the Centro do Actividades. On your left - a parallel street: Ladeira Várzea. In the next square bend right - to face, in front of you - the railway station (you have to pass, first, the buses stations - before arrival to the railway station).