Duration: 1 day. Hundertwasser House, Village and Hundertwasser Museum (Kunst Haus) 1/2 day and The Prater + way to Donaustadt - 1/2 day.
Tip 1: Hundertwasser sites.
Tip 2: The Prater (old fashioned fun), Messe Wien, St. Francis of Assisi Church (Kirche zum heiligen Franz von Assisi), Mexikoplatz, Reichsbrucke (Empire Bridge), the way to Donaustadt (Danube City).

Distance: The two parts: 6-7 km (2.5 km. + 4 km.).

Hundertwasserhaus, Kegelgasse 36-38, Vienna:
Transportation:
From the Landstrasse U-Bahn station - it is 900 m. 12-15 minutes walk:
Head south on Bahnhof Wien-Mitte toward Landstraßer Hauptstraße, 15 m. Turn left onto Landstraßer Hauptstraße, 73 m. Turn left onto Invalidenstraße, 200 m. Turn right onto Marxergasse, 270 m. Turn left onto Seidlgasse, 96 m. Turn right onto Kegelgasse. Hundertwasserhaus is on the right.
From the Rochusgasse U-Bahn station it is 950 m. , 12- 15 minutes walk:
Head northwest on Karl-Borromäus-Platz toward Sechskrügelgasse, 35 m.
Turn right onto Sechskrügelgasse, 160 m. Slight right onto Landstraßer Hauptstraße, 48 m. Continue onto Rasumofskygasse, 450 m. Turn left onto Löwengasse, 220 m. Turn right onto Kegelgasse. The Hundertwasserhaus is on the right.


The Hundertwasserhaus is an apartment house in the Landstraße district on the corner of Kegelgasse and Löwengasse. Built after the idea and concept of Austrian artist Friedensreich Hundertwasser with the cooperation of architect Joseph Krawina. This brightly-painted, natural apartment block with a forested roof & balconies is the expressionist Artist's main creation and is a famous landmark of Vienna. The house catches the eye with its colorful tiling, mosaics, turrets, columns and onion shaped spires.
The building is locked and you may not get inside. As it is residential you cannot go inside. The building contains a cafe and a little shop. Just walking around the house is worth a visit in itself.
Friedensreich Hundertwasser (1928–2000) was an Austrian painter, architect, and sculptor best known for his architecture characterized by colorful, ornamental, and irregular morphic shapes. He initially gained acclaim for his paintings, but later became more renowned for his unique, avant-garde, surrealist architectural styling. Hundertwasser's architectural style is often compared with those of Antoni Gaudi. In contrast to Gaudí, Hundertwasser used symmetrical mosaic stones, very carefully arranged.
Inspired by the Vienna Secession movement, especially the work of Austrian painters Egon Schiele and Gustav Klimt, Hundertwasser incorporated his decorative, labyrinthine spirals into his paintings, architecture and designs for postage stamps and flags. He developed his own theory of "Transautomatism", which was inspired by the Surrealist concept of automatism (painting or drawing without conscious self-censorship), and sought to loosen the rigid rules of conventional art to emphasize the viewer's experience.
Born Friedrich Stowasser in Vienna, he became one of the best-known contemporary Austrian artists, although controversial, by the end of the 20th century. In 1948 Friendensreich Hundertwasser studied at the Vienna Academy of Fine Arts for 4 months. A year later he changed his name to Friedensreich Hundertwasser. His adopted surname is based on the translation of "sto" (the Slavic word for "one hundred") into German. The name Friedensreich has a double meaning as "Peaceland" or "Peacerich" (in the sense of "peaceful"). The other names he chose for himself, Regentag and Dunkelbunt, translate to "Rainy day" and "Darkly multicoloured". His name Friedensreich Hundertwasser means "full-of-peace hundred-water".
From 1949 to 1952 he undertook many journeys to North Africa and Paris, where he started to deal with the paintings of Gustav Klimt, Paul Klee and others. In the 1950s, Hundertwasser began designing architectural projects. These designs use irregular forms, and incorporate natural features of the landscape. Hundertwasser married Herta Leitner in 1958 but they divorced two years later. He married again in 1962 but was divorced by 1966. By this point he was very popular with his art.
During the late 1960s he gave a series of attention-grabbing naked speeches advocating for an individual's right to construct his or her own house. Hundertwasser's father Ernst Stowasser died three months after his son's first birthday. The Second World War was a hard time for Hundertwasser and his mother Elsa, as she was Jewish. They avoided persecution by posing as Catholics, a credible ruse because Hundertwasser's father had been a Catholic. To remain inconspicuous, Hundertwasser joined the Hitler Youth. In 1962 Hundertwasser had his international break through at the Biennale in Venice. Around this time he also made ideological statements, with his famous nudist speeches and his call for peace, ecology and new forms of architecture. Not unlike the artists of the Session Movement, he saw art as a decoration. Hundertwasser got even more famous as an architect. From 1986 to 1991 he planned and realized different buildings, like the Hundertwasser Haus and the front of the waste combustion Spittelau. Hundertwasser was buried in New Zealand after his death at sea on the RMS Queen Elizabeth 2 in 2000, at the age of 71.
As Hundertwasser's reputation spread, more commissions arrived, including buildings as diverse as a church in the south of Austria, the railway station in Uelzen, Germany, a winery in the Napa Valley, California and the Hundertwasser toilet in Kawakawa. Hundertwasser's revolutionary architectural ideas also include topping buildings with trees and areas where animals can graze, and creating floor surfaces that are unleveled. His radical philosophies and outrageous antics attracted considerable attention from the public. Hundertwasser was against monotonous architecture, and called for a boycott of architecture with straight lines, and demanded instead creative freedom of building, and the right to create individual structures. He wrote manifestos and essays and organized demonstrations.
Hundertwasser house is one of Vienna's most popular sights and was built 20 years ago as part of the city's community housing project. Many of its tenants have moved in on opening and enjoy its beauty, its originality and its comforts. The Hundertwasserhaus apartment block in Vienna is his most famous creation. This building has undulating floors, a roof covered with earth and grass, and large trees growing from inside the rooms, with limbs extending from windows. He took no payment for the design of Hundertwasserhaus, declaring that the investment was worth it to "prevent something ugly from going up in its place".
Opening Hours: The café is open daily from 10.00 to 18.00.
In 1985 an English telephone booth was installed in front of Hundertwasser House, which Hundertwasser himself had imported from England. For Hundertwasser the English telephone booth was more in accordance with his architectural design of the house and its surroundings as well as with his architecture philosophy in general. The Austrian telephone booths at that time for him represented the ugliness of straight lines and the grid system. The telephone booth at Hundertwasser House was rebuilt in summer 2013. Also the floor tiles inside were newly laid: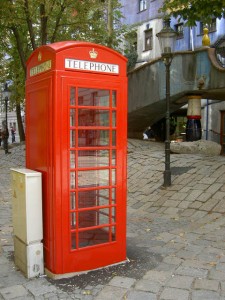 The Hundertwasser and Kalke's 'Village' is located opposite 'Hundertwasserhaus' and reflects the same ideas of interior design. The concept was not to tear down and demolish - but to rebuild and change concepts. The 'Village' was an old horse stable turned into petrol station and tire workshop owned by Kalke who worked with Austrian artist Friedensreich Hundertwasser to turn it into "the village. The Hundertwasser Village opposite is, basically, a commercial complex with souvenir shops and overpriced coffee bars. For 80 cents you can visit the tiled toilets (which a long queue of camera-toting Japanese tourists were all doing). The toilets ARE worth an 80 cents visit, if you need, or almost need, to go. The official Hundertwasser information centre and shop is opposite the village in the complex itself and has much more interesting and relevant fare: information books, posters etc:
Not far from Hundertwasserhaus, four blocks north at Untere Weisbergerstrasse 13, is the KUNST HAUS WIEN, Museum Hundertwasser, Untere Weissgerberstrasse 13. It is 350 m., 5 minutes walk. From the 'Village' head east on Blüteng. toward Untere Weißgerberstraße for 25 m and turn left onto Untere Weißgerberstraße. This Museum is the world's only permanent exhibition of Hundertwasser's works, and is a gathering place for Hunderwasser lovers from all over the world. This building was originally a furniture factory where the famous Thonet bentwood chairs were produced. Today it houses a permanent exposition of the artwork of Friedensreich Hundertwasser. Its facade has a design similar to that of the Hundertwasserhaus, but this time black and white colors dominate. The Kunst Haus Wien, as is typical of Hundertwasser houses, hardly a straight line is to be found here either. Changing exhibitions of other artists are also shown on around 1,600 square meters of exhibition space. The Hundertwasser Museum in the Kunst Haus Wien and the famous Hundertwasser House are not only recommended as places to visit for guests of Vienna who are interested in art, but also invite everyone to go on a fantastic journey through the architecture and art of Friedensreich Hundertwasser.
it is worth a visit and one who loves art needs to plan on spending at least two hours exploring because at each spot you start to say wow that is an interesting way to see the world ! This is a must see!. Believe me, you'll easily get the "Alice in Wonderland" feel in this museum and its (permanent and temporary) exhibitions.
Opening Times: Exhibitions and shop: daily, from 10.00 to 19.00 (the ticket office closes at 18.30). TIAN bistro: Sunday to Thursday from 10.00 to 19.00, Friday and Saturday from 10.00 to 22.00. (after 19.00 only the entrance at Weißgerberlände 14 is open). Opening hours during holidays: 24 December: 10.00 to 15.00, 31 December: 10.00 to 17.00.
Public Transport: U1 or U4 to Schwedenplatz, continue on tram 1 (direction: "Prater Hauptallee") to Radetzkyplatz OR U3 or U4 to Landstrasse/Wien Mitte, continue on tram O (direction: "Praterstern") to Radetzkyplatz.
Prices: Adults: € 10.00, Children up to 10 years: free, Children & young people 11-18 years: € 5.00, Families (2 adults, 4 children up to 18 years): € 22.00. Audioguide: € 3,- for the Hundertwasser exhibiton in English and German:
You start by having coffee in the café with its amazing interior and this is an experience in itself:
Some famed insights by Friedensreich Hundertwasser:
"Our real illiteracy is our inability to create"
"If we dont honor our past - we lose our future. If we destroy our roots we cannot grow":
Friedensreich Hundertwasser - The love is something, Venice, 1978:

Friedensreich Hundertwasser - Silent Flowers:
Friedensreich Hundertwasser - "This is the flag of God will. It is the flag of the promised land. The Arab mood is protecting the Jewish star":
Friedensreich Hundertwasser - "The horizontal belongs to nature, the vertical belongs to Man, the straight line is Godness":
Friedensreich Hundertwasser - "Spectacle on human face", Tokyo, 1968:
Friedensreich Hundertwasser - "Do not wait house more", Kyoto, 1980:
Friedensreich Hundertwasser - "Tennoy fly with hats", Kyoto, 1985:
Friedensreich Hundertwasser - "Goodmorning bleeding town", Venice, 1970:
Friedensreich Hundertwasser - "In Gamba" - Venice, 1989:
Friedensreich Hundertwasser - "Regentag on waves of love", Bayern, 1972:
Friedensreich Hundertwasser - "How do you do ? ", Venice, 1984:
Friedensreich Hundertwasser - "King Kong", Venice, 1968:
Friedensreich Hundertwasser - "The boy with the green hair", Paris, 1967:
Friedensreich Hundertwasser - "The garden of the happy deads", St. Moritz, 1953. Hundertwasser believed in equilibrium between Man and Nature, between the City and Nature and in ecological way of living as a key to piece among nations:

Friedensreich Hundertwasser - "Rain of blood falling into the garden", Kyoto, 1972. Hundertwasser's mother was Jewish and all her relatives were murdered by the Nazis. Hundertwasser, himself almost fell in their hands:

The backside of the gallery in Untere Weissgerberstrasse 13 faces the Donaukanal (Danube Canal) and once that you came that far, you should really take a look as well at the ship-station designed by Friedensreich Hundertwasser:
From the Donaukanal and the Kunst Haus, Museum Hundertwasser we head to the Prater. It is 20 minutes, 1.2 km. walk. Head northwest on Dampfschiffstraße toward Obere Viaduktgasse, 250 m. Turn right onto Franzensbrücke and continue along it, 600 m. Turn right onto Hauptallee, 22 m. Turn left toward Oswald-Thomas-Platz, 16 m. Turn left onto Oswald-Thomas-Platz, 14 m. Turn right to stay on Oswald, 40 m.
Turn left to stay on Oswald-Thomas-Platz, 90 m. Turn left toward Gabor-Steiner-Weg, 58 m. Turn left onto Gabor-Steiner-Weg, 3m. See Tip 2 below.