Bourton-on-Water, Batsford Arboretum (near Moreton-in-Marsh), Sezincote, Broadway Tower, Moreton-in-Marsh.

Main Attractions: Bourton-on-the-Water: High Street, Dragonfly Maze, Stow-on-the-Wold, Birdland Park and Gardens, The Model Village, Model Railway, Cotswold Motoring Museum.
Batsford Arboretum and Falconery, Sezincote House and Garden.

Broadway Tower, Moreton-in-Marsh.

Duration: 1 day. Transportaion: By bus: there are regular buses to Moreton-in-Marsh from Cheltenham Royal Well bus station (Stand E) on the 801 Pulham's Coaches service. Cheltenham Royal Well - Moreton - MON-SAT: 07:40 (M-F only), 08:40, 10:10, 11:40, 13:10, 14:40, 16:10, 17:10, 18:30. Moreton-in-Marsh - Cheltenham - MON-SAT: 06:50, 07:55, 09:15, 10:45, 12:15, 13:45, 15:00, 16:30, 17:40, 18:45, 19:50. Bus 801 Summer Sunday Timetable (May to September inclusive) From 7th May 2017: from Cheltenham Royal Well to Moreton Railway Station: 13:15, 17:00. From Moreton Railway Station to Cheltenham: 11:45, 15:30, 18:20.
Bus 801 itinerary: Moreton-in-Marsh – Stow-on-the-Wold – Bourton-on-the-Water – Northleach – Andoversford – Cheltenham Royal Well.
More information: http://www.pulhamscoaches.com/wp-content/uploads/2016/10/801-NEW_from-14th-November-2016-_Sue-edited.pdf
Planning ahead your day: plan your visit during the months May - September and ONLY on Thursdays or Fridays. ONLY during these times - you can visit the stunning Sezincote House and Garden. It is a 1 hour ride by the bus (quite a bumpy way) from Cheltenham to Bourton-on-Water. There, you can have a 1.5 or 2.45 hours relaxed stroll and catch the next bus continuing to Moreton-in-Marsh. From there it is an 30-45 minutes (2.5 km.) walk to Batsford Arboretum. From the Corn Exchange in High St, Moreton-in-Marsh you head south on Fosse Way/High St, 32 m. At the roundabout, take the 1st exit onto Bourton Rd and follow Bourton Road for 2.3-2.5 km. to see the Batsford Arboretum and Garden Centre on your right. On your way you pass the Moreton-In-Marsh Caravan Club site (600 m. from Moreton). In their office you can get more up-to-date information.
Bourton-on-the-Water is only 6 km. from Stow-on-the-Wold, and, is one of the most popular tourist spots in the region being serviced by the many shops, cafe's, and attractions. It, often, has more visitors than residents during peak times of the tourist season. Regularly voted one of the prettiest villages in England, Bourton on the Water has a unique appeal to visitors and residents alike, there is plenty to see and do with a wealth of attractions and shops, restaurants and tea rooms, or simply for you to enjoy some tranquil time by the River Windrush with its beautiful bridges throughout. It is known for its picturesque High Street, flanked by long wide greens and the River Windrush that runs through them. The small historic core of Bourton-on-the-Water along with associated areas along the River Windrush have been designated a UK Conservation Area. Walk along the river for a very rewarding and refreshing experience. The river Windrush that runs right through the centre of this lovely village, and the combination of the water with the honeyed stone, the low bridges and the weeping willows have a uniquely pleasing effect. The river is crossed by several low, arched stone bridges beside neat tree-shaded greens and tidy stone banks. These arched bridges have led to Bourton-on-the-Water being called the "Venice of the Cotswolds". Standing back from the river are traditional Cotswolds buildings, many of which are now tourist shops for the day-trippers and visitors. On the fourth Sunday of each month, there is a farmers' market. The Windrush was one of the rivers that burst their banks in the floods of 2007. Keep an eye on the weather. Since we stay in Bourton only very short time we stick along the High Street which is particularly picturesque with the River Windrush running through it with several pretty little stone bridges crossing. This walk makes use of the North Cotswold Diamond Way and the Oxfordshire Way to take you through the countryside to the nearby fishing lakes. You could also extend your walk by following the Windrush Way west along the river. The walk also passes Birdland (see below). It is, approx. 800 m. walk from the Primary School to the Birdland - all along the High Street (from north-west to south-east). We suggest you walking along the High Street (continuing as Rissington Road) the whole way to the Birdland (and the adjacent Dragonfly Maze) and, then, return (along Rissington Road) to the Model Village, continue south to the Windrush river and return along the river back north-west, passing the Tourist Information Office, arriving to the Motoring Museum and cutting back (north) to the High Street 801 bus station. There, catch the bus further to Moreton-in-Marsh: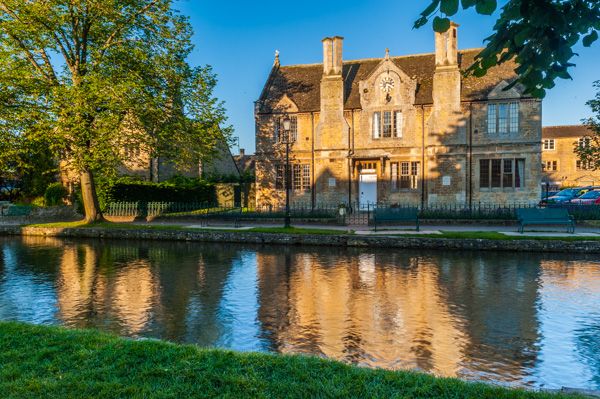 After walking the whole section of 800 m. along the High Street - you see, on your right and white and yeloow signs of the Dragonfly Maze. The Dragonfly Maze, designed by Kit Williams Dragonfly Maze - which comprises a yew maze with a pavilion at the centre. The object is not only to reach the pavilion, but to gather clues as one navigates the maze. Correctly interpreting these clues when one reaches the pavilion allows access to the maze's final secret.Constructed by Kit Williams of 'golden hare treasure hunt' fame. The maze deserves at least 45 minutes. It is NOT an easy task to decipher this maze. £3 per adult: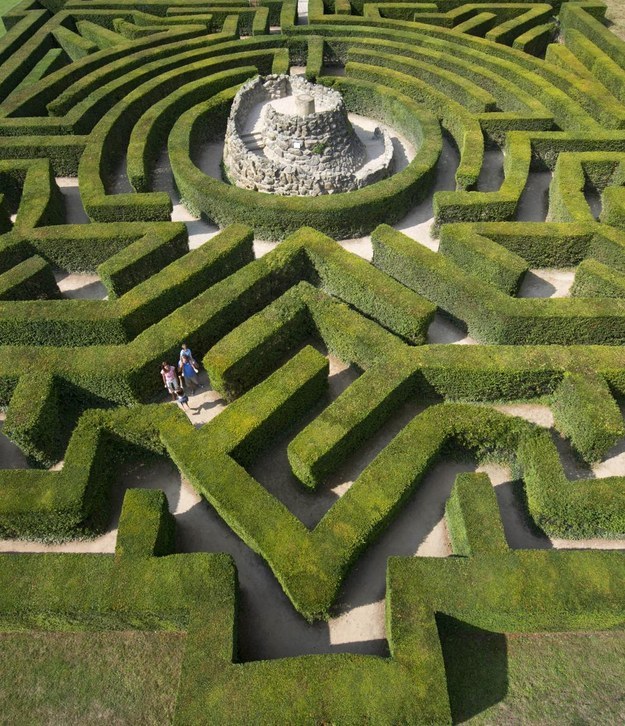 The Birdland Park and Gardens Is an authentic zoo for birds and is home to some of the most exotic and rare birds from around the world, including the only group of King Penguins in England. It has a remarkable collection of penguins, some of which have come from the owner's islands in the South Atlantic. There are bird-of-prey displays and a penguin feeding demonstration. It has, also, a large pond full of salmon which can be fed by the public. Getting up close to the exceptional collection of birds is all part of the experience. The majority of the birds are NOT kept within cages, it is nice to see them in the open. Open Daily: from 10.00 (Except Christmas Day), Easter – 2 November: 10.00 – 18.00, NOV – MAR: 10.00 – 16.00. Last admission one hour before closing. Prices: Adult £9.95, Child (3-15) £6.95, under 3s are free, Senior / Student £8.95. Book online and save 10%: https://birdland.digitickets.co.uk/tickets?_ga=1.22414078.450432006.1489910727
We return along the High Street back to the west and see the Model Village on our RIGHT (north). The Model Village is an excellent miniature of Bourton using authentic building materials depicting Bourton-on-the-Water as it was in 1937 at 1:9 scale. It was built by local craftsmen in the 1930s, and opened on the Coronation Day of King George VI and Queen Elizabeth1937. It, actually, replicates and depicts the village of Bourton - so, I do not know if it is worth the (quite low) admission fees: Adults £3.60, Children aged 3 to 13 £2.80, Over 60's £3.20, Under 3's Free. Open: every day (except for Christmas Day). Summer: 10.00 - 18.00, Winter: 10.00 - 16.00:
Bourton Model Village is famous for it's miniature bonsai type trees, which are carefully pruned to keep them to scale. The Bourton village itself also features a large range of evergreen miniature trees:
During the summer, a game of medieval football is played with goalposts set up in the River Windrush itself. Two teams play with a standard football, and a referee attempts to keep order. Crowds line the banks of the river, and the aim is to score as many goals as possible (while getting everyone else as wet as possible):
From the Model Village continue north-west along Rissington Road (passing the Post Office on your left).On your right is the The small Model Railway Exhibition on the High Street has some of the finest operating indoor model railway layouts in the country. It is mainly a shop (with online service). It is frequently closed so double-check opening times. Formally open: June - August: daily including Sundays, 11.00 - 17.00, September - May (Excluding January): weekends only (Sat & Sun) 11.00 - 17.00:
When you pass Moore Road on your rihjt - turn left to Sherborne St - to see the The Cotswold Motoring Museum in The Old Mill. It is home of Brum (the adventurous four-wheeled hero of children's TV). The Cotswold Motoring Museum & Toy Collection is fluent with vintage car collections, classic cars and motorcycles, caravans, original enamel signs and an intriguing collection of motoring curiosities. Open: everyday, from mid-February to mid-December 10.00 – 18.00. Prices: Adults £5.75, Children 4–16 years £4.10, Under 4s Free, Family 2 adults & 2 children £18.00:
In case you call in Stow-on-the-Wold Market Square- do not miss the village's houses and renowned bakery. In Huffking bakery all the products are handmade and made of original Cotswolds ingredients. The staff members there believe very firmly in sourcing ingredients locally wherever possible. The Huffkins bakery and tea room deserve a visit for its own !!!
As we said in our introduction, keep in mind it is a 45 minutes - 1 hour walk from Moreton-in-Marsh via the Monarch's Way to Batsford. This picturesque footpath brings you right up to the Arboretum. The Batsford Arboretum is located on the outskirts of the village of Batsford near Moreton-in-Marsh.
Opening hours: every day from 9.00 to 17.00 Monday to Saturday and from 10.00 to 17.00 on Sundays and bank holidays. Prices: Adults £7.95, Concessions (65+) & students £6.95, Children (4-15) £3.50, Families (2 adults and 2 children) £19.95. During midweeks expect very few people there, and you can spend a relaxing couple of hours strolling around the arboretum. BUT, during the weekends it can be VERY crowded and chaotic. it's beautiful whatever the season. The Batsford Arboretum really peaks in autumn with the vibrant colours of the trees (mainly, Acers). Great views and variegated vistas but ONLY in a bright day. Good map and paths well kept. Some of the paths can be quite slippery when it is wet. Expensive restaurant (better, canteen). Take a picnic with you:
55 acres of Parkland overlooking the Evenlode Valley containing over 1500 species of trees. In spring displays of flowering bulbs, wild flowers, and magnolias. In the autumn is is an astonishing display of trees and shrubs. A lot to see - ponds, plants, wildlife, lake, garden centre, Falconry Centre (see below):
The Cotswold Falconry Centre is right next to Batsford Arboretum and home to around 150 Birds of Prey – many of which can be seen in free-flying demonstrations each day. The Falconry Centre is open from mid-February to mid-November. Visitors to the Falconry Centre are eligible for a 10% discount on entry to Batsford Arboretum and vice versa. Just show your Falconry ticket at the Arboretum Entrance. Prices: Adults: £10, Concessions: £7.50, Children (4 - 15 years): £5, Family ticket (2 adults & 3 children): £25. Season tickets are also available.
Up to an hour long and four flying displays a day, Free flying demonstrations take place daily from 11.30, 13.30, 15.00 and also at 16.30 in the summer. Please note: Dogs are not permitted at Cotswold Falconry Centre (except guide dogs). Exceptional experience. Astonishing range of birds of prey in action. Each display, featured a different selection of hawks, falcons. eagles, kites, owls and even vultures, flying free or to the glove.... The birds are well kept and look happy to perform their admirable demonstrations.
African Pygmy Falcon:
Flint Burrowing Owl:
Desmond - Great Horned Owl:
Common Buzzard:
Ferruginous Hawk:
Red Backed Hawk:
Bald Eagle:
Black Chested Buzzerd:
Black Chested Eagle:
Bateleur Eagle:
Lanner Falcon:
Aplomado Falcon (Falco femoralis):
Peregrine Falcon:
'Grace' the Barn Owl, in flight:
Snowy Eagle:
Chris and Falcon in flight:
Now we retrace our steps and head back eastward with our back to the Arboretum and our face to Moreton-in-Marsh. On Monarch Way (A44), on our right (south), 200 m. after exiting the garden centre - we have a path leading to Sezincote House and Garden. The path is approx. 500 m. walk from the road. This stunning complex is open May to September inclusive ONLY on Thursdays, Fridays and Bank Holiday Mondays: 14.30 to 17.30. Admisson: £10 (includes house tour and garden). A fabulous, fairy-tale place hindered by several points. Attention:
no credit or debit cards accepted and no children are permitted !!! Tea and cake served May to September. The complex is a bit of a walk but disabled parking is available close to the gate but even from there there is a bit of a climb up to the house. Map is £3. No free maps. DO NOT buy a map. It is terribly outdated. They use machinery during visiting hours. Expect noise and dust.
The fascinating Sezincote House (named in The Doomsday Book) (frequently not open for visitors) was built in Regency time by a man who made his fortune in the East India company and it inspired many features of the Brighton Pavilion. The architecture has an Indian style. It is topped by copper onion dome straight out of India. Sezincote House is dominated by its red sandstone colour, typical in Mughal architecture. The house is made of stone, taken from a nearby quarry and may have been artificially stained. Inside, the dining room has fabulous painted walls of an Indian scene painted by an artist who had never been to India. Inside, there is also a sequence of extra-large windows with an arch-shape at the top. When the Sezincote House is open - there is a 45-minute historical tour outlining the origin, history and furnishings of this amazing house. The house is a memorial monument of Colonel John Cockerell, grandson of the journalist Samuel Pepys, who returned to England after having a fortune in the East India Company. John died in 1798, three years after his return, and the estate passed to his youngest brother Charles, who had also worked for the company. Charles commissioned his brother Samuel, an architect, to design and build an Indian house in the Mogul style of Rajasthan. Once completed, Sezincote dazzled all who came. When the Prince Regent visited in 1807 he was so impressed that he went on to change his plans for the Royal Pavilion in Brighton. Designed by John Nash, it echoed the exotic Indian style he had admired at Sezincote.
The landscape was designed by Humphry Repton. It is essentially a renaissance-style garden with elements of Hindu style, as seen in the crescent bridge with columns. There is a small area of formal garden to one side of the house, with a moderately nice water feature (which I would not describe as a "canal" as you can easily step over it) but it is strangely soulless and empty. The rest of the gardens, reached after a pleasant stroll (you go down) on mostly grassy paths along the hillside, are gorgeous but, again, hilly so you might a bit struggle (stepping stones under the bridge). There is also a fair uphill walk back to the entrance. It is a lot longer on the way back. The gardens' planting is lush, and there is plenty of it along the stream: the stream itself starts in a very nice circular pond with fountain, and paves its way down the hillside, through a larger pond with a bridged island, to a terminal (being renovated, during summer 2016). There are some lovely mature specimen trees to be seen, and there is a nice rambling "route" to be taken, which allows you see all of it - you don't keep walking into dead ends.
The temple to the sun god Surya at the top of the garden:
In the charming curved orangery they serve superb and inexpensive tea and cakes:
Return from Sezincote House and Garden to the A44 road (Monarch Way).Here you have two options, depending on the exact hour you finished with the Sezincote site: return to Moreton-in-Marsh High Street or catch a bus to the Broadway Tower.
The #1 bus passes from the Batsford Arboretum bus stop (its destination is Startford-upon-Avon) every two hours: 09.30, 11.30, 12.30, 13.30, 15.30, 17.30 heading to the Broadway Tower near Moreton-in-Marsh. Please make sure with the exact timetable. The bus departs from Moreton-in-Marsh High Street at (MON - SAT only !): 09.28, 11.28, 13.28, 15.28, 17.28, 19.28. The bus arrives to the Fish Hill Picnic Area, on Buckle Street and to Broadway High Street - and from there you climb uphill 1.2 km. on foot to the Broadway Tower. Fish Hill got its name because, after their efforts of climbing the steep hill, local people would go to the pub at the top to refresh themselves, and would drink 'like a fish':
The Broadway village is a Cotswolds classic for a very good reason, It was 'discovered' by the Victorian artistic elite in the 1870s and has been adorning calendars and biscuit tins ever since. From Broadway High Street follow the Cotswolds Way (CW) Acorn signs up the climb to Broadway Tower which has a William Morris Room and refreshments. Bear in mind it is quite demanding climb uphill. The views all the way up are beautiful as are the sheep. Sometimes, you can see deer nearby:
The Broadway Tower is a unique place, standing in its dramatic location at 20 m. high (spiral staircase) it has some of the best views in England. You can see up to 16 counties from the top of the Tower. It's a paradise for cyclists, walkers and wildlife lovers. Perfect for a half-day out. NOT suitable for people with mobility problems. Open: everyday: 10.00 – 17.00 daily. The adjacent Morris and Brown Cafe (excellent coffee), (toilet facilities): everyday 9.00 – 17.00. Prices: Adult £5.00, Child (6-16) £3.00, Child (0-6) FREE, Concessions £4.50, Family (2+2) £14.00. Bunker & Observer Post £4.00, Bunker & Observer Post & Tower combined £8.00. Annual Pass £10.00.Online tickets: https://broadwaytower.co.uk/shop/
The "Saxon" tower was designed by James Wyatt in 1794 and built for Lady Coventry in 1798–99. The tower was built on a "beacon" hill, where beacons were lit on special occasions. Lady Coventry wondered whether a beacon on this hill could be seen from her house in Worcester — about 35 km away — and sponsored the construction of the folly to find out. Indeed, the beacon could be seen clearly. Over the years, the tower was home to the printing press of Sir Thomas Phillipps, and served as a country retreat for artists including William Morris and Edward Burne-Jones who rented it together in the 1880s. William Morris was so inspired by Broadway Tower and other ancient buildings that he founded the Society for the Protection of Ancient Buildings in 1877. In the late 1950s, Broadway Tower monitored nuclear fallout in England; an underground ROC Corps bunker was built 50 yards from the Tower (see below). The bunker was one of the last such Cold War bunkers constructed and, although officially closed down in 1991, the bunker is, still now, one of the few remaining fully equipped nuclear/atomic facilities in England. Nowadays, the Broadway Tower is a touristic site with a country park with various exhibitions open to the public at a fee, as well as a gift shop (over-priced stuff) and Morris and Brown Cafe'. Near the tower is a memorial to the crew of a WW2 British bomber plane that lost its bearings and crashed into the hillside here, killing all on board during a training mission in June 1943:
On a clear day the views from the tower are stunning. It's a great photo opportunity. The views are incredible and made better by a fabulous day. You are at the second highest point in the Cotswolds with its beautiful landscape laid out beneath you, so take a few minutes to soak in the breath-taking views over fields, hills and hedgerows as far as South Wales in the distance:
The Cold War Experience at Broadway Tower: fifteen feet below a field on the Broadway Tower estate lies a relic of the Cold War. Note: access to the bunker is via a ladder. There is no disabled access. Children younger than 12 are not allowed access to below ground areas. Anyone under the age of 18 must be accompanied by an adult. Suitable clothes and footwear must be worn. The former monitoring bunker was once part of a wider network of similar structures all over the United Kingdom built to study and report the effects of nuclear explosions and the resulting radioactive fallout. They were/would be expected to spend 3 weeks below ground during a Nuclear Exchange. The Broadway Tower bunker was closed in 1991. It has now been fully restored to how it would have been in the 1980's at the height of the Cold War. The Cold War Bunker is open ONLY at Weekends and Bank Holiday Mondays from 1 April to 31 October - 10.00 – 16.45 and the guided tour lasts around 45 minutes. Special openings are available to Schools, History Groups and pre-booked parties during the week. Admission Price of the Bunker & Observer Post: £4.00.
To return to Broadway village - walk back along Coneygree Lane turning right (north) at 11th Century St., Eadburgha's Church and back to the village. To return to Moreton-in-Msrsh - catch, again, bus Johnsons #1 from the Broadway Village High Street. It departs every two hours, Monday to Saturday: 11.58, 13.58, 15.58, 17.58, 19.56. In case you have still daylight time - we'll visit the beautiful market town of Moreton-in-Marsh. Return to the Corn Exchange in the High Street and head northward along this main street:

On your left is the Redesdale Hall, town's main public hall dating to 1887, with a clock tower above. The Redesdale Hall hosted the local council house. It was erected in 1887 by Sir Algernon Bertram Freeman Mitford, Lord of the Manor of Moreton in memory of his kinsman, Earl of Redesdale (1805-1886). The White Hart Hotel is also visible beyond, as is the Crown Inn:
Note the special houses, or better, cottages along the western side of the High Street. A few of them are hotels or guest houses or even manors:
A bit further north is the Tourist Information Office and, on your right (east) is the Congregational Church:
Moreton-in_marsh Infants School:
Moreton-in_Marsh old Post Office:
Moreton-in_Marsh shops:
Old houses in Moreton-in-Marsh:
A symphony of old roofs:
Beyond the Cacao Bean coffee house - the High Street turns right (east) leading to the Moreton-in-Marsh Railway Station.
Catch a train from Moreton (weekdays:13.58, 15.55, 16.56, 18.12, 20.01) or the Pulhams Coaches #801 bus to Cheltenham: MON-SAT: 12:15, 13:45, 15:00, 16:30, 17:40, 18:45, 19:50.,