Dostoevsky's St. Petersburg:
Duaration: 1/2 day. Distance: 10 km.
Start: Anichkov Bridge.
End: the Palace Square.
Weather: It is a long walk along the less touristic areas in SPB. Avoid rainy days.
Main Attractions: Anichkov Bridge, Vladimirskaya Square, Dostoevsky Statue, Dostoyevsky Memorial Museum, Monument to Aleksandr Griboyedov, Pionerskaia Square, Sennaya Square, 73 Griboedov Canal Embankment, Kaznacheisky Stree, 19 Grazhdansky Street (Raskolnikov Home), Lions Bridge (Lvinyy Mostik), Post Bridge or Pochtamtskiy Most,

Fyodor Dostoyevsky is one of the greatest Russian writers of the 19th century. Though he was born in Moscow in 1821, ST-Petersburg is the main city of Dostoevsky's life. He spent most of his life in ST-Petersburg, the events of many of his novels take place in its streets and squares. This is the St. Petersburg that Dostoyevsky presents us with, in contrast to the prim and proper city that Pushkin once described. "Neva's majestic pulsation / The granite that her quaysides wear"—this is the grand side of the city that tourists are shown usually. During this tour we will see many places connected with the life of Fyodor Dostoyevsky and the main characters of his novel 'Crime and Punishment'.
One of the world's greatest authors, Dostoevsky is noted for his penetrating psychological insights, whereby he delved into such complex issues as poverty, exploitation, morality, suicide, free will, the essence of good and evil, and the existence of God. His works are marked by a great empathy for the poor and the homeless people.
Fyodor Mikhailovich Dostoevsky: The Russian writer Dostoevsky is best known for two popular works, namely "Crime and Punishment" and "The Brothers Karamazov". He explored the human psychology and was said to have been the first to bring existentialism to light through his novel "Notes from Underground". Dostoevsky left his mark on the literary world of Russia with thousands of scholars examining his work. Sites related to the famous writer and locations that inspired him have since become popular attractions in Russia. This literary master was born Fyodor Mikhailovich Dostoevsky in Moscow, in the year 1821, where his father worked at the Mariinsky Hospital for the Poor while he was growing up. Moved to St. Petersburg in 1837 at his father's insistence to attend the Military Engineering Institute in the Engineers' (Mikhailovsky) Castle, from which he graduated in 1843. Left his stable position as a military engineer in 1844 to devote himself to writing and published his first novel, Poor Folk in 1846 to general critical acclaim. Thought his life was over in 1849 when he was condemned to death by firing squad for his connections to a secret society of Utopian Socialists. He was carted from his cell in the Peter and Paul Fortress to be shot on Semyonovskaya (now Pionerskaya) Ploshchad, but as the Guards were raising their rifles, a messenger from the Tsar arrived commuting the sentence to four years hard labor in Siberia, which was followed by five years impressed service as a soldier in a Siberian garrison. Was finally allowed to return to Petersburg in 1859, where he continued his literary career with The House of the Dead (1861), the first published novel to deal with Russian prisons. Suffered from epileptic fits, which had a significant effect on his philosophy and conception of life. Characters with epilepsy appear in four of his novels. Often fell into a perilous lack of funds and spent years in Europe hiding from creditors, where he indulged in his financially disastrous addiction to roulette – at one low point, he even pawned his patient wife's wedding ring. The depressing surroundings of the area, such as the lunatic asylum, the orphanage and the cemetery used to bury criminals, had a great influence on Dostoevsky. His compassion for the poor and underprivileged started in childhood, remaining with him into adulthood. Dostoevsky's literary career and dedication to writing started after leaving the military, when he began writing his first novel in 1844. The next year "The Contemporary" was published, with raving reviews catapulting Dostoevsky into the limelight. He was confronted with many difficulties throughout his career, such as political arrest, exile, loss, gambling addiction and hard labor, but did not let the hardships rob him of his passion for writing. During his career he wrote a range of plays, short stories and novels including "The Gambler", "The Raw Youth", "A Writer's Diary", "The Idiot" and the "House of the Dead". Dostoevsky died in 1881 from an epileptic seizure and emphysema. Died on 9 February (28 January old style) 1881, just two months after completing his masterwork, The Brothers Karamazov. Tens of thousands of mourners attended his funeral procession.
The Dostoevsky's Route:
From Anichkov Bridge, Nevsky prospekt -
head EAST (with your back to the Fontanka river/canal - go strait) on Nevsky prospekt (пр. Невский toward наб. Pеки Фонтанки, 160 m. Turn right onto ulitsa Rubinshteyna (ул. Рубинштейна), 160 m. The McDonald's should be on your left. At ulitsa Rubinshteyna, 7 - you see one of the first Bolshevik, socialistic blocks of residence built in St. Petersburg around the beginning of the 1920s:
It is 450-500 m. walk to Vladimirskaya Square (ploschad). Continue walking southward along ulitsa Rubinshteyna (ул. Рубинштейна), 95 m. Turn left onto Grafskiy per. (пер. Графский), 170 m. Turn right onto Vladimirskaya pr. (пр. Владимирский), 120 m. Continue onto Vladimirskaya Square (пл. Владимирская),77 m - crossing Kolokolnaya road. On your right - Vladimirskaya Passage (commercial centre) - business center, completed in 2006, with the words Renaissance Hall emblazoned in Latin letters across its columned, glass façade, and, a bit further, Vladimirskaya Metro Station, Dostoevsky statue and Vladimirskaya (St. Vladimir) Church. On your left - Dostoevsky's Apartment Museum and Vladimirskaya Metro Station.
Vladimirskaya Square is accessible by the Metro station Vladimirskaya of Line 1 (red line) of the Saint Petersburg Metro and the station Dostoyevskaya of Line 4 (orange line). Vladimirskaya Squaree is bounded by Zagorodny Avenue, Vladimirsky Avenue, Kuznechny Lane, Kolokolnaya Street, and Bolshaya Moskovskaya Street. The square was so named after the Church of Our Lady of Vladimir, which has existed since the 1860s. It was designed by the Commission for St. Petersburg Buildings in the 1740s. The square and streets around it were assigned for the Court Settlement - a settlement of court craftsmen and workers. The image of the square was formed in the late 19th century:
Vladimirskaya Passage (commercial centre), Hotel Renessaince:
Residence building in Nordic style, north (right) to the Renessaince Hotel (with the sign "Big Size") - built by traders from Finland and Sweden in the beginning of the 20th Century:

Vladimirskaya Metro Station was put into service in 1955, Dostoevskaya metro station in 1991. Dostoevskaya Metro Station, named in honor of our esteemed author. A relatively new station, opened during the last days of December 1991, we note that the architects attempted to capture a Dostoevskian atmosphere by employing old-fashioned lanterns and decorative wrought iron fencing reminiscent of the railings along St. Petersburg's canals.
Vladimirskaya Metro Station:
Dostoevskaya Metro Station:
Next (SOUTH) to Vladimirskaya Metro Station - we find Dostoevsky Statue. The monument to F. M. Dostoevsky was made by sculptors L. M. Kholin and P. P. Ignatyev, artist P. A. Ignatyev, and architect V. L. Spiridonov was opened, first, not far from the square in Bolshaya Moskovskaya Street in 1997. It is sunken in philosophical pondering, with hands clasped and one knee crossed over the other. This imposing statue, erected in 1997, reminds us that the area around Vladmirskaya Square, although less readily associated with Dostoevsky than Sennaya Ploshchad, is where Dostoevsky spent the final years of his life and penned his last novel, The Brothers Karamazov. THIS IS THE SOLE SCULPTURE OF DOSTOEVSKY IN ST. PETERSBURG:
Visit to the Vladimirskaya Church or Our Lady of Vladimir Church (Владимирская церковь) (Sobor Vladimirskoy Ikony Bozhiyey Materi), Vladimirskiy prospekt, 20, where the burial service for Dostoevsky was held. It's an ordinary active church not frequented by foreign tourists except Dostoevsky fans. Our Lady of Vladimir Church is dedicated to Our Lady of Vladimir and located at 20 Vladimirsky Prospect, St. Petersburg. The avenue takes its name from the church. The current five-domed church was built next to Vladimirsky Market between 1761 and 1769. The church's design, frequently ascribed to Pietro Antonio Trezzini, straddles the line between Baroque and Neoclassicism. The building has two storeyes, with the lower church dedicated to Saint John Damascene. The detached belfry is a fine work of mature Neoclassicism, built to Quarenghi's design in 1791. The portico, chapel, fence, and outbuildings were added in the 19th century. The church was closed in 1932, restored to the Russian Orthodox Church in 1989 and named a cathedral in 2000. It gives its name to the Vladimirsky Avenue and Vladimirskaya Square. The church is accessible by the station Vladimirskaya of Line 1 of the Saint Petersburg Metro and the station Dostoyevskaya of Line 4.
The interior of the church features an elaborate Baroque iconostasis, transferred from the Anichkov Palace chapel in 1808. When the 900th anniversary of the Christianisation of Russia was celebrated in 1888, the church underwent restoration. The most famous of its parishioners was Fyodor Dostoevsky. The interiors are breathtaking. The Icons on the second floor are also worth seeing. This yellow semi-baroque, semi-classical building is famous for its elaborate iconostasis, which was designed by Bartomoleo Rastrelli, architect of the Winter Palace, and carved in the mid-eighteenth century. Opening hours: 08.00 - 19.30. Services: daily 09.00, 18.00. SUN 07.00, 10.00.
In the most souther part of Vladimirskaya Square, with our face to south - we turn LEFT (EAST) to Kuznechny Pereulok. Turning down Kuznechny Pereulok, which runs between the Metro station and the exuberant onion-domed Church of the Vladimir Icon, we walk by a row of Dostoevskian characters, most of whom are of grandmotherly age, purveying a motley assortment of mushrooms, cucumbers, berries and bouquets in order to enhance their meager pensions. Passing the Kuznechny Market on our right (it's worth taking a glance inside to catch a faint echo of the market atmosphere that pervades Crime and Punishment) we immediately reach the Dostoevsky Memorial Museum at 5 Kuznechny Pereulok.
Dostoevsky's apartment museum: It's his last apartments where he lived with his second wife and two children for 15 years - since October 1878 up to his death in January 1881. His last novel The Brothers Karamazovs was written there. The tour inside will give you an idea about everyday life of the great Russian writer of Crime and Punishment, The Idiot, and The Brothers Karamazov. His flat, which is on the second floor, illustrates Dostoevsky's affinity for corner apartments, possessing a balcony and a view of a church. Opening hours: daily from 11.00 to 17.30, except Monday and last Wednesday of every month:
Let's descend the few steps into the museum, buy our tickets and proceed up to the second floor. Here we find on the right two large rooms that feature exhibits dedicated to the writer's life and works, and on the left Dostoevsky's actual apartment, which has been restored to look as it did when the great author resided here. Let's take our time wandering through the rooms where we can admire his children's playthings, the small table on which the capable Anna handled business matters, and most impressively, Dostoevsky's study, the focal point of which is the large desk where he worked late into the night by candle glow, penning much of the magnificent The Brothers Karamazov. This is also the room in which he passed away and the grandfather clock is stopped at the hour of his death: 8:36 p.m. Especially touching are the words scrawled on a matchbox by his young daughter "Papa died today."
Dostoevsky rented apartments in some twenty different buildings in Petersburg, never living in one place more than three years. Most of these apartments were in the inexpensive districts around the Church of the Vladimir Icon and Sennaya Ploshchad, and the reasons for these constant relocations were usually financial: our author experienced continual problems with money for the greater part of his adult life. Interestingly, one of his first apartments in St. Petersburg was in the very building we are regarding now, and he returned here some thirty years later, in October 1878, with his second wife, Anna Snitkina, and their two children.
Today, a memorial plaque to him hangs on the the house at 5 Kuznechny Pereulok. The plaque on the wall of Dostoevsky's home has appeared only in 1956. Only twelve years later began the overhaul of his home.
We retrace our steps in Kuznechny Pereulok and return to Valsimirskaya Metro station. Head west on Kuznechny Pereulok (пер. Кузнечный) toward Dostoyevskogo per. (ул. Достоевского), 180 m. Turn left toward Bolshaya Moskovskaya ul. (ул. Большая Московская), 15 m. Turn left onto Bolshaya Moskovskaya ul. (ул. Большая Московская), 350 m. Continue onto Pravda Road (ул. Правды), 210 m. At No. 13 is the St. Petersburg State University of Film and Television. In the past it was a church for St. Petersburg B homeless poor people:
Statue in Pravda Road:
Head southwest on Pravda Road (ул. Правды) until its end toward Zvenigorodskaya ul. (ул. Социалистическая), 400 m. Turn left onto Zvenigorodskaya ul (ул. Звенигородская), 150 m. Turn right onto ul. Marata (ул. Марата), 290 m and cross the Theatre Garden (Sad Teatr) to face The Monument to Aleksandr Griboyedov at the Pionerskaia Square (Semyonov square) (see below - how this square is connected with Dostoevsky's biography) (1959, sculptor Vsevolod Lishev, architect Vsevolod Yakovlev). Alexander Sergeyevich Griboyedov (Алекса́ндр Серге́евич Грибое́дов), January 15, 1795 – February 11, 1829), was a Russian diplomat, playwright, poet, and composer. He was Russia's ambassador to Persia, where he and all the embassy staff were massacred by an angry mob following the rampant anti-Russian sentiment that existed through the Treaty of Gulistan of 1813 and Treaty of Turkmenchay of 1828, and had forcefully ratified for Persia's ceding of its northern territories comprising Transcaucasia and parts of the North Caucasus. The meaning of "Griboyedov" is "Mushroom Eater":
In 1846, partially due to the negative attention, Dostoevsky began to suffer from health issues. He fell into severe financial trouble, as well. This forced him to rely upon Belinsky and his group of socialist friends for help. On most Saturdays and Sundays, Dostoevsky could be found at Mikhail Petrashevsky's residence, who was an intellect and an advocate for utopian socialism. They would talk, eat, discuss the trying times, and denounce serfdom. This weekend group became known as the Petrashevsky Circle. Besides Petrashevsky, Dostoevsky, and Belinsky, the circle was made up of such individuals as the writer Mikhail Saltykov-Shchedrin, the poet Aleksey Pleshcheyev, and the painter Taras Shevchenko – all well known Russian creatives who happen to be socialist-leaning. Besides serfdom, they also discussed socialist politics, their opposition to the Tsar Nicholas I, and read banned literature. This all came to a halt when, on April 23, 1849: 35 members of the circle were arrested. There was also a note sent to police officers calling for Dostoevsky's arrest by name. On December 22, 1849, members of a Russian intellectual literary group known as the Petrashevsky Circle were sent to Semyonov Square (Pionerskaia Square) (see above) to meet their fate – death by firing squad. With the men pointing their rifles and fingers resting on the trigger, a messenger from the Tsar rode into the square waving a white flag. Like a miracle, he declared he had an official pardon from the Tsar of Russia, Nicholas I, in a "show of mercy." Many say, this was not a show of mercy, but rather a staged way of fostering fear, terror, and gratitude. This was a "mock execution" and among the victims was the famed Russian author of Crime & Punishment, Fyodor Dostoevsky. The famous writer was aved in the last minute - in this square - several steps south to the Monument to Aleksandr Griboyedov...
Walk southward until the end of Marata road. Turn right onto Rodyezdnoy per. (пер. Подъездной), 400 m. Turn left onto Zagorodnyi Prospekt (просп. Загородный), 200 m. Turn right onto Vvednskiy kanal (Введенский канал), 450 m. Turn right onto nab. reki Fontanka (наб. Pеки Фонтанки), 140 m. Cross the Fontanka river from east to west.
Immediately after crossing the cemented bridge - gaze at the right side over this splendid corner of residence surrounding:
Continue right (west) onto pr. Efimova (ул. Ефимова), 400 m. Turn right onto Sennaya Square (пл. Сенная), 75 m. Sharp left to stay on Sennaya Square (пл. Сенная), 90 m. We are in Sennaya Square (Sennaya ploshchad). We can arrive to Sennaya Ploshchad by hopping on the metro from Dostoevskaya Metro Station for onestation to Spasskaya, the last stop on the orange line, and follow the exit signs to the Sennaya Ploshchad, that is, to Hay Market Square.
Sennaya Ploshchad and its surroundings have changed much since Dostoevsky's time, so we will need to put our imagination in full throttle in order to envision the area that our author and his fictional characters once wandered about. Let's cross busy Ulitsa Sadovaya and take a seat on one of the recently installed benches, designed with tilting cart wheels at either end to evoke the square's market past, and make a few observations about Petersburg and Hay Market Square in the era of Dostoevsky. This square, which was established in 1737 as a place where hay, oats, firewood and cattle were sold, quickly became known as the cheapest market in the city. By Dostoevsky's time, the resplendent Baroque Church of the Assumption, erected on the square's edge between 1753 and 1765 (and unfortunately destroyed by the Soviets in 1961 to make way for the metro station), towered over a vast, crowded market. Morning to night, tradespeople loudly hawked all varieties of foods and products against a background of raucous sounds and rotten smells. The area teemed with farmers, peasants and merchants, with poor locals, petty thieves and prostitutes, with derelicts, drunks, and the destitute. Chaotic and crowded, dirty and discordant, Sennaya Ploshchad formed the antithesis to the imperial splendour of Palace Square a short distance away. And it was in this underbelly of the city that Dostoevsky set Crime and Punishment, originally published in twelve monthly installments in 1866. In the novel's first pages, he notes: "Close to the Hay Market, thick with houses of ill repute, the neighborhood swarmed with a population of tradesmen and jacks-of-all-trades who clustered in those central streets and lanes of Petersburg, creating such a panorama of motly characters that almost nothing or nobody could cause surprise." Anyway, thus, we emerge blinking into the central setting of Crime and Punishment. Dostoevsky incorporated Sennaya Ploshchad into his works. The square is the setting of pivotal moments in both "Crime and Punishment" and "The Idiot". Sennya Square, where the conversation between Elizabeth and some lady merchant took place and from which Raskolnikov found out that the old lady (pawnbroker) would be alone in the evening in her house. It is no wonder because Dostoyevsky himself lived close to this square for several years (see below).
Sennaya Ploshchad has always been regarded as the "main market of St. Petersburg" since its inception in 1737. Starting out as a trading center for hay, straw, and wood, the square rapidly grew. By the 1740's, houses and shops began to fill the surrounding areas. In the 18th and early 19th century criminals were publicly beaten and flogged in the square. In 1831 the famous event of the Cholera Riots broke out on Sennaya Ploshchad. As a raging cholera epidemic was tearing through Russia, rumors spread that the government and doctors had been deliberately poisoning the urban population. Thousands of people gathered on the square intending to destroy the cholera hospitals and government agencies. As armed troops with artillery closed in on the protesters, bloodshed seemed imminent. However, Emperor Nicolas I came to the square and promised protection to the demonstrators, who then dispersed. The square is changing its face after the wear of previous centuries. There are Soviet style kiosks and stalls, but also very nifty shopping malls. There is also a very popular market in the square Ryadom Haymarket (Рядом находится). The Moskovskaya prospect, leading to Sennaya Square, is nice change after Nevsky. Lot's of good restaurants and shops around and even if it is crowded all the time, there are only a few tourists brave enough to come here. It is the good and the bad OLD St. Petersburg... Be aware of pickpockets.
Head southwest on Sennaya Square (пл. Сенная) until it becomes Sadovaya Street. Turn right toward Griboyedov Canal Embankment (crнаб. канала Грибоедова), 55 m. Cross the canal over the Sennoy Bridge:
Turn LEFT (WEST) along Griboyedov Canal Embankment (наб. канала Грибоедова), and walk until its end - where it meets Kokushkin per. and its continuation - Stolyarny Alley (Stolyarnyy per.).
=============================================================
Here, you can make a short detour, of 200 there (and 200 m. back) to the home of Marmeladov's daughter Sonya, the poor girl forced into prostitution in the "Crime and Punishment" novel - 73 Griboedov Canal Embankment. From the bridge walk WEST (LEFT) along Griboedov Canal Embankment. Sonia Marmeladov is a young girl of 18 years old who has to work as a prostitute to provide for her family - her drunken father, her stepmother and three children of her stepmother - Katerina Ivánovna. Sonia lives a life full of humiliation and unjustice. But at the same time she is a faithful, religious, very kind person with a pure soul. She sacrifices her well-being in order to help her poor family. Return 200-210 m. back (east) to Kokushkin per. (Kokushkin Bridge):
=============================================================
Turn RIGHT (NORTH) and walk along Kokushkin per. that continues as Stolyarnyy per. until it meets Kaznacheisky Street. Dostoevsky lived in Kaznacheisky Street in several places: house No. 1 from 1861 to 1863, moved to house No. 9 in April 1864, then to house No. 7, where he lived until 1867 and where he composed his novels Crime and Punishment and The Gambler. The house was also where he met his wife-to-be, A.G. Snitkina.
Kaznacheisky Street (or:KAZNACHEYSKAYA STREET), running from Griboyedov Canal Embankment and opening onto a different section of the same embankment after crossing Stolyarny Lane. The street was laid in the first half of the 18th century. In the 1730s, it was known as Fifth Perevedenskaya Street, to be renamed Malaya Meshchanskaya Street (or Third Meshchanskaya Street) in 1739. It received its present-day name in 1882, after a provincial treasury ("kaznacheystvo" meaning treasury in Russian), formerly located at house No. 13. The majority of the street's buildings originate from the late 18th century - early 20th century, hence the classical look retained in house No. 7/14 (the former Olonkin Residence, 1835, architect A.Z. Kuzmin, rebuilt in 1876) and house No. 9/11 (late 18th century - early 19th century; rebuilt in 1825, 1843 and 1862). In 1896-97, house No. 13, the site of the Ministry of Finance in the 1840s, was occupied by the building of the Exchequer's Chamber, and the aforementioned Provincial Treasury was erected (civil engineer P.K. Bergstresser, architect N.M. Proskurin).
WE continue along Stolyarnyy per. nortward until it meets Grazhanskaya Ulitsa. According to local historical research, Rodion Raskolnikov, the hero of Crime and Punishment, lived in Grazhanskaya Ulitsa 19/5 - the north-west corner of the intersection with Stolyarnyy per. Indeed, the building is listed in many guide books about St Petersburg as the Raskolnikov House, and noted with a literary hero memorial sign and relief. The words "Home of Raskolnikov" were carved in high relief on the house at 19 Grazhdansky Street or 5 Stolyarny Pereulok in year 1999. Also found here are a sculpture of the writer and steps, which remind us that the small room of Rodion Romanovich was located right under the roof and accessible by 13 steps. The arch leading to the courtyard, unfortunately, is closed with a gate that has a house call system. The large, bronze relief of our author (installed in 1999), with furrowed forehead and clenched hands, under which the plaque reads: RASKOLNIKOV'S BUILDING - THE TRAGIC FATES OF THE PEOPLE
OF THIS PART OF PETERSBURG SERVED DOSTOEVSKY AS THE BASIS FOR HIS PASSIONATE SERMONS ON GOOD FOR ALL HUMANKIND.
Home of Raskolnikov:
Unfortunately, access to the stairway leading to this garret has been barred by a metal door on Stolyarny Pereulok (Stolyarniy lane, famous for having 18 taverns in 16 houses…) and a gate on Grazhdanskaya Ulitsa (if you are lucky enough to overcome these obstacles, the stairway is reached through the first door to the right of the Stolyarnaya entrance).
Graffiti: "Raskolnikov lives in each of us." "Rodya, kill my neighbor," etc':
We must therefore content ourselves with the general view of BOTH OF THE STREETS as we contemplate the living conditions during Raskolnikov's time, when there was an average of 247 people per building in the Hay Market area. Such astounding density was achieved by packing tenants into every possible space, including attics, closets, cellars, and under staircases. Enterprising landlords converted flats into flop houses that were crammed with rows of bunks. To achieve maximum utilization, these spaces were rented in shifts so that the same bunk might be occupied by two or three people over the course of twenty-four hours. As miserable as Raskolnikov was in his humble garret, it seems conditions could have been worse!
After "tasting" the Raskolnikov Home - we change direction and move west to several more spots around the Griboyedov Canal - concerned with Dostoevsky books and heroes. Head southwest on Grazhdanskaya Ulitsa (ул. Гражданская), 190 m. Turn left onto Voznesensky Avenue (пр. Вознесенский), 55 m.
The Voznesensky Bridge (over the Griboyedov Canal) is where drunk bureaucrat Marmeladov dies under carriage wheels - in the "Crime and Punishment" book.
Turn right onto nab. Griboyedov Canal (наб. канала Грибоедова), 250 m. Turn left onto Podyacheskaya Srednyaya ulitsa (ул. Подьяческая Средняя), 230 m. Now, we face two versions on the exact address of the home of the old pawnbroker that Raskolnikov kills. It is either in Podyacheskaya Srednyaya ulitsa, 15 OR in 104 Griboedov Canal. Here was the house, here was the gate... Raskonikov has successfully arrived at his destination, 15 Srednaya Podyacheskaya (or 104 on the Griboedov Canal Embankment), gated entrances on both sides. Described during his reconnaissance visit as a huge building which on one side looked on to the canal, and on the other into the street. This building consisted of cramped flats and was inhabited by all kinds of working folk - tailors, locksmiths, cooks, various Germans, girls making a living however they could, petty clerks, and so forth. Once again (like Raskolnikov Home), the tunnel-like arch leading to the atmospherically dilapidated courtyard is blocked by a metal gate, so we will have to wait outside as Raskolnikov slips into the door to the right of the gateway, ascends the dark, narrow staircase to the fourth floor and rings the bell to the pawnbroker's apartment. There is no answer. He rings again. Again no answer. Only on the third ring does the elderly woman unlatch the door and permit Raskolnikov into her small, spotlessly clean apartment... Alyona Ivanovna, the elderly moneylender murdered in Crime and Punishment, lived here, at nab kanala Griboyedova 104: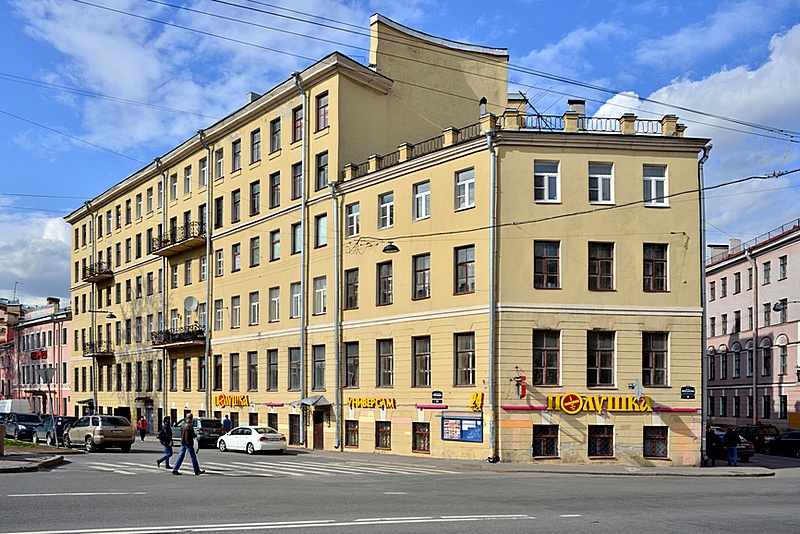 The Griboyedov Canal itself, around which the events occur, was formerly known as Yekaterinsky and called "Kanava" ("ditch") by locals. It did not receive this scornful name for nothing: Waste was constantly dumped into it, producing an evil smell in the neighborhood.
Continue northwest along the Griboyedov Canal on Griboedov Canal Embankment (наб. канала Грибоедова), 280 m. Turn left for 25 m. to the Lions Bridge (Lvinyy Mostik) (Львиный мост). The pedestrian bridge at the cross section of Malaya Podyacheskaya ulitsa and Lvinyy Pereulok, over the Griboyedov Canal, has not changed since the times of Dostoevsky. It was built in 1826 after the designs of engineers Wilhelm von Traitteur and V. Khristianovich. The four figures of sitting lions were made of cast iron by the sculptor Pavel Sokolov:
From the Lions Bridge - we move northward (east to the St. Nicholas Naval Cathedral, Mariinsky Theatre and Theatre Square - browsec in the "St. Petersburg - from Grand Choral Synagogue to the Palace Square" blog). We head to another famous bridge on the Moika river. Head northwest along the Griboyedov Canal Embankment (наб. канала Грибоедова) and continue onto the Lions alley (Livnyy per.) (пер. Львиный), 65 m. Turn right onto ul. Dekabristov (ул. Декабристов), 90 m. Turn left onto Prachechnyy per. (пер. Прачечный), 270 m and cross the Moika reki Embankment and the Moika river over the Post Bridge or Pochtamtskiy Most (Почтамтский мост). The Post Bridge was built in 1823-1824 to designs by architects Wilhelm von Traitteur and Christianovich as a pedestrian bridge suspended by chains. There are only three such bridges left in Saint Petersburg today, the other two being Lions Bridge (see above) and the Bank Bridge. It was reconstructed in 1936 by setting the additional support underneath it, so the chains became merely a decoration. In 1981-1983 the bridge was reconstructed again, and restored as a suspended bridge. It is located near the central Post Office building, from which it derives its name:
After crossing the Post Bridge - turn RIGHT (EAST) along Bolshaya Morskaya (see "St. Petersburg - from the Church of Our Savior on the Spilled Blood to the Summer Garden" blog.
Bolshaya Morskaya #43:
This street leads EASTWARD to the General Staff Arch and to the Palace Square (approx. 1.5 km. walk).
Note: There are many other addresses in the city connected with the name of Dostoevsky: the Mikailovsky Castle (the former Military Engineering College) where F.Dostoevsky had studied for 5 years (see:"St. Petersburg - from the Church of Our Savior on the Spilled Blood to the Summer Garden" blog), Peter and Paul Fortress, where he was confined to a single cell for 8 months (see: "St. Petersburg - Vasilievsky and Petrogradskaya Storona Islands" blog) and others. Also excluded in this tour - is Dostoevsky's last stop: Tikhvinskoe cemetery at the Alexander Nevsky Monastery. It's a very special grave yard where a lot of the most famous Russian writers, musicians, painters and actors were buried. You will see Dostoevsky's grave and will have a chance to honour the memory of the Russian genius (see: "St. Petersburg - Along Nevsky Prospect" blog).