Southwark Gardens, Cathedral and Borough Market:
Start & End: Borough High Street tube station.
Orientation: Circular route. See below our option of combination with the St.Paul cathedral, Tate Modern and Bankside itinerary.
Distance: 5-6 km.
Weather: Mirror-like recommendation to our trip to St.Paul cathedral, Tate Modern and Bankside. Here, the most prefect day will be: the first half should be bright and sunny and the second half can be cloudy or even wet. BTW, the two itineraries can be combined into one, very busy day - due to their short-distance routes.
The Southwark "green" walk takes in parks, garden squares, churchyards, community gardens and other green spaces which reflect all aspects of Southwark. All the gardens are open during daylight hours.
From Borough tube station head north on Borough High St, turn left onto Marshalsea Rd, turn right onto Disney Pl. Follow the fenced-in school playing area to Little Dorrit Children's Playground. Little Dorrit is the main character in the novel of Charles Dickens, who moved to Southwark in 1824, aged 12, when his father was imprisoned in the nearby Marshalsea Prison. The site became a children's playground in 1902. Improvements were carried out in 2001 by the Little Dorrit Park Group, set up by local mothers. As with many sites on this walk, do not drop your eyes from London skyline (especially to the North) - the views towards central London are surprisingly stunning. The garden is featuring a centre piece of a mosaic dove and many beautiful flowers
Leave the playground from where you entered and carry on round the school playing area into Redcross Way, crossing over into the Red Cross Garden. The garden, originally laid out in 1887 on the site of an old paper factory. The restoration included the pond with bridge and fountain, new flowerbeds, lawns and benches. The charming cottages on the far side of the garden (1887, Elijah Poole) were built as part of Victorian philanthropist Octavia Hill's pioneering housing for the working classes. Do not miss the blue plaque in the garden - contributed by Octavia Hill:
Exit the Redcross Garden from the east exit. Head a bit southwest on Redcross Way toward Little Dorrit Ct. Turn right toward Ayres St and turn left onto Ayres St. Turn right onto Marshalsea Rd and turn left to Mint Street Park. Here again, local community people helped to improve the landscaping, access and lighting. There is tiered shrubbery planting to the left of the entrance, with a modern 'mound' and seating to the right. The raised beds were created and planted by a charity helping single homeless people in London.
From here 6-7 minutes to Cross Bones Garden/Cemetary. Head northeast toward Marshalsea, turn right onto Marshalsea Rd, turn left onto Ayres St, turn right toward Redcross Way, turn left onto Redcross Way and Cross Bones is on the right. Cross Bones is a post-medieval disused burial ground. It is believed to have been established originally as an unconsecrated graveyard for "single women," a euphemism for prostitutes, known locally as "Winchester Geese," because they were licensed by the Bishop of Winchester to work within the Liberty of the Clink. Cross Bones gates, decorated with messages and tokens. Apparently an ancient paupers & prostitutes' graveyard unearthed during work on the Jubilee Line extension. Now used as a builders yard. London transport who owns the site wants to build offices here, but Southwark council have refused planning permission.
Two minutes further to the north, in the junction of Red Cross Way and Southwark Rd (be careful here - heavy traffic !) you see this interesting decorated wall:
It is 6-7 minutes walk to Guy's Hospital grounds. Head EAST (coming from Red Cross it is RIGHT) on Southwark St. Then turn right (southwest) onto Borough High St. Turn left toward Newcomen St. (Restricted usage road). Turn left onto Newcomen St. Newcomen St turns slightly left and becomes Snowsfields. Turn right onto Kipling St and you are facing Guy Street Park. Once a burial ground for Guy's Hospital, then a recreation ground, the area was re-landscaped and reopened in 2003. In spring, a trail of crocus winds its way through the gardens and continues in Leathermarket Gardens opposite.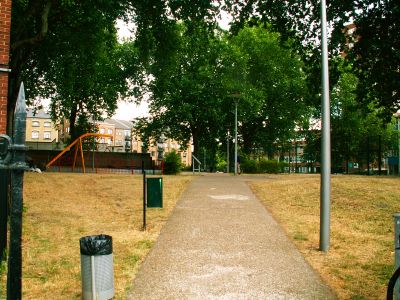 Leave the park via Weston Street (the most eastern exit) and cross the road to enter Leathermarket Gardens. Laid out in the 1930s, the gardens are overlooked by flats of the same period. There is a rectangular sunken area with a formal layout of beds and a raised circular rose garden. There is also a quiet garden planted with varied trees and grasses. There is a children's playground and a café, open Monday to Friday. Leathermarket Gardens contains open walking spaces and formal gardens. The name comes from the historic leather markets and tanneries nearby:
Returning to Weston Street, turn left and walk to the junction with Long Lane, passing an archway entrance into the workshops and café which now occupy the former 19th-century leather market. Continue along Weston Street on the other side of Long Lane. Turn right into Pardoner Street and right into Manciple Street. On the right is the Tabard Garden Estate. Turn left opposite Staple Street down a short path between Tabard House and Rochester House to Tabard Gardens. Tabard Gardens is a large local park set within the Tabard Gardens residential estate. The park is much used by local people as a green connecting route. It includes large grassy areas, a wildlife area, children's play area and multi use sports pitches. The gardens are the result of one of the former London County Council's slum clearance schemes in the early 20th-century. The blocks of flats are grouped around a rectangular garden with its original railings. The gardens provide a large and welcome open space away from traffic in an area of high-density housing and offices. There are grass and play areas at either end, and a central wildlife area planted with shrubs and grasses.
Leave the gardens via Beckett Street (WEST EXIT), turn left and cross at the traffic lights into Trinity Street. Continue to Merrick Square. (Private square, open for Open Garden Squares Weekend). This small, private garden square was laid out between 1853 and 1856. It retains its original 19th century cast-iron railings. Holy Trinity rectory, between numbers 16 and 17, was built in 1872. The garden is well maintained, with a variety of mature trees and shrubs. The central beds were replanted in 2000 under the supervision of the Museum of Garden History.
This small, private garden square (Open:Sunday 11.00 – 18.00) was laid out between 1853 and 1856. It retains its original 19th century cast-iron railings. Holy Trinity rectory, between numbers 16 and 17, was built in 1872. The garden is well maintained, with a variety of mature trees and shrubs. The central beds were replanted in 2000 under the supervision of the Museum of Garden History. Leaving Merrick Square, continue along Trinity Street to Trinity Church Square, also on the left (private square) (Open:Sunday 11.00 – 18.00). A formal garden square built between 1824 and 1832 on land belonging to the Corporation of Trinity House. Most of the houses, still owned by Trinity House, have been converted into flats. The church is now the Henry Wood Hall, used for orchestral rehearsals. The statue in the foreground has some interesting folklore. Many state that it is the oldest statue in London, a medieval depiction of King Alfred the Great moved to the square from Westminster Hall. Thought to be the oldest free-standing statue in London, heavily restored through the centuries, this portrait of (what is thought to be) Alfred The Great was moved here in 1822 from Westminster. Alfred became king in 871. He united England, founded St Paul's, rebuilt London's walls and drove off the Vikings.
However an alternative theory has recently been put forward that it was in fact the work of the sculptor James Bubb and was made at a similar time to the construction of the church (i.e. 1820s).
Garden square with Henry Wood Hall (the former Holy Trinity Church) at its centre:
Continue along Trinity Street, turn right into Swan Street and continue to Great Dover Street. Turn left and cross into Long Lane. Turn left behind St George-the-Martyr church into Tabard Street and cross over into St George's Gardens. The 18th-century church is often referred to as Little Dorrit's Church because Dickens' character was baptized and married here (see Little Dorrit Children's Playground, above). The church has strong associations with Charles Dickens, whose father was imprisoned for debt in the Marshalsea prison. The surviving wall of the prison adjoins the north side of the churchyard. Dickens himself lived nearby, in Lant Street, lodging in a house that belonged to the Vestry Clerk of St George's. This was during the darkest period of his life when, as a teenager, with his father in prison, he had to work in the 'blacking factory', and his literary career must have seemed an impossible dream. Later, he was to set several scenes of the novel Little Dorrit in and around St George's Church. There is a small representation of Little Dorrit in the east window of the church. The churchyard was opened as a public garden by Southwark Metropolitan Borough Council in 1882. In 1903, when Tabard Street was extended to Borough High Street, part of the churchyard was lost. The detached portion of the former churchyard, across Tabard Street, is now called St George's Gardens. The site of the old Marshalsea Prison, marked by an Historic Southwark plaque, is beyond the far wall. There is a fine spring show of bulbs under the huge London plane trees, and two beds planted with decorative box and a mix of perennials.
Surviving wall of the Marshalsea debtors' prison at the north side of the churchyard:
Return to Tabard Street and walk to the front of the church. Cross the road to return to Borough underground station.
Head northeast on Borough High St toward Tabard St. Continue to follow Borough High St for 5 minutes and Borough Market will be on the right. Located right behind London Bridge. Opening Times: Monday - Wednesday: 10.00 - 15.00 (limited scope), Thursday: 11.00 - 17.00, Friday: 12.00 - 18.00, Saturday: 08.00 - 17.00, Sunday: Closed.
Tips: Try to get there early or late so that you avoid the crazy crowd. Not on a Saturday morning. Around weekend lunchtime, you will be packed in the crowd like a sardine. Free samples are offered to you at every corner. Just make a lunch out of all the samples you get and it will all be delicious and filling.
Foodgasm. The absolute favorite food experience in London, which doesn't take place in a restaurant at all, but rather an open-air food market. It is one of the largest and oldest food markets in London, and sells a large variety of foods from all over the world. 2014 Britain's Best Market Attraction in the Market of the Year 2014 competition. Borough Market's gourmet food market consists of up to 70-80 stalls and stands. Producers from all over the country bring a range of fresh produce to the market, including fish, meats, vegetables, ciders, cheeses, breads, coffees, cakes and patisseries. Other stalls specialize in produce imported from abroad. Open (full extent) Thursday to Saturday. it's not cheap and you'll want to buy everything you lay your eyes on... This is a foodies paradise. Prices might be higher than your local shop but it reflects the quality and uniqueness.
Try the Bread Ahead Bakery which pours a lot of buzz in the Twitter. get a Falafel (BTW, I found the best in... Israel !).
German Deli for brats and the sinfully bloody good Pork and Crackling with applesauce sandwich at Roast.
Burger patties made of alligator...
La Tua Pasta: buy packages to take home.
Le Marché du Quartier, French Cuisine and heavenly goods
Portena - which sells Argentinian Empanadas and Ginger Pig.
See the new Pad Thai place.
Seafood Paella stand. Thai Green Curry Paella with Chicken & Seafood over Rice.
Borough Nuts: Turkish delights.
Scotch eggs (hard-boiled egg wrapped in sausage meat, coated in bread crumbs and baked).
Chocolate factory.
As a dessert: Goat's Milk Ice Cream - very creamy. More ? 1 GBP Macarons (wealth of tastes). Coconut Pancakes (made with a mixture of rice flour and coconut milk).
Here, you can find the Monmouth Coffee (we already tasted in our Covent Garden daily trip).
Hot local cider.
Sometimes, you can find a Demo Kitchen where you can watch chefs, from various reputed restaurants in London, demonstrate different recipes at certain times of the day.
Go towards the railway bridge, turn right into Winchester Walk and cross Cathedral Street to Southwark Cathedral and Gardens. or: exit the Borough Market to Borough High Street. Continue north (to the Thames) along Borough High Street until it meets Montague Place (to the left). It would be a bit difficult to find the hidden cathedral. The Cathedral is open Monday to Friday from 8.00 to 18.00; Saturdays and Sundays from 8.30 to 18.00m. Main visiting times are 10.00 to 17.00. There is no official entrance charge, but there are boxes to make a donation. If you wish to take photographs you have to buy a £2 permit on entrance.
This church became a cathedral only from 1905. Some parts of it date to the 12th century. Many fascinating memorials inside and a 13th century wooden effigy of a knight. There is a window to Chaucer and a memorial to Shakespeare.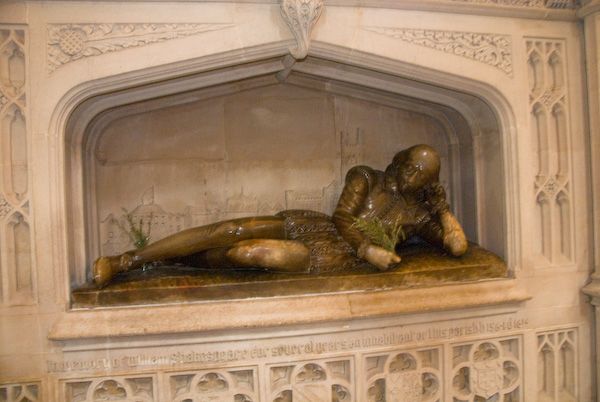 Shakespeare's younger brother Edmund is buried here. The Harvard Chapel is named after John Harvard who founded Harvard University in the US. The cathedral has been recently restored. In 2001 Dr. Nelson Mandela official opened major new buildings on the north (riverside) of the Cathedral complex. These contain a library, meeting and conference rooms, a Shop and Refectory / Restaurant. The courtyard leads to the Thames and it includes an excellent refectory with opening hours: Monday - Friday 9.00 – 18.00,
Saturday and Sunday 10.00 – 18.00. Hot lunches served daily from 12.00 - 15.00.
Tip: check out their website as there is a programme of free musical concerts (including harp recitals). Fabulous acoustic in the Cathedral. Terrace overlooking river is lovely.
The architecture is beautiful and the stained glass windows spectacular.
A closeup look at the head of Bishop Andrewe's effigy. The detail of the work is wonderful. The colors are rich to say the least, which I greatly suspect is the result of Victorian restoration, rather than any great skill with colored pigments in the early 17th century:
This sanctuary screen stands behind the high altar. The screen was created on the orders of Bishop Fox of Winchester in 1520, but the statues are much more recent, dating from 1905: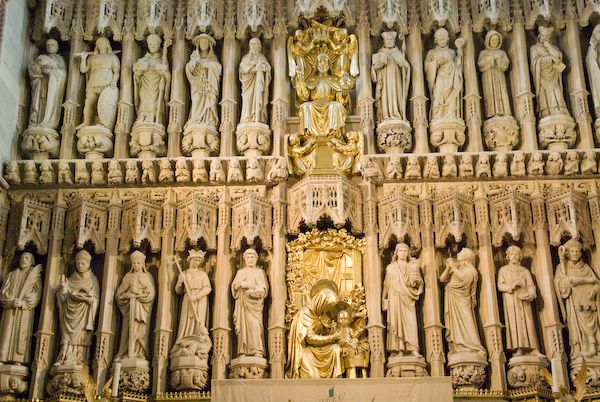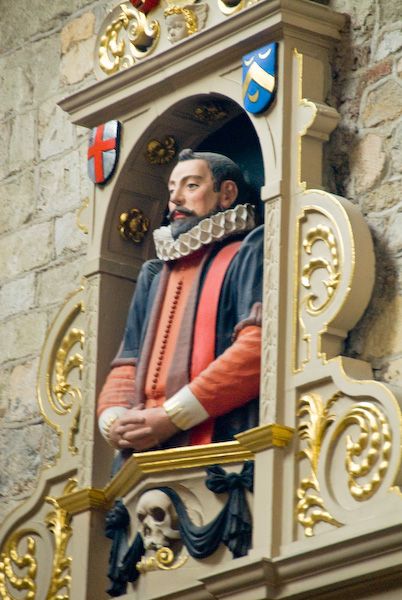 Looking up the south aisle from the south door entrance to the cathedral. The nearest part of the aisle (before the crossing) is largely Victorian, while the further passage dates to the 13th century:
The cathedral gardens are on three sides of London's oldest Gothic church, completed in the 13th century after the original church burnt down. Much reduced in size from the original churchyard, the present garden was restored in 2001 and opened by Nelson Mandela, with Archbishop Desmond Tutu, who was a curate in the Southwark diocese. The splendid East Churchyard herb garden was constructed around the ruins of the medieval Lady Chapel, using herbs which were grown in the Apothecaries' Garden of St Thomas' Hospital, originally near the site. The South Churchyard was designed using plants with Shakespearean and biblical resonance. The churchyard on the south side of the Cathedral is also an oasis of calm and is a favourite lunch-time resting place for local office workers. There are good views from the river embankment to the north. Accessible toilet available.
At the east end of the cathedral is this attractive garden, which stands on the site of a 14th century Lady Chapel and the burial chapel of Bishop Andrewes, one of the scholars responsible for translating the King James Bible into English in 1611. The buildings were demolished to allow the building of James Rennie's London Bridge in the 1830s. The foundations of the chapels can be still seen in the garden.
This striking memorial stands in the south garden of the cathedral. It is a reminder of a poignant tale. Mahomet Weyonomon, a sachem (chief) of the Mohegan (Mohican) tribe in the America, came to England to plead with King George II to return tribal lands taken from his people by the British. Before he could plead his case, the sachem caught smallpox and died. This unusual memorial was erected here in his memory in 2006, using stone from Mohegan tribal lands.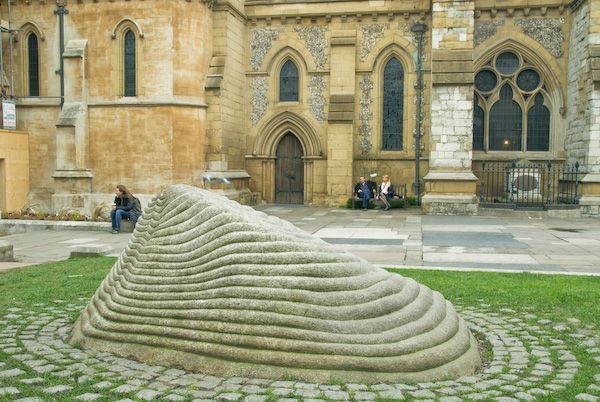 From Southwark cathedral we move 150-200 m. westward to the Golden Hinde ship. Head west on Montague Close toward Montague Close. Take the stairs and turn right onto Cathedral St. The ship is on your right.
The Golden Hinde is a life-sized replica of Sir Francis Drake's flagship, on which Drake navigated the globe in a voyage beginning in 1577. Ship Opening Hours: 10.00 – 17.30 daily for self-guided Tours. Tickets: Adults - 7 GBP, Children - 5 GBP, Family - 20 GBP.In addition to normal, self guided admission, the Golden Hinde can be visited with a special guided tour, led by guides in pirate costume. There are also pirate fun days, and family sleepovers, and Tudor family day options. It was built in 1973 in Devon, and since that date has sailed over 100,000 miles, including a recreation of Drake's global circumnavigation voyage. It is full of replica period furniture, weapons, and nautical gear, giving a vivid picture of what it would have been like aboard ship on the Hinde's famous voyage. Visitors can explore the entire ship, from Drake's cabin, to the hold, where barrels of provisions were stored. A certain amount of agility may be called for if you visit the gun deck, which is sandwiched between the hold and the main deck.
Head west on Clink St toward Stoney St. One minute further westward the Clink Prison Museum is on the left. Opening Times: all year around, 7 days a week. Summer (July – September ) 10.00 – 21.00, Winter ( October – June ) Monday to Friday 10.00 – 18.00, Weekend 10.00 – 19.30, ( last admission 30 minutes before closing). Ticket Prices: Adults - 7.50 GBP, Children ( under 16 ) - 5.50 GBP, Concessions - 5.50 GBP, Family - 18.00 GBP (2 adults & 2 children under 16). The Clink Prison Museum is built upon the original site of The Clink Prison, which dating back to 1144 was one of England's oldest and most notorious prisons. Quite pricey. Try to get a discount. Might be good with children. A small place.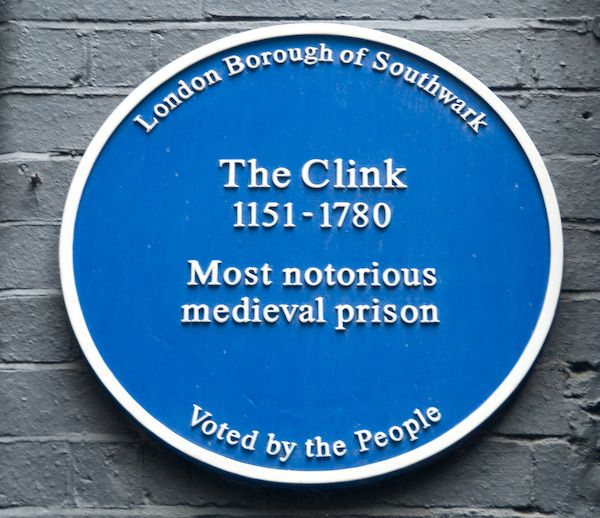 One minute further westward is the wine bar Vinopolis. Opening Times: Monday: Closed. Tuesday: Closed. Wednesday: 18.00-21.30, Thursday: 14.00-22.00, Friday: 14.00-22.00, Saturday: 12.00-21.30, Sunday:13:00-18:00. Last admission is 2 hours before closing. Mainly, wine tasting experience and visitor attraction. Visitors come to taste the 100+ wines on offer and to enjoy a meal in unique location. Special offer: 31.50 GBP full meal with wine samples - every Wednesday. Regular self-guided wine tasting experience. Upon arrival every visitor receives a wine debit card pre-loaded with a certain number of tokens according to package selected. There is an introductory 'How to Taste Wine' session which lasts about 15 minutes. Then you are free to explore the tasting zones in your own time. Simply insert your card above the wines and spirits of your choice, press the screen, and your sample is served. Prices: 27 GBP 7 tokens 1-1.5 hours, 32 GBP 12 tokens 1.5-2 hours, 38 GBP 16 tokens 2-3hours.
We are almost the end of our daily itinerary but, we'll stop for a while in a very famous inn in London. Head south on Bank End and continue onto Park St. Turn right onto Stoney St. Turn left onto Southwark St. Sharp right onto Borough High St and the The George Inn, 75-77 Borough High St. will be on the left. The only example of a traditional, galleried coaching inn left in London. The building is from the 17th century. It was rebuilt after the Southwark fire of year 1676. This inn is mentioned in Dicken's Little Dorit (she is one of our daily stars...). Charles Dickens, himself, used to drink here. Although it functions as restaurant, the in is owned by the British National Trust. The pub/inn has perfect historic, well-worn atmosphere. The inside of the pub is full of history and very interesting. In the summer, expect the inn to be crowded, the yard to be filled with tables and actors or singers entertaining the visitors:
3 - 5 minutes walk further, southward, along Borough High Street will bring you to the Borough High Street underground station.