Regent Street, Carnaby Street, The Soho, Leicester Square and Haymarket:
Start: Piccadilly Circus.
End : Piccadilly Circus.
Circular Route. You can shorten this route and end at Leicester Square tube station or Charing Cross tube station.
Distance: 10-111 km.
Duration: 1 day.
Weather: can be easily done in a grey day. Shelters all along this itinerary.
We start at the Piccadilly Circus station and head to the west along Regent Street. We recommend staying at the Piccadilly Circus square, later, almost in the end of our day. Regent Street was planned by the architect, John Nash, around 1810. The area between Oxford Street and Piccadilly Circus is known as the Quadrant and was intended to be the retail part of the street, with the section towards Portland Place being mostly residential. Regent Street has been home to some of London's most famous stores. Those that still exist include Hamley's (founded in 1760 and moved to Regent Street in 1881), Austin Reed (now, Aquascutum) (founded in 1900 and moved to Regent Street in 1911) and Cafe Royal (founded in 1870).
We walk along the Regent Street from its southern most end until its nort end in Langham Place (near the All Souls Church). On our way we'll pass Oxford Circus. The distance (1 direction) is approximately 1 km. Keep in mind you have to pass many eye-catching shops - so, the time needed to pass this 1 km. is up to you.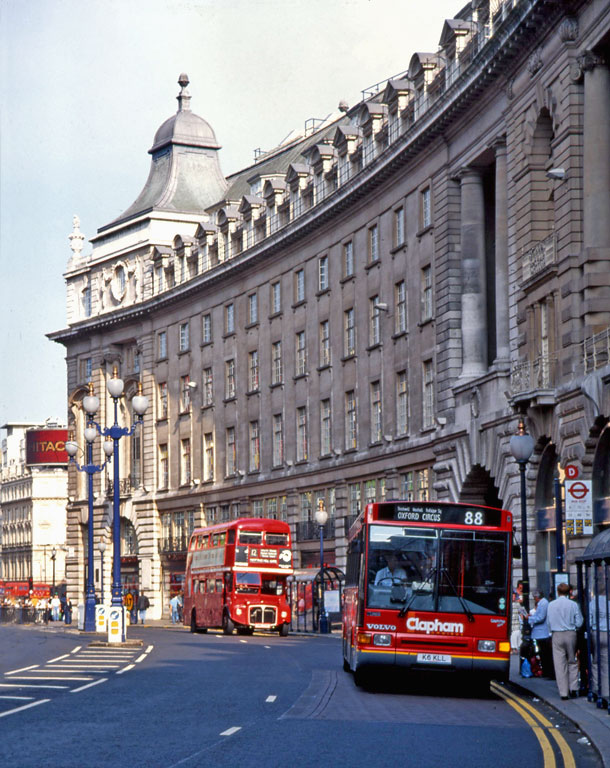 Locals and tourists love Regent Street, because it has a selection of beautiful shops . They love the small arcades that follow on from the street and really love the beautiful architecture. It is a pleasure to be walking down the street during the festive period, because the lights are often amazing. it is one of the most popular shopping streets in central London, linking (as said, before) Langham Place (north) to Piccadilly Circus (south), where we've started our itinerary. The area of Regent Street between Piccadilly Circus and Oxford street is very impressive, with beautiful architecture on a crescent shaped street. The busiest area is around Oxford Circus, where Regent's Street intersects with Oxford Street. We'll remind 2-3 famous icons only:
Café Royal Hotel, 68 Regent Street: Since the reopening in 2012, Café Royal hotel is once again a place to see and be seen:
Oscar Wilde Bar in cafe Royal:
Aquascutum, 100 Regent Street: Aquascutum are one of the leaders of cutting edge style on Regent Street. In this place stood Austin-Reed store for more than 100 years:
Godiva, Belgian Chocolate, 141 Regent Street:
Apple Store, 235 Regent St:
The street level floor is a public area for evaluating equipment, with a section for purchasing at the back, whilst a staircase takes you to the second floor for one to one tutorials and the software collection: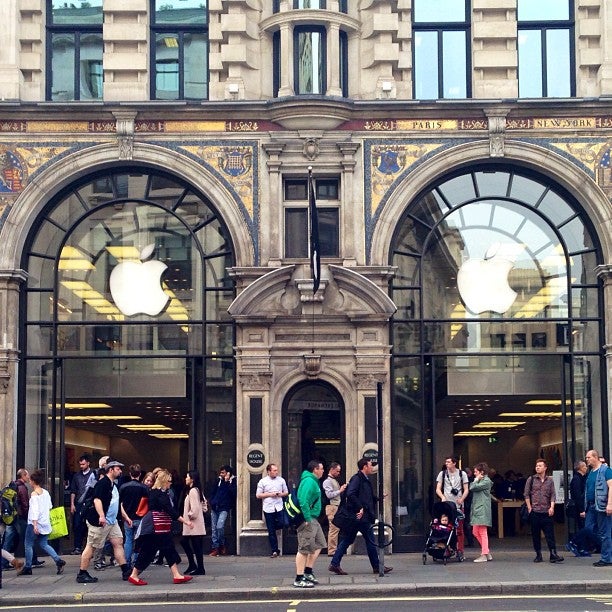 Hamleys, 188-196 Regent Street:

Established in 1760, Hamleys is London's oldest and most loved toy shop. A total play experience, Hamleys has been delighting adults and children for years from their famous Regent Street store, one of the largest toy shops in the world. This legendary store has seven floors brimming with the latest crazes, computer games, traditional teddies and specialist collector areas: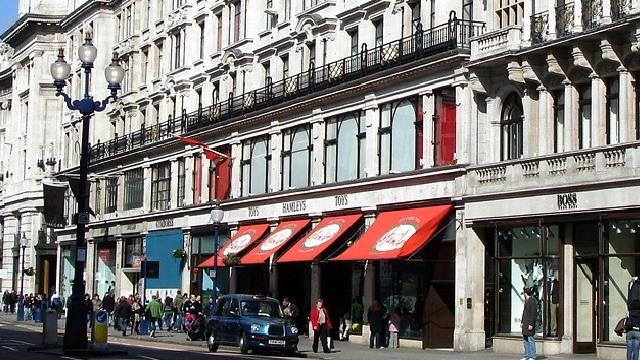 After completing Regent Street, you continue with the same street, now named, Langham Place. On the second turn - you turn to the right to the All Spuls Place and to the church with the same name.
All Souls Church was the creation of the Prince Regent's favorite designer, John Nash. It was erected in 1824 and formed the pivotal point for Nash's ultimate plan for Regent Street: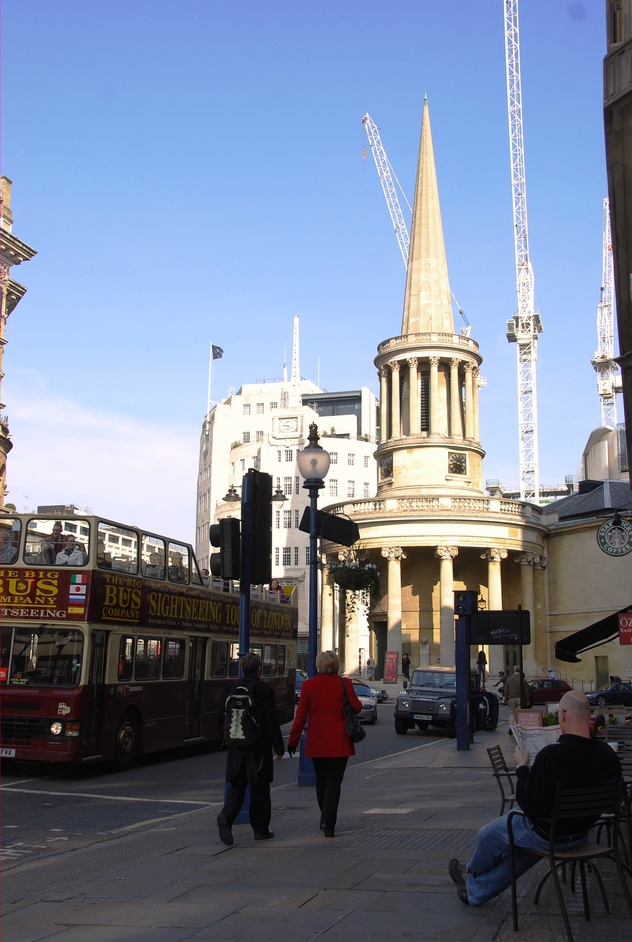 If you have enough time - climb to the roof of St. George Hotel - to catch a breath-taking view of the All Souls Church and of Central London:
Return to Langham Place and continue walking northward along Portland Place. Practically, Regent Street, Langham Place and Portland Place are one long stretch of asphalt... Portland Place has to legs: the western one (on your left) and the eastern one (on your right). Keep in mind that we return and walk back all of Portland Place. So, walk to Regent Park on one leg and return along the other. Do not mistake Portland Place with another street called Great Portland Street.
Portland Place:
Portland Place is very wide - when it was laid out in the late 18th Century it was perhaps the widest of all London streets. It was originally designed by Robert Adam (and his brother James), and some of his architecture survives - especially no. 21 with Ionic pillasters and pediment, and nos. 46-48 in Corinthian style.
The big Langham Hotel, 1C Portland Place, was built in 1863, and at that time was one of the largest buildings in London, being one of the earliest such giant hotels in Britain, though there were already several such in America. It comprised originally some 600 apartments. Try to sneak inside and get a glimpse of its grandiose interior:
Also in Portland Place is Broadcasting House. Pre-booking is essential for guided tour. Regular tours seven days a week. Open to anyone aged 9 years and over when accompanied by an adult. Adults: 13.75 GBP, Concessions: 11.50 GBP, Students: 10.25 GBP.
Broadcasting House is the headquarters of the BBC, in Portland Place and Langham Place, London. At the heart of one of newly-constructed buildings - there is a new newsroom, the largest live newsroom in the world. A walkway above the newsroom allows the public to view the work of the journalists:
In front of the Broadcasting House is an interesting architectural sculpture by Eric Gill (1931/2), the Prospero and Ariel over the entrance being a notable example of his work:
On the Portland Place front, two more bas-reliefs of Ariel depict "Ariel between wisdom and gaiety" and "Ariel hearing celestial music".
The original 1930s reception space in the Broadcasting House has been restored: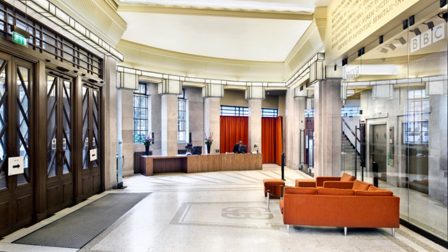 Breathing is an inverted glass lighting sculpture, by world-famous Catalan artist Jaume Plensa - rising up from the roof of he Broadcasting Building: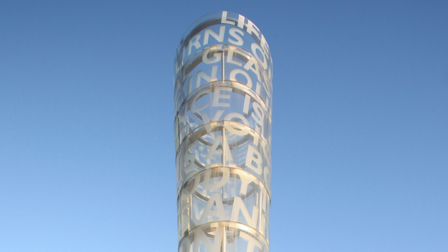 It is a pleasant walk along Portland Place with its multiple statues and with some interesting architectural mansions:
Joseph Lister statue, or 1st Baron Lister (1827-1912), a British surgeon and a pioneer of antiseptic surgery. Lister completely changed surgical practice with the introduction and promotion of sterile surgery. A surgeon himself he discovered the use of carbolic acid could help to protect open wounds during surgery, therefore increasing the chance of a successful surgery. Sculpture by Sir Thomas Brock (1847-1922) unveiled in 1924. The bust of Lister is from 1922, on a high pedestal with bronze garnishes on the sides and a life-size group of a woman and boy at the front:
Further down the street are two further early 20th Century statues: an equestrian George Stuart White (1922) by John Tweed:
and a good Quintin Hogg (founder of the Polytechnic Movement) by Frampton dating from 1906. Quintin Hogg (14 February 1845 – 17 January 1903) was an English philanthropist, remembered primarily as a benefactor of the Royal Polytechnic institution at Regent Street, London, now the University of Westminster:
Statue of Wladysław Sikorski. General Wladyslaw Sikorski (1881 - 1943), Prime Minister of the Polish Government and Commander-in-Chief of the Polish armed forces, 7 November 1939 - 4 July 1943:
33 PORTLAND PLACE - historic house:
Royal Institute of British Architects (RIBA), 66 Portland Place: The Royal Institute of British Architects (RIBA) is a professional body for architects primarily in the United Kingdom, but also internationally. The RIBA is a member organization, with 45,000 members. Parts of the London building are open to the public, including the exhibition galleries and Library. It has a large architectural bookshop, a café, restaurant and lecture theatres:
The Building almost opposite the RIBA building is the Embassy of China:
Institute of Physics, 76 Portland Place:
We continue walking northward along Portland Place, crossing, Devonshire Street. We can see, now, the Regent Park. Immediately south of the park are Park Square and Park Crescent, also designed by Nash.
Park Crescent is at the north end of Portland Place and south of Marylebone Road in London, England. The Crescent consists of elegant stuccoed terraced houses by the architect John Nash. Park Crescent's breathtaking facades by John Nash have been preserved, although the interiors were rebuilt as offices in the 1960s. Originally a series of individual houses, but built to a grand unified design. Nash's idea of the Regents Park development (terraces around the outside, and planned for the inner circle, and villas in parkland) was very novel at the time. Terraces were largely disused by end of second world war – serious thought given to knocking them down and starting again. In the end they were restored (mainly frontages). This is known as the Regency style in London (from the time of the Regency in the early C19th). The Nash terraces are mainly around Regent's Park and The Mall. There are of course hundreds of white colonaded streets in West London - especially around Paddington, Belgravia, and Kensington but the Nash terraces, in Crescent Park, are the simplest and some of the oldest. This is part of the Ceremonial Route from Buckingham Palace to a Summer Palace which includes Regent Street to a planned (but never built) in Regents Park. John Nash was the architect and promoter of the scheme – and his stuccoed Georgian Terraces are considered to be some of the best examples of urban architecture in London: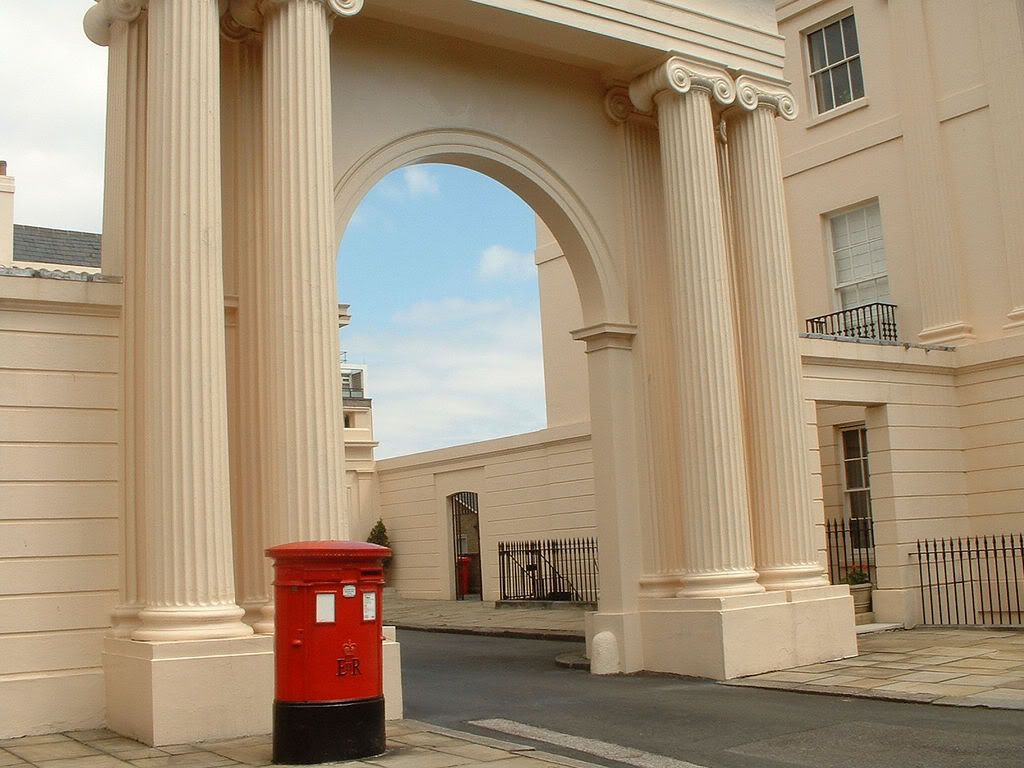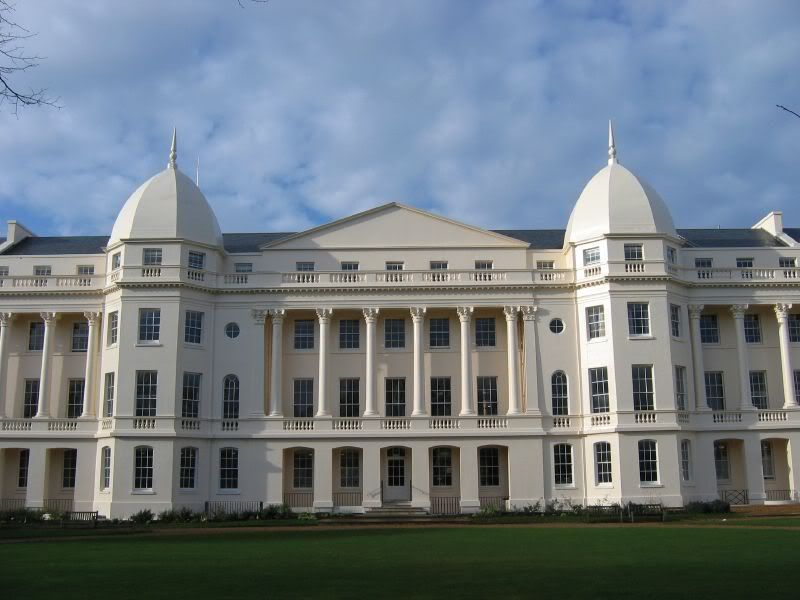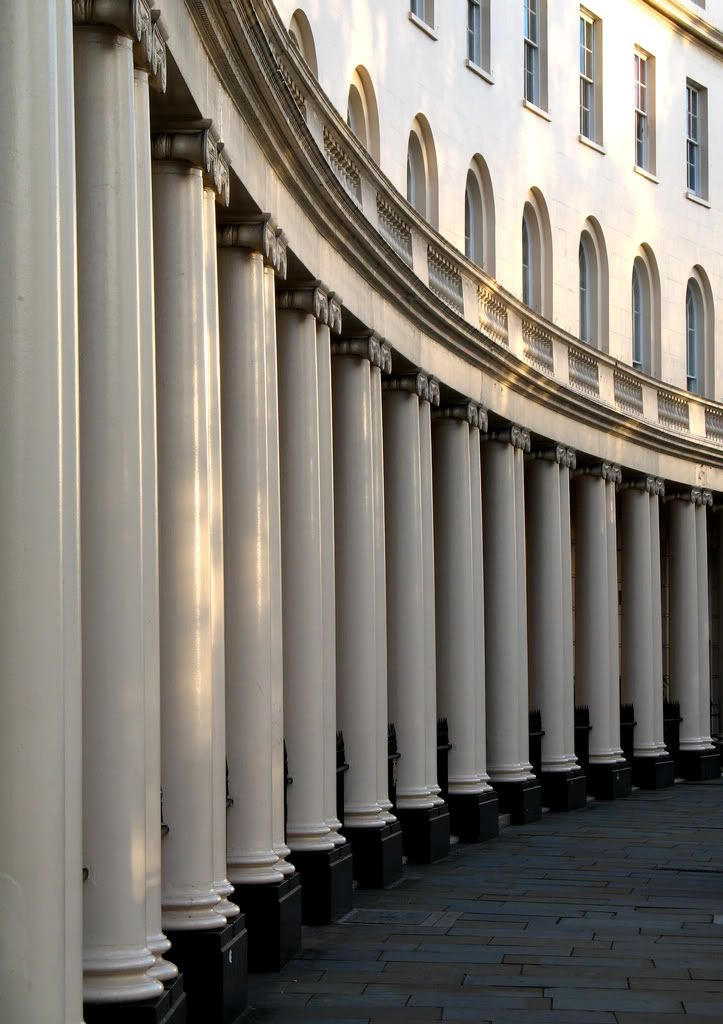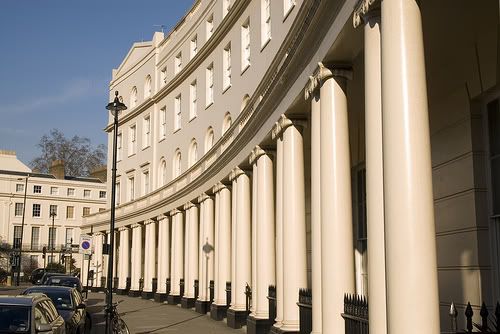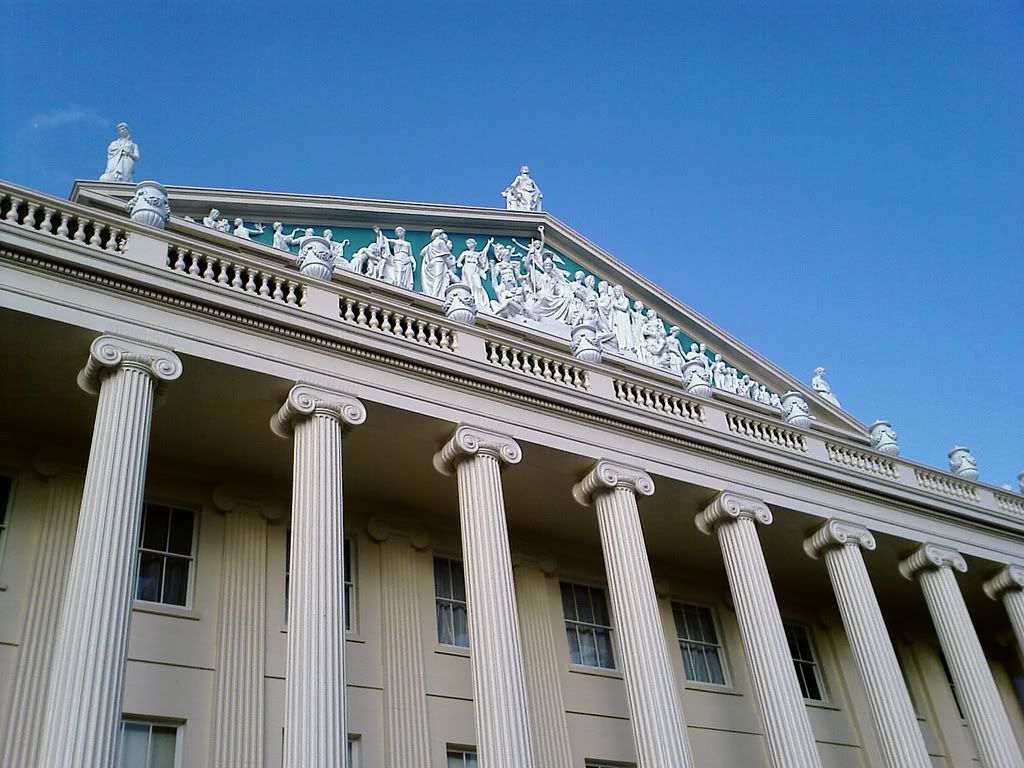 After strolling along the two wings of Crescent Park (the west and the east wings) - one of the most sought for locations in London - we return and WALK BACK part of our way till now. we return back Portland Place along its entirety, Langham Place and Regent Street - until Oxford Circus.
We turn left at Oxford Street, head south on Argyll St toward Little Argyll, turn left onto Great Marlborough St and, finally, turn right onto Carnaby St. Many people refer to Carnaby Street as being at the Soho territory.
I recommend that you'll walk the Carnaby Street from north to south, visiting on your way, also the Fouberts Place, Ganton and Newburgh streets - on your left and right, until its end, turn right to Beak Street and again right to Kingly Street. Then, walk along Kingly Street (visiting also the Kingly Court) and finish with the Liberty mega-store (which is, actually in the corner of Carnaby and Great Marlborough streets). Else, start with the Liberty (if it is raining at the moment) and skip it in the end of your visit in the Carnaby area.
Carnaby Street:
Probably the most famous street in London in the 'Swinging 60's'. Since that time it has struggled to maintain its once-trendy identity. Popular in the swinging sixties this shopping area is a hidden gem and definitely a must visit for anyone who loves fashion. You will find the flagship stores of Puma, Fornarina and Miss Sixty alongside smaller shops selling clothes,accessories and gadgets.
The 1991 "Spirit of Soho" mural on the corner with Broadwick street is certainly worth an extended look. See how many of the characters – all local residents, at one time or another – you can recognize.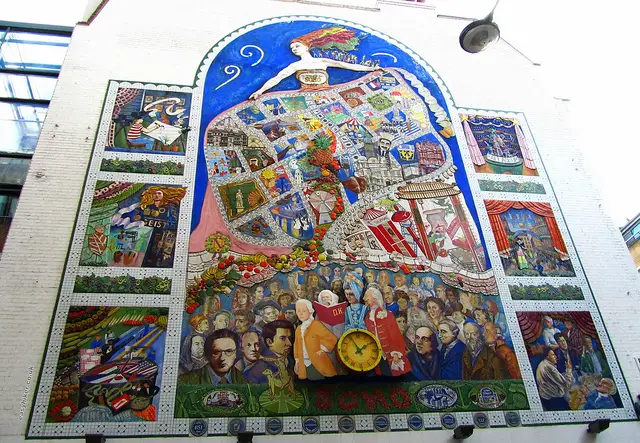 Carnaby Street made its name as the place that set the trends for both mods and rockers during the Swinging 60s. The pedestrianised road is lined with independent boutiques, and runs from the mock-Tudor department store Liberty in the north, down to Regent Street in the south. Although it may feel more like a high street than in the rebellious era of The Beatles, Carnaby is still the soul of the western half of Soho.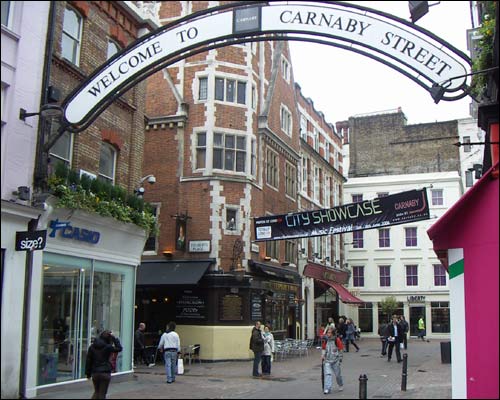 Carnaby Street with the British flag at night:
Ganton Street:
Pylones - Carnaby Street:
26 Ganton Street, Mother Mash – presumably the world's only restaurant chain devoted to mashed potato:
Foubert's Place:
Choccywoccydoodah, 30-32 Fouberts Place: Choccywoccydoodah is an art and design focused chocolaterie based in the Newburgh Quarter, complete with chocolate shop, café and secret room.
Peckham Rye, 11 Newburgh Street: Peckham Rye, the quintessential British heritage tailoring brand, makers of ties, scarves and accessories for both men and women.
Kingly Court:
Liberty ,Great Marlborough Street:
Liberty was founded in 1875, but the present Marlborough Street site, with its ships' timbers and leaded windows, was built in the 1920s. The interconnecting jumble of rooms, with the odd fireplace and cushioned window seat, makes for an intimate feel – as if you've strayed into a private room in a stately house. It's not an accident, founder Arthur Lasenby Liberty wanted customers to feel as if they were exploring someone's home, keeping the shopping galleries small, albeit linked to three rather grand atriums. Although Liberty trades well on its history, it constantly squeezes innovation into its wood-panelled rooms. Alongside one of the best edits for fashion shopping in the world, in 2011 it expanded its men's floor, adding a huge tailoring and accessories chamber packed full of posh undies. The Paper Room soon followed on the ground floor with micro-floral Liberty print stationery and gifts, and then the Dining Room opened.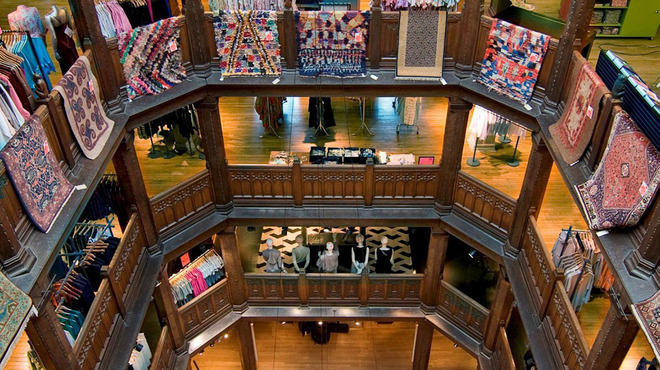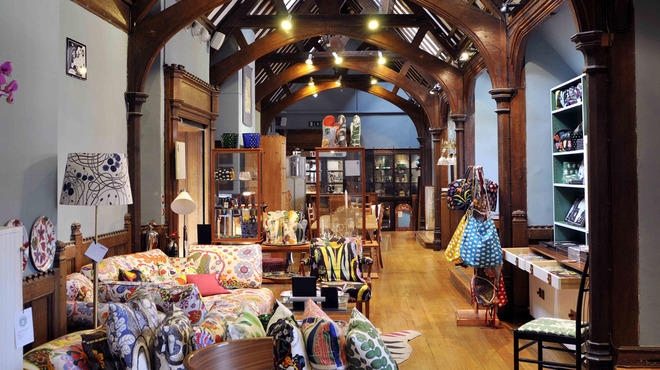 We exit the Liberty store and turn right (east) to Great Marlborough Street. We walk until its end and continue with the same street, now, named Noel Street. We cross Poland and Berwick streets and turn right onto Wardour Street. You can enter the Soho (from the north to the south) also from Berwick Street - but, I found the Wardour more attractive - although we'll turn to Berwick Street, as well, to visit its street market. Here, I must advice the reader that exploring most of the Soho - means, walking in zig-zag among the various roads in this part of London. Please, allow, at least, 3-4 hours vor browsing and tasting the Soho of London. It becomes more and more sophisticated, sought-for and expensive.
The Soho
Best time to visit: Come here Monday to Saturday. The mornings are quiet compared to the afternoons and evenings in which the district is bustling with activity. Visit China Town anytime.
What to avoid: The alleyways of disrepute (around the junction of Rupert Street and Brewer Street) are a reminder of Soho's bad old days. If you're just walking through, you're unlikely to be hassled, but these narrow streets are best avoided after dark.
Soho is bordered by Oxford Street, Regent Street, Leicester Square and Charing Cross Road. Until the 1600's, the area was open land, lying on the South side of the track which became today's Oxford Street. Year 1687: After the persecution of the Huguenots, in France, they settle in Soho as well as other parts of London.
Diverse, fun-loving and never quiet, Soho attracts a wide mix of people. Its history, venues and atmosphere make it a must-see for tourists, and Londoners flock here too. Soho is a hard place to pin down. The district – and its southern subsection Chinatown – teems with tourists going to West End shows, media professionals marching to work, hungry patrons sampling some of London's best restaurants and people looking to have a long night out at one (or several) of the area's clubs, bars and pubs. But Soho was also home to many historical figures, including Mozart, Karl Marx and The Sex Pistols. Many Londoners still think it's all about sex, but the fact is, Soho should be as notable for its history and culture as it is for the sleaze.
Soho was originally farmland and hunting fields, and the name comes from an old hunting cry, "So Ho", which was also used as a password to rally troops during the English Civil War.
By 1851, Soho was one of the most crowded areas in London and during the late 1800's, it gained its reputation as a place for entertainment. With its many clubs, bars and theatres it is still a popular entertainment area today.
These days, only 3,000 people live in the area, but 70,000 visit it daily. Soho is now populated by media types: film production agencies, public relations and publishing houses. They give these streets an authentic London buzz, despite being surrounded by the tourist traps of Piccadilly Circus, Leicester Square, Regent Street and Oxford Street.

Vodkas Only !:
Wardour Street
It is a one-way street south to north from Leicester Square, up through Chinatown, across Shaftesbury Avenue to Oxford Street. Once the home of the film and media industry. what you might call "sleazy Soho". The district was once famous as the centre of London's vice industry, and although it has been very much cleaned up by the authorities remnants cling on in the sex shops and "men only" clubs. These are scattered throughout the area, with perhaps a concentration on and around Wardour Street, but although you may find them distasteful you shouldn't feel threatened by their presence in any way – although if you're traveling with children you could find that they provoke one or two questions you'd rather not have to answer. 1680: Approximate date. The country lane was built upon in the 1680's. It was named after Edward Wardour who owned land around the northern part of the street.
The line of the street is shown on a plan of 1585 as a lane called Commonhedge Lane. 1790: Approximate date. Thomas Sheraton, the famous furniture designer, lived at No 163 Wardour Street.
We walk along Wardour Street from north to sout, crossing Sheraton Street on our left, Broadwick Street on our right and passing through several media businesses.
At Wardour Street, looking for no. 90 on your left hand side, the former site of rock music's most famous joint, the legendary Marquee Club. This is where the Rolling Stones played their first ever gig in 1962 – but really hit the big time after its 1964 move into a more central location (more central by Soho standards, that is). Practically every band that was famous at the time played here at least once, including Led Zeppelin, Pink Floyd and the Sex Pistols. (The Marquee moved somewhere else in 1988.)
Hummus Bros, 88 Wardour Street (on your left):
Houmous may be nothing more than cheap student-fuel to many, but this humble chickpea paste is elevated to something altogether more delicious in the hands of Hummus Bros. The original Wardour Street outlet is spartanly decorated – all red communal tables and big windows – with queues of office workers snaking into the street at lunchtime: scenes replicated at the Holborn and Cheapside branches. Though the wraps aren't bad, go for the bowls of silky-smooth houmous sprinkled. Main courses 3.70 - 8.80 GBP.
Continuing along the Wardour, you cross Peter Street (right). Here we make a short detour of the Berwick Street (which is parallel, west to the Wardour Street). Turn right to Peter Street and, again, right, onto Berwick Street Market. Berwick Street famous for its street market, especially the fruit, vegetable and flowers. Berwick Street is a vibrant and diverse community in the heart of London's Soho, teeming with traditional London pubs, vinyl shops, bespoke tailoring, colourful textile shops, vintage clothing, original restaurants, coffee shops and independent fashion boutiques. This view – minus the Soho market stallholders who are crowding the street every weekday between 9 am and 6 pm – will be familiar to (at least) all of the 22 million people who have bought a copy of the 1995 Oasis album What's the Story Morning Glory. This was one of the last albums ever to sell that many copies worldwide, and certainly one of the last rock albums. Berwick Street has been a destination for vinyl record collectors since the 1980s when it became known as 'The Golden Mile of Vinyl'. Soho's reputation has also been formed by the musicians and artists that have perfomred gigs here over the years. Music and Soho still go hand in hand and Berwick Street is filled with record stores selling vintage vinyl and CDs.
Berwick Street market is one of the last remnants of the old Soho. The colourful street market, staffed by cockney stallholders, serves residents of the neighborhood's council estate. It still feels rough around the edges, but, in recent years, trendy food trucks have been tacked on to the market, making for an odd juxtaposition. The market is also home to Flat White, the Kiwi cafe that is generally accepted to have started London's coffee trend when it opened in 2005. The place is packed with a mix of antipodeans and Soho residents, but it can get crowded. Their sister cafe, Milkbar, has a more relaxed vibe. Visit the Berwick Street Market equipped with sweets, nuts, vegetables, fruit and fish. Open: Monday to Saturday 9.00- 18.00.
We return from Berwick Street to the Peter Street and Wardour Street. After the Wardour-Peter intersection, on your right look at Wardour No. 97-99.
97-99 Wardour Street, nowadays: Byron Burgers, in the past: The Interpid Fox. Once patronized by the likes of Mick Jagger, Rod Stewart, the Sex Pistols and actor Richard Harris, in latter years the pub had become one of the last rock & roll boozers left in central London. This legendary place is replaced, now, by the (quite reputed) Byron brand.
The next road to your right is Brewer Street.

Wok To Walk, 4 Brewer Street: Brewer Street, famous for the cheap Japanese restaurants, Asian supermarkets and shops. You never have to pick the same thing twice either as there are so many combos to create! Super fast, super cheap, super mix and match selection, freshly made in front of you and you'll find, that every time of the day or night - you'll find it super tasty too. A bonus: Gluten Free menu !!!
Continue walking southward along Wardour Street and cross Old Compton Street (on your left) (we'll return to this central road). On our right:
St Anne churchyard and tower: The church, originally built by Wren, has had many alterations. The tower dates from 1802.
1678: Parish was formed from part of the parish of St Martin in the Fields. 1680: Church was built 1680-86, designed by Sir Christopher Wren. 1802: Tower was added. Now: Tower of the original church and the ruins of the church walls, along with the churchyard, remain standing in Wardour Street. It is an island of tranquility in this bustling area around. It is a good idea to have a picnic into the quiet yard:

Continuing southward along Wardour Street we arrive to Shaftesbury Avenue (on our right and left). Shaftesbury Avenue, one of the most famous theatre districts in London. Here, take 20-30 minutes to visit several of the famous icons of London Theatreland. The best time to see this road is, naturally, the evening hours.
Shaftesbury Avenue was built in the late 1800's and is today home to many of London's famous theatres, including five that were built between 1888 and 1907: the Lyric, the Apollo, the Globe, the Queen's and the Palace. They all survived the bombing of London during the Blitz in 1940 and are what give Shaftesbury Avenue its name, "the heart of theatreland". Most of these icons are on your right (west) - coming from Wardour Street (from the north). The first two are already seen from the Wardour Street.
Gielgud Theatre, 35 Shaftesbury Avenue: From the outside, the Gielgud Theatre is an impressive sight, towering four storeys over Shaftesbury Avenue, its height further emphasized by the turret on top. The interior is also magnificent: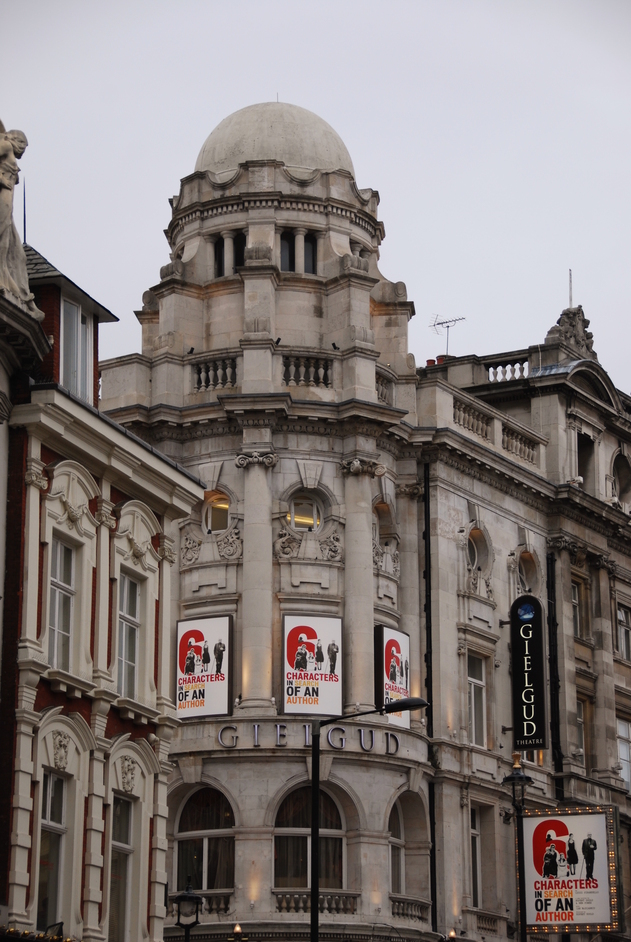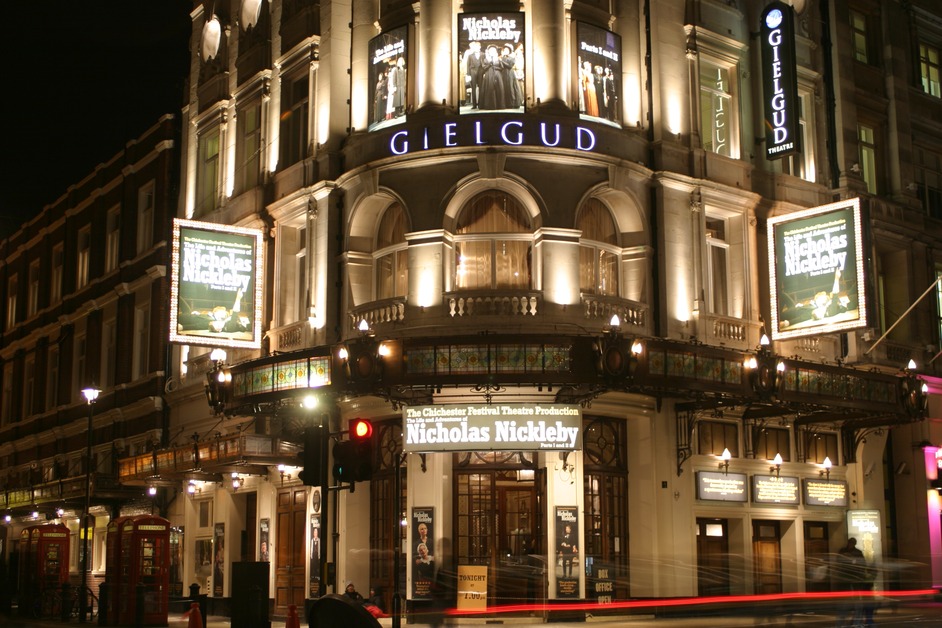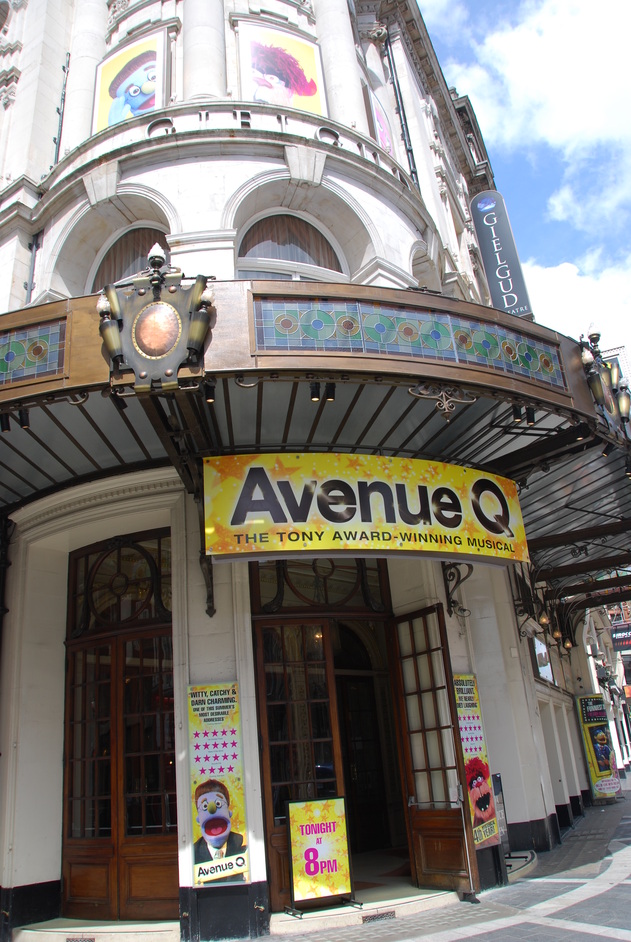 Les Misérables at the Queen's Theatre, 51 Shaftesbury Avenue: The lovely Queen's Theatre opened in late 1907, around a year after its handsome twin, the Gielgud Theatre. The Queen's theatre was where "tea dances" were first introduced, in 1913. Known as "Tango Teas", the admission fee covered dancing, a dress parade and tea in the stalls. The acclaimed, long running musical extravaganza Les Miserables continues at the Queen's Theatre.
Apollo, 31 Shaftesbury Avenue near the intersection with Rupert St. The first West End theatre of the Edwardian Age. The Apollo theatre was designed for musicals and from 1908 to 1912 was the home of the Follies.
Be warned: Shaftesbury Avenue's theatres are notorious for their vertigo-inducing balconies and the Apollo's may be the steepest of them all. But what the theatre lacks in user-friendly design it makes up for in style, being one of the most attractive theatres on the street. Far from being just a pretty face, the Apollo Theatre has come up trumps in the production stakes, with 'Fallen Angels' and 'Rain Man' all proving successes in the past decade: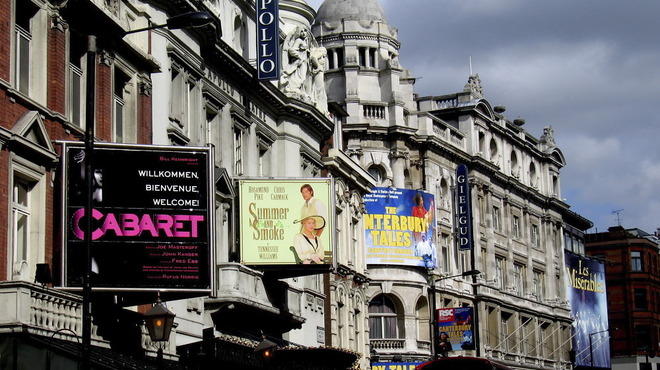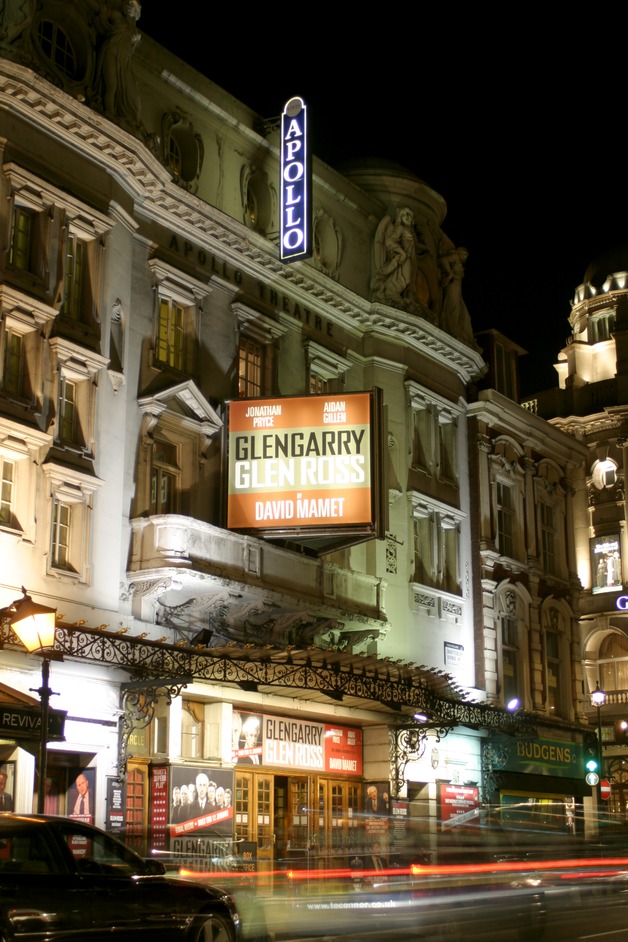 Lyric: Adjacent to the Apollo. The Lyric, Shaftesbury Avenue's oldest theatre was opened in 1888, just two years after the street itself was completed: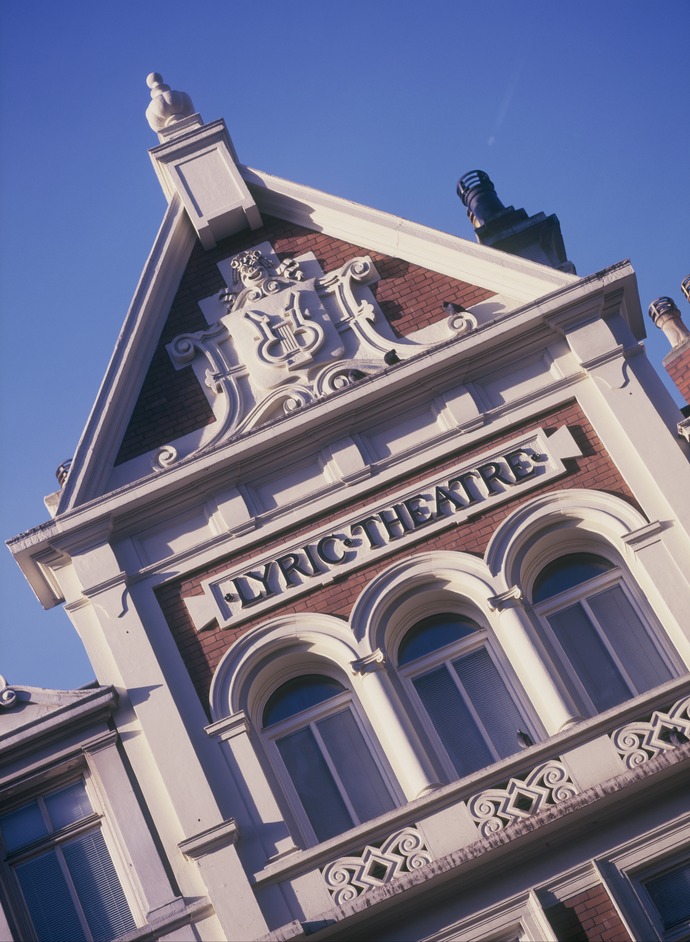 Return from Shaftesbury Avenue to Wardour Street and continue walking southward along the street. Immediately, on you right:
Wong Kei, 41-43 Wardour Street, was once famous for the rudeness of its staff and earned world-wide reputation with its rude staff dishing out insults to its customers> It will be opened under a new ownership (far more friendly) in March 2014:
A few steps later, on your left - London Chinatown. The area was originally established in 1677 as a military training ground. By the mid eighteenth century. Chinatown, largely focused on the southern part of this district. The heart of this part is Gerrard Street, with its Chinese style arches at each end and a plethora of Chinese restaurants and supermarkets selling exotic ingredients along its length. While the restaurants are of mixed quality (the presence of local Chinese families eating there is your best clue in a rapidly changing environment), this is the place to come for the quintessential Chinatown night out. Always busy, this part of Soho reaches a peak of excitement in January-February each year when Chinese New Year is celebrated by local Chinese, other Londoners and visitors to the city with a parade and fireworks (celebrated also in Trafalgar Square). Chinatown and Soho are usually lumped together in tourist guides but they have a very different character that become immedaitely obvious as you cross over from Shaftesbury Avenue. London's China Town maybe smaller than those in other international cities but it still has much to offer. The Chinese community moved here in the 1950s. Previously there was a Chinese quarter at Limehouse in East London, but that area was dismantled in 1934 due to crime and the opium trade. Cheap rent around Gerrard Street and Lisle Street attracted the community which made this area its home. If you like Chinese food then this is the place to eat. Restaurants line the streets with their windows full of rows of hanging cooked ducks. Dim Sum, Peking duck and noodles are everywhere. China Towns is also moving with the times and many of the smaller restaurants are being replaced by bigger, sophisticated Asian eateries. Chian Town has one odd addition, The Hems is the only Dutch pub in London on the corner of Gerrard Place and Gerrard Street.
Gerrard Street lies just south of Shaftesbury Avenue. Gerrard Street marks the centre of London's Chinatown. Gerrard Street in London's Soho is in the heart of Chinatown. It is filled with red lanterns, dragons and Mandarin street signs, and full of Chinese restaurants. It is particularly busy during the weekend, when the local Chinese community flock to the shops to stock up on foodstuffs, not readily available elsewhere. Gerrard Street had become more famous for its coffee houses and taverns, being on the edge of Soho. And by the 1920's, it was renowned for its nightclubs. The area is now distinctly Chinese, with street signs in Chinese and English, telephone boxes in the shape of pagodas and lots of bright red paint (which the Chinese believe to be the colour of good luck). 1677: Laid out 1677-85 on land belonging to Charles, Lord Gerrard.
1985: Made into a pedestrian precinct to encourage the Chinese community to make the area more attractive.
A pagoda in Gerrard Street:
A stone lion on Gerrard Street. Note the bilingual English/Chinese street sign in the background:
Shopping in Chinese Supermarkets along Gerrard Street:
Chinese New Year 2013 (Trafalgar Square):
A rating of Chinatown restaurants: http://www.hot-dinners.com/Features/Hot-Dinners-recommends/the-hot-dinners-guide-to-the-best-restaurants-in-chinatown

In case you are exhausted or the hour is too late cut your visit in the Soho and walk southward - through Leicester Ct / Leicester PL / Leicester St (crossing Lisle Street) to Leicester Square (Cranbourn Street).
If you are still fit and have more time to explore the Soho - change your direction. Now, we cross the eastern side of the Soho - from south to North. From the eastern end of Gerrard Street turn left (north) to Gerard Place. Walk in Gerrad Place until its end, turn right to Shaftesbury Avenue (facing the Curzon Soho) and on the 1st turn to the left to Greek Street.
Greek Street was named after a Greek Church that once stood on the east side of the street. No.49 was once Les Cousins, a folk venue (the mosaic featuring a musical note is still visible), while no.46 was a house in which Casanova briefly lived. No.49 was once Les Cousins, a folk venue (the mosaic featuring a musical note is still visible). Three Greyhounds (intersection with Old Compton Street) est. 1871. L'Escargo Restaurant, 48 Greek Street est. 1871, Ketner's Restaurant, (intersection with Romily road) established 1867 - in 1892, Oscar Wilde hosted a dinner party here. Maison Berteaux, 28 Greek Street founded in 1871.
Walk along Greek Street northward crossing Romily Street.
The Coach and Horses, 29 Greek Street, is a public house, notable for its association with the columnist Jeffrey Bernard, the staff of Private Eye magazine, other journalists and as a haunt for Soho personalities. Its former Landlord, Norman Balon, became famous too – in part for his self-proclaimed title of "London's rudest landlord", but also, presumably, because of his proximity to writers who document his actions and anecdotes:
Cross Old Compton Street. On your right (behind the Londis):
19 Greek Street Design Gallery: a new gallery showcasing socially responsible design has opened in Soho and its inaugural collection features furniture from Brazil, plus pieces by famous designers around the globe. This six-floor Victorian house is a playground for design experimentation:
Bi Bim Bap, 11 Greek Street: Bright colours, Ikea-style furniture and walls plastered with Polaroid snaps of happy diners mark Bi Bim Bap as a youngsters' hangout. It's more suited to an after-work pit stop than a lingering meal; service is quick and the food filling. There are Korean beers and spirits to try as well. As the name suggests, Bi Bim Bap's big draw is the stone-bowl rice dish of the same name – served in ten varieties. Classics include beef, chilli chicken, spicy pork or seafood, but veggies are well catered for too with tofu, mushroom, or brown rice, ginseng and gingko versions on offer. Some say the key to a good bibimbap is how well it's mixed together, and staff let you do the honours here (as well as adding your own koch'ujang and doenjang sauces). In our experience, the results have always been sound, with crisp rice at the bottom and a decent amount of toppings to blend through. Other dishes, including fried noodles, jeon pancakes and salads, can be more of a mixed bag. The wrappers on our vegetable dumplings seemed more air-dried than crisp-fried, though the chilli-speckled dipping sauce had plenty of flavour.
10 Greek Street: A small, unshowy restaurant that's made a name for itself with a short but perfectly formed menu and an easy-going conviviality. Always busy. No reservations. Dishes are seasonal – ricotta-stuffed courgette flower with lentils, wild mushrooms and truffle, and chilled asparagus and pea soup with crème fraîche were exemplary starters. And it's value for money too – the soup cost a fiver. The kitchen (under Australian Cameron Emirali) produces lots of interesting but ungimmicky combinations: Superb food.
The Outsiders Gallery, 8 Greek Street, Open Monday–Saturday, 11:00 – 19:00. Admittance is free. A promise: very special art gallery. You won't regret entering this gallery with so many radical artists under one roof...
If you are not tired - walk 2 minutes further to the north to the Soho Square. It dates back to 1681 and was originally called King Square after Charles II, whose statue stands in the square. During the summer, it hosts open-air free concerts:
Return, along Greek Street, a few steps backward (south) and turn west (right) to the Bateman Street and immediately left to Frith Street. It runs from Old Compton Street (south) to Soho Square (north). 1675: Approximate date. Laid out in the late 1670's and early 1680's. Named after Richard Frith, a rich builder.
1770: Approximate date. Wolfgang Amadeus Mozart lived at No 51 Frith Street, as a boy. 1838: From 1838 until 1852 Dr John Snow lived at No 54 Frith Street. He moved from there to Sackville Street, where he died in 1858. 1925: John Logie Baird demonstrated the world's first television pictures at No 22 Frith Street. Walk 1-2 minutes (our face to the south) until:
Ronnie Scott's, 47 Frith St: Yet another West End legend lies right across the road: Ronnie Scott's Jazz Club has hosted many legendary performances over the years – jazz, of course, but also rock. The Who premiered their rock opera Tommy here, and Jimi Hendrix gave his last ever live show on this stage. Opened by the British saxophonist Ronnie Scott in 1959, this legendary Soho institution made its name as the first club to host American jazz musicians in the UK. As well as welcoming the biggest names on the jazz scene (Zoot Sims, Johnny Griffin, Lee Konitz, Sonny Rollins, Sonny Stitt) it's also made room for other artists that fit the distinctive Ronnie Scott's vibe – Tom Waits, Elkie Brooks and even Mark Knopfler have all performed here. It was completely refurbished in 2006 when theatre impresario Sally Green took over – Scott had died ten years previously and his business partner wanted out. Capacity has been expanded to 250 and the club is now consistently booking a wide variety of top notch artists that while featuring the biggest names from the world of jazz (like Kurt Elling, Christian McBride, Joshua Redman, Chick Corea and Billy Cobham), has also included the likes of guitar hero Jeff Beck, former Cream bassist Jack Bruce as well as soul and blues stars. The club's 50th anniversary year in 2009 was particularly strong and saw the introduction of a now annual 'Brit Jazz Festival' that showcases the best home grown stars in a two week period in August. This festival has been a sell out success and is testimony to Ronnie Scott's original ambition of setting up the club as a place for British jazz musicians to perform at regularly, and in turn create our own world class jazz scene. Ella, Miles and Curtis are just some of the greats to have graced Ronnie's down the years.
This seminal jazz club tucked away on Soho's Frith Street is worth a visit even if you don't like jazz. It's jazz hands all-round if you do. Tables are arranged in neat, tiered rows around a sunken stage, with luminous red lamps dotted around the dim room. Seats, priced according to the view and act, start at 25 GBP. Choice of cocktails - plentiful. Forget eating here -- it's not the main draw and largely a disappointment.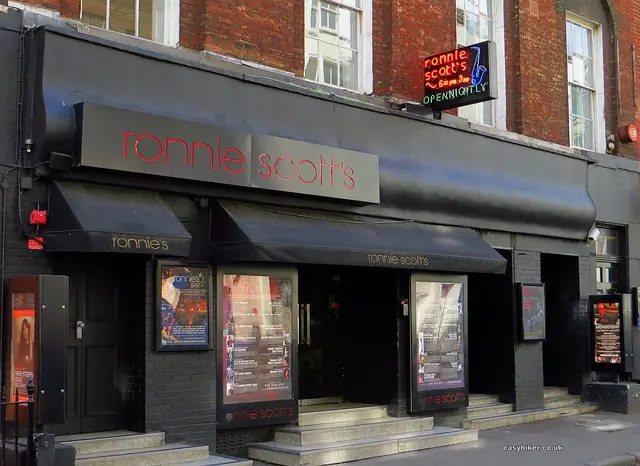 Continue walking along Frith Street southward and turn LEFT to:
Old Compton Street
Once referred to as the 'High Street' of Soho. The most animated part of the district in my view, gay Soho, centred on Old Compton Street and its off-shoots such as Greek and Frith Streets. Soho has always been the most tolerant part of London and is now the heart of the capital's vibrant gay scene. This will be apparent to anyone walking these streets, but should not deter straight visitors from spending time here; this is a very inclusive community and pubs and bars are likely to welcome all comers equally. This is also the heart of the Italian part of Soho, with the wonderful institution that is Bar Italia and many other great coffee shops besides. Sit at a pavement café with a cappuccino and watch the world go by – a people-watcher's paradise!
At the corner of Frith Street (9), is the Dog and Duck pub - a Soho landmark for generations chiefly known for its literary heritage and for its ever-changing ale selection. Bar Italia (opposite Ronnie Scott's), also in the junction of Old Compton and Frith streets, is a famous Italian coffee shop and reputed to be a favourite of Robert De Niro's when he is in London. At no.20, there used to be a cheap Italian restaurant called Pollo, in which Pink Floyd's Syd Barrett whiled away his time. These days, your best bet for cheap food is the hardy Stockpot (at no.18). No.59 used to be the venue where a young Cliff Richard strutted his stuff in the 1950's.
Old Compton Street at the heart of of Soho, and known as a gay street. From late afternoon until late night the bars and pubs are packed with a young, trendy crowd along with exhibtionists strutting their stuff. The 'real' gay scene moved to Shoreditch and Vauxhall some time ago but the GAY Bar is still a starting point for young gay men and lesbians. It has the atmosphere of a busy Spanish resort and is one of the liveliest areas of London. The mix of visitors gives it a buzz.
Walk along Old Compton Street from west to east. On your left:
Prince Edward Theatre, 28 Old Compton St:
Situated on the fringes of Soho, this Art Deco theatre opened in 1930, boasting elegant decorations featuring ornamental glass work by Lalique. The large stage was designed to accommodate extravagant stage effects and the first production was 'Rio Rita', a transfer from New York's Ziegfeld Theatre. More racy musical fare followed, with scantily clad female statues placed outside for promotional purposes falling foul of the Lord Chamberlain's office in 1932. Josephine Baker made her London debut here in 1933 but the theatre was struggling and by the mid-1930s it had become a cabaret venue with dance floor, restaurant and casino. During the war, the Prince Edward, by now known as the London Casino, was dark; it reopened for business afterwards and hosted Cinerama screenings. Only in 1978, with the opening of Tim Rice and Andrew Lloyd Webber's musical 'Evita', did it return to the theatrical function for which it was designed. The show ran for eight years and was succeeded by Rice and ABBA's 'Chess'. In 1990, the theatre was refurbished by owners Delfont Mackintosh and has since housed a string of musicals, including 'Martin Guerre', 'Mary Poppins' and, prior to its transfer to the Prince of Wales, 'Mamma Mia!'. The theatre received another facelift before 'Mary Poppins' alighted there in 2004, including a brightening-up of the foyer Mozart Bar, so-called because young Amadeus briefly lived at 28 Frith Street, now the theatre's stage door. Nowadays, the Jersey Boys show in Prince Edward Theatre is another big hit. MIss Saigon, reinvented, will run, here, from May 2014 (Jersey Boys moved to the Piccadilly Theatre in March 2014):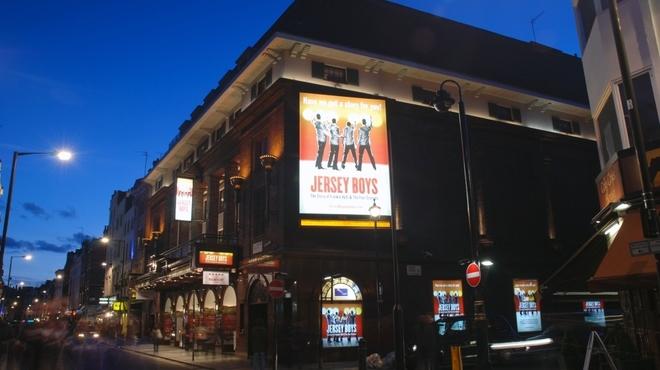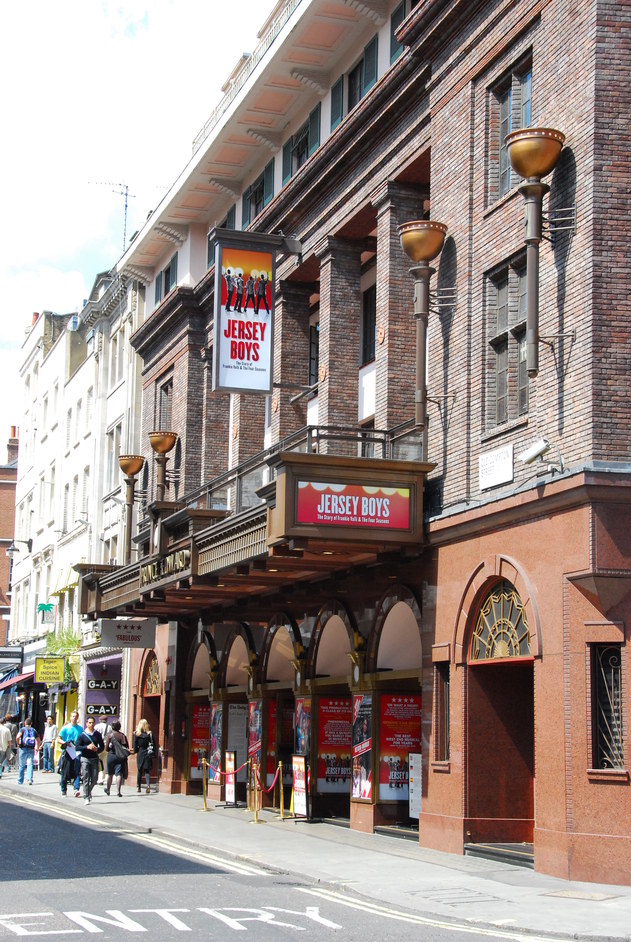 The Three Grehounds pub in the intersection of Greek and Old Compton Streets: the pub is so named from the dogs once used to hunt hares when Soho was open ground. Records show the pub at this site in 1927, although licensed premises have existed in this place since at least 1847:
From the eastern end of Old Compton Street - it is 5-7 minutes walk to the Leicester Square tube station. From Old Compton Street, turn right onto Charing Cross and walk southward. Cross Shaftesbury Avenue and Lisle Street on your right. If you have one hour more and you're still fit - head to Leicester Square.
The Hippodrome is a building on the corner of Charing Cross Road and Leicester Square. The name was used for many different theatres and music halls populating this complex building:
The Back facade of the Hippodrome - from Cambridge Circus (photo from 2010):
From Charing Cross turn right onto Cranbourn Street and walk 2-3 minutes to Leicester Square Park with Trafalgar Square to the south, Piccadilly Circus to the west, China Town to the north and Covent Garden to the east. First laid out as a square in the 1670's, Leicester Square is synonymous with London's nightlife. Originally a fashionable residential area, by the mid 19th century it had started to become a commercial district. The square enjoyed its most popular days between 1860 and 1914 when various theatres, including the Empire, attracted audiences from across London. These days, many of the theatres have been replaced with cinemas. London's home of entertainment is world renowned for its diverse offering. It is the beating heart of British cinema, with all the major European premieres happening here. In the middle of the Square is a small park, in the centre of which is a 19th-century statue of William Shakespeare surrounded by dolphins.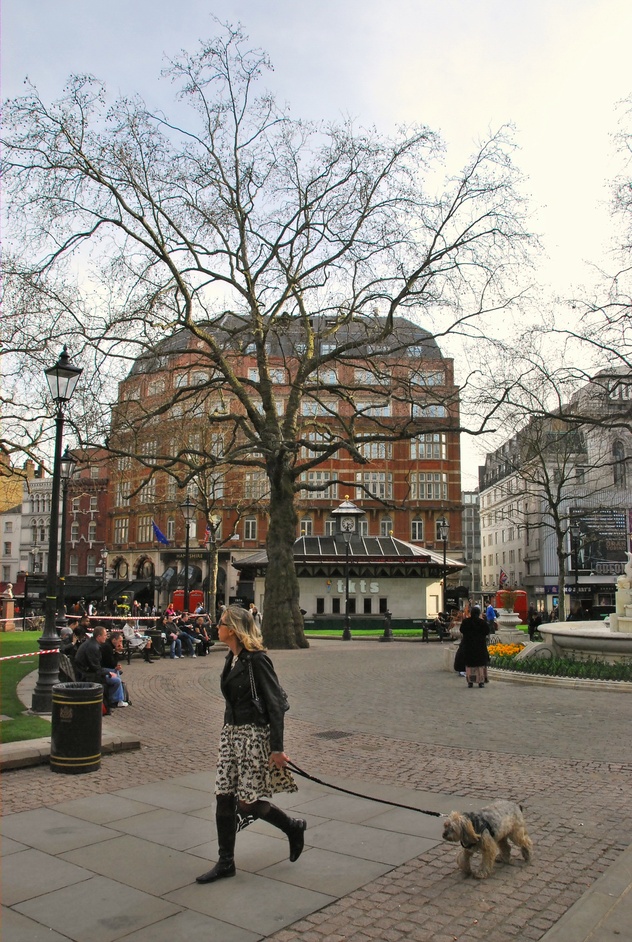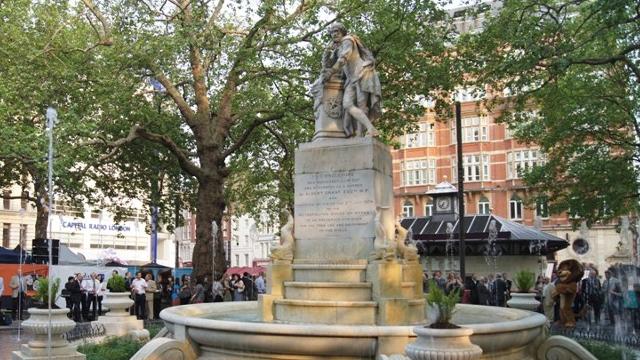 William Hogarth statue in the park: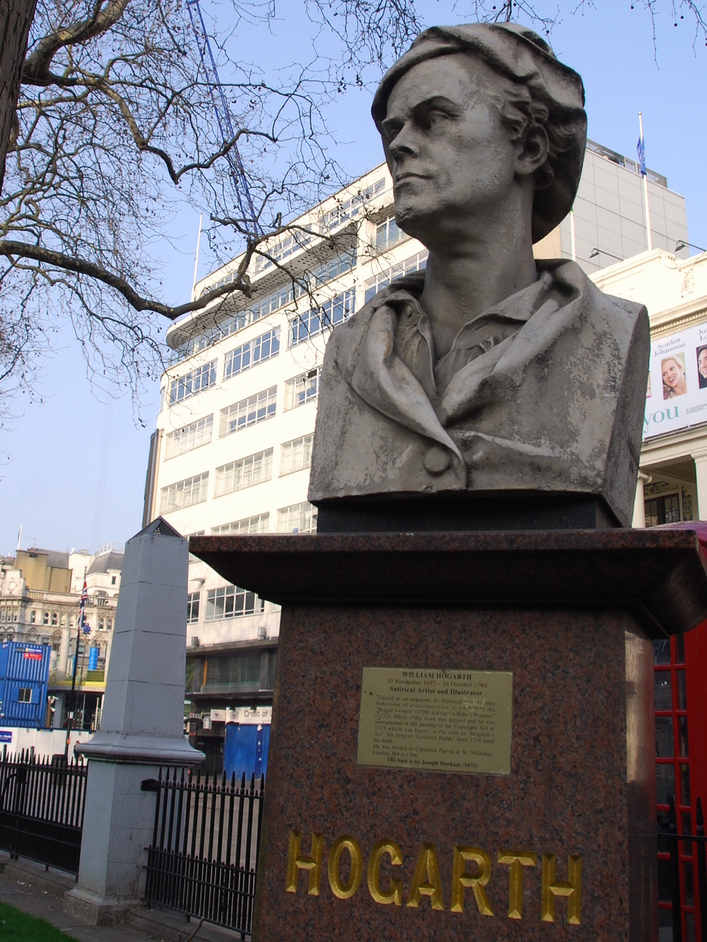 Charlie Chaplin Statue in the square (year 2010):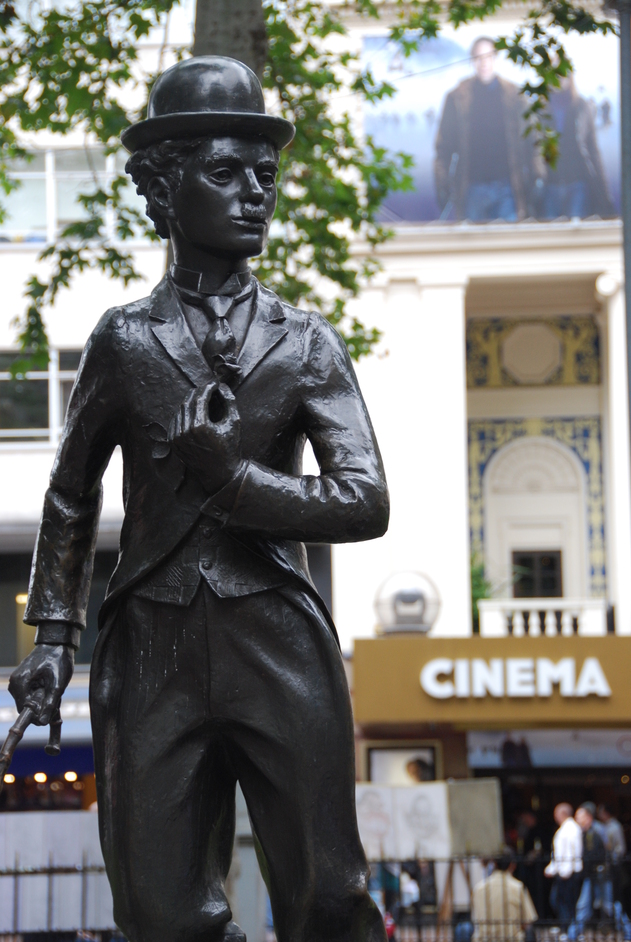 The Empire stands on the site of the old Empire theatre, which closed in 1927. Its final performance featured Fred Astaire.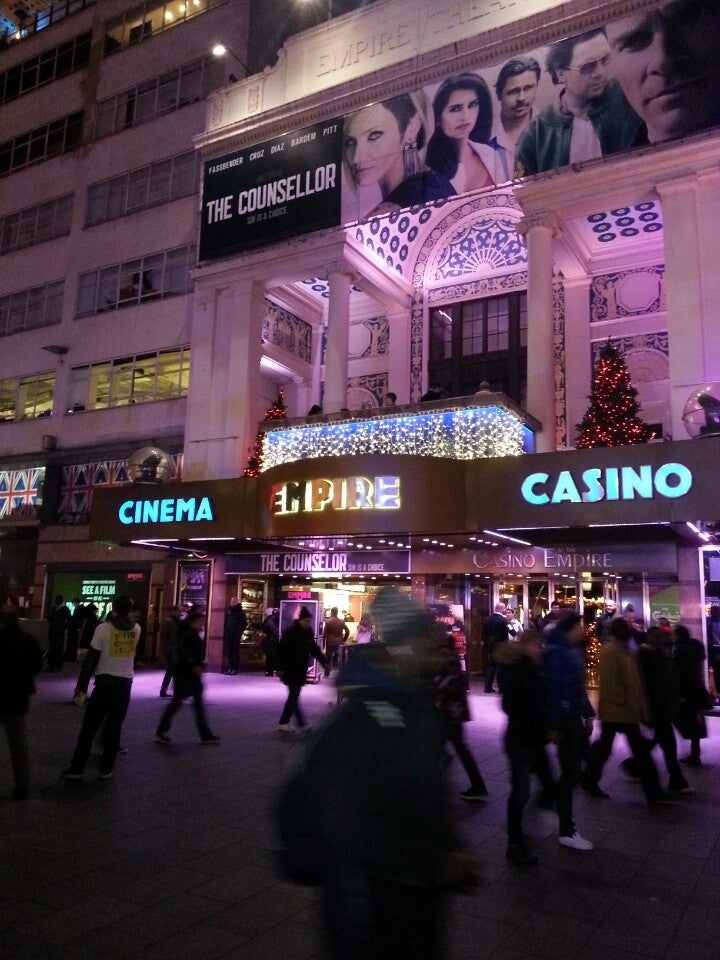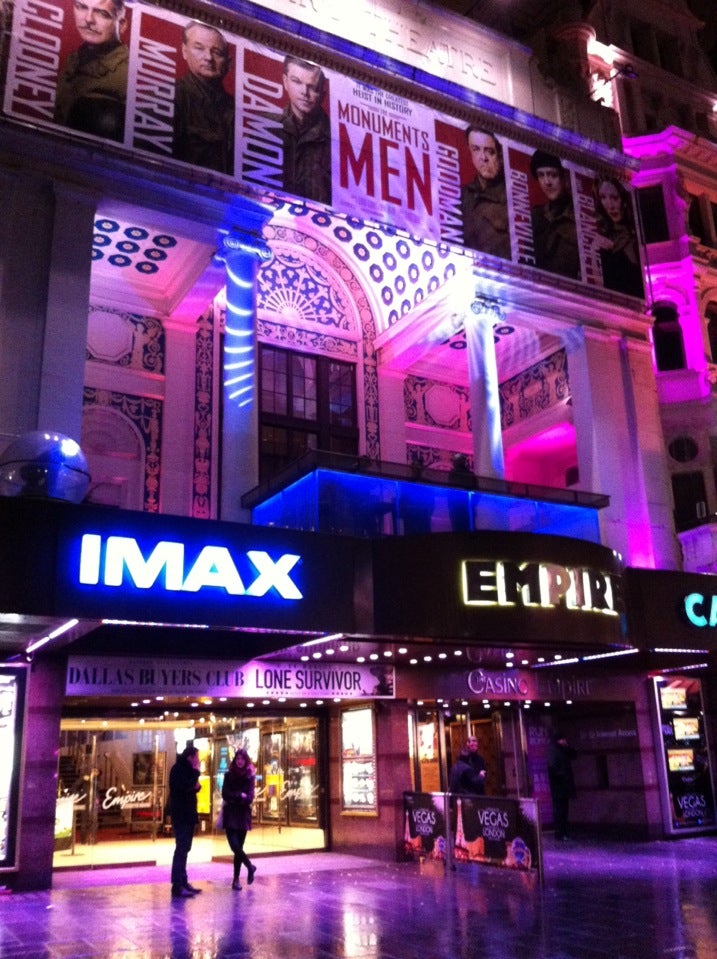 The Odeon Leicester Square cinema is on the site of the Alhambra theatre, dominates the east side of the square: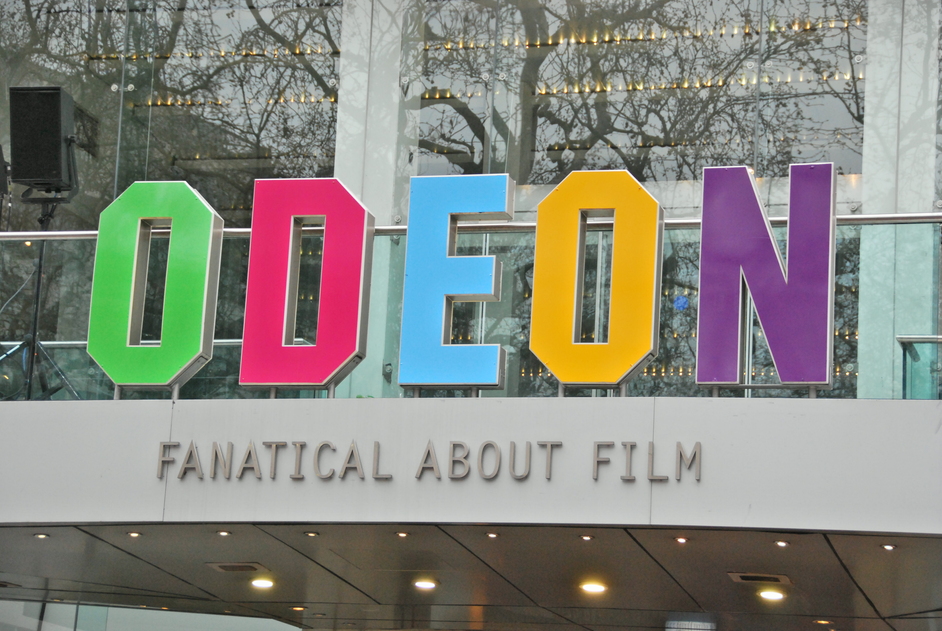 Prince of Wales Theatre, Coventry Street: : The original theatre on this site, called simply The Prince, had the distinction of showing the first ever musical comedy. The current, rather unappealing building has stood since 1937. The interior is more attractive, with its Art Deco style: