Continued from the "Oxford - Day 1 - The Ashmolean Museum - "The world belongs to those who know how to wait" Arthur Evans (1894)" blog.
Main Attractions: Asmolean Museum - level 3M, St. Balliol College, John College.
Level 3M: EUROPEAN ART, 1800–PRESENT DAY:
Room/gallery 62 - Modern Art: Photography NOT allowed.
Howard Hodjkin - Tea Party in America:
Room/gallery 63 - Contemporaries:
Robert Polhill Bevan (1865 - 1925) - Showing at Tattersalls:
Robert Polhill Bevan (1865 - 1925) - The Chestnut Tree:
Robert Polhill Bevan (1865 - 1925) - In the Downs near Lewes:
Room/gallery 65 - Camille Pissarro (1830 - 1903):
Camille Pissarro - Bouquet of pink Peonies, 1873:
Camille Pissarro - Jeanne Holding a Fan, c.1874:
Camille Pissarro - Farm at Montfoucault, Snow Effect, 1874-1876:
Camille Pissarro - Gathering Grass, 1883:
Camille Pissarro - View from my Window, Éragny-sur-Epte, 1888. The painting shows a view from the Pissarro's house at Éragny, looking towards the village of Bazincourt. The painting, which the artist referred to as 'modern primitive', was begun in 1886 but not completed until two years later, in the 'Pointillist' technique Pissarro used for several years:
Camille PIssarro - Tuilleries Gardens, Rainy Weather, 1899:
Edward Manet - Mme. Claus, 1868-1869. The subject is Fanny Claus, a famous violinist who was a close friend of the artist's wife. From the late 1860s onwards when Manet began to focus his attention on his family and close friends. A concert violinist and member of the first all-women string quartet, Fanny was one of Manet's favourite sitters and a member of a close-knit group of friends who also provided the artist with models. She married the artist Pierre Prins (1838–1913), another friend of Manet's, in 1869, but died of tuberculosis just eight years later at the age of 30:
Toulouse-Lautrec - La Toilette, 1891:
Room/Gallery 66, European Art 19th century:
Frederic Lord Leighton - Acme and Septimus, 1868:
James Jaques Joseph Tissot (1836 - 1902), Quarreling:
William Turner of Oxford - High Street, Oxford. William Turner (1775 - 1851) was an English painter who specialized in water-colour landscapes. He is different from the more famous artist J. M. W. Turner. He is often known as William Turner of Oxford or just Turner of Oxford to distinguish him from his better known William Turner. Many of Turner's paintings depicted the countryside around Oxford. In 1898 the Ashmolean Museum in Oxford held a retrospective exhibition of his work. Some of his paintings are still on permanent display at this museum:
William Turner of Oxford - Ehrenbreitstein (The Bright Stone of Honour) and Tomb of Marceau (from Lord Byron's 'Childe Harold') , near Laurley, Coblenz, Germany, 1817:
William Turner of Oxford - The Devil's Bridge, St. Gotthard Pass, 1804:
Edward Lear, Sunrise from the Mount of Olives, Jerusalem, 1865:
William Dyce, Jacob and Rachel, 1857:
The new Cascading Staircase and Zvi and Ofra Meitar Attrium form the central core of the new design of the museum:
Rooftop terrace and restaurant of the museum:
We leave the Ashmolean Museum. With our back to Beaumont Street and on our right is Magdalen Street and on our left is the St. Giles' Street - we see two colleges on these two roads: On our right (south - Magdalen Street) is Balliol College
and on our left, north - along its continuation St. Giles' Street) is the St John's College:
Balliol College is one of the constituent colleges of the University of Oxford. Among the college's alumni are three former prime ministers: H. Asquith, Harold Macmillan, and Edward Heath. Political economist Adam Smith, author of The Wealth of Nations, who is perhaps the best known alumnus of the college. Balliol College was founded in about 1263 by John I de Balliol with the help and supervision of the Bishop of Durham. The oldest parts of the college are the north and west ranges of the front quadrangle, dated to 1431, respectively the medieval hall, west side, now the "new library" and the "old library" first floor north side. For many years, there has been a traditional and fierce rivalry shown between the students of Balliol and those of its immediate adjacent college to the east - Trinity College. Open: everyday 10.00- 17.00 (or dusk, whichever is sooner). Price: £2 per adult, £1 concessions and students. From time to time - you may find the college closed due to academic events. You can also telephone on the day to check openings: 01865 277777. Cafeteria: The Buttery in the Garden Quad serves light refreshments and is open to the public when the College is open to visitors. Opening times are: Term time: MON - FRI 12.30 to 21.00, SAT 11.00 - 17.00. Out of term: MON - FRI 11.00 - 18.00, SAT 11.00 – 17.00.
DO NOT MISS THE MAGNIFICENT DINING HALL of Balliol College !!!: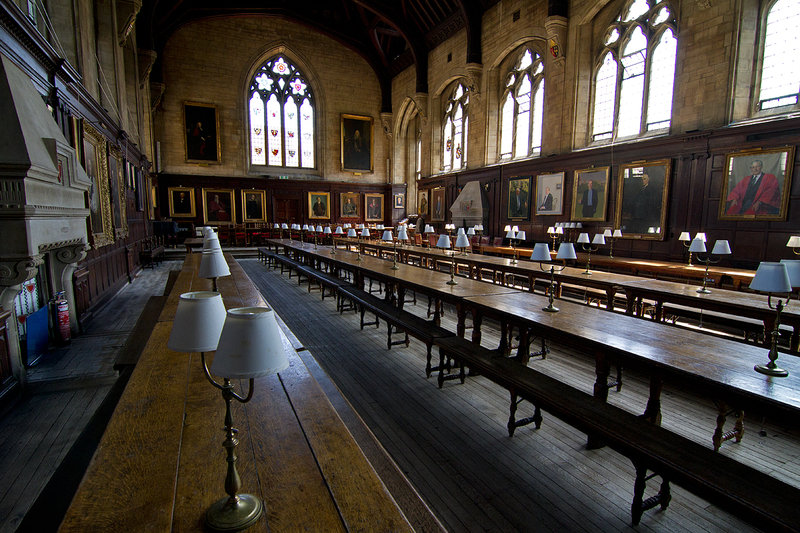 Balliol College Chapel:
St John's College, part of the the University of Oxford was founded in 1555, on the site of the old Cistercian College, by the merchant Sir Thomas White (lately Lord Mayor of London). It was built to provide a source of educated Roman Catholic clerics to support the Counter-Reformation under Queen Mary. St John's initially had a strong focus on the creation of a proficient and educated priesthood. St John's is the wealthiest college in Oxford - largely due to nineteenth century suburban development of land in the city of Oxford, of which it is the ground landlord. The college occupies a central location on St Giles' and has a student body of approximately 390 undergraduates and 250 postgraduates, as well as over 100 academic staff members. The Front Quadrangle mainly consists of buildings built for the Cistercian St Bernard's College. Construction started in 1437. The turret clock, made by John Knibb, dates from 1690. OPen: daily - 13.00 - 17.00.
Canterbury Quad - The entrance to the Great Lawn and Groves:
St John's College Chapel:
The nearby Lamb and Flag Pub and Restaurant is owned and operated by the college.