A very charming place to visit when in London. Lively neighborhood surrounded by great parks and fluent with restaurants, stalls, colors, vibrant activities and, above all, markets. Doing the whole route, allowing time for shopping, dining, talking with people around - will take the whole day. We offered two-three shortcuts. You can combine this itinerary with the Holland Park itinerary. On Saturdays Portobello Road may be unbelievably packed!
Start: Notting Hill Gate tube station.
End: Holland Park tube station or Notting Hill Gate tube station or Kensington High Street tube station.
Distance: maximal: 10 km (or 7 km. or 8.5 km). Bit of a walk - but worth it.
Note: Ladbroke Grove Station is on the route
From Notting Hill Gate tube station head WEST on Notting Hill Gate toward Pembridge Gardens. Turn right onto Pembridge Rd. Go through 1 roundabout. Turn left onto Portobello Road:
Number 20 is the Retro Woman shop (and also No. 32).
Number 22 in Portobello Rd. has a blue plaque (2nd. floor) to George Orwell:
No. 34 is the Retro Man shop. Retro Man boasts a full selection of retro (obviously) clothing from about 50's/60's to mid 80's:
We start at the southerm most tip of Portobello Road. There are antiques & collectables at the southern end, fruit & vegetables in the centre and new & second-hand goods at the northern end. The Portobello Market began in the 1860/70s as a herb and horse-trading centre for local gypsies.
Have a glance at the Denbigh Close picturesque alley:
On the next turn to the right (Denbigh Terrace) -
Portobello Market:
Look on your LEFT at interesting sign posts: Portobello Gold (Hotel and Bar) No. 93-95 (the presidential Clinton family had dropped for a beer, here, in year 2000):
Continuing more to the north along Portobello Road you cross Wetbourne Grove/Ladbroke Gardens.From here, the second turn to the right is Lonsdale Road. Turn right into Lonsdale and after crossing Denbigh Road, you'll see on your left the Museum of Brands, Packaging and Advertising. The museum starts from the 1800s all the way up to the present date. If you enjoy looking at old artifacts and seeing the progression of brand names and labels you will love this. Admission: Adults: £6.50, Children (7 - 16): £2.25, Family: £15.00, Concessions: £4.00. Opening hours: Tuesday to Saturday: 10,00 - 18.00, Sunday: 11.00 - 17.00, Monday: Closed, except bank holidays.
Return to Denbigh Road and turn left to Colville Terrace - to return to Portobello Road. At Colville Terrace begins the daily vegetable and fruit market (09:00 – 18:00 Monday To Wednesday):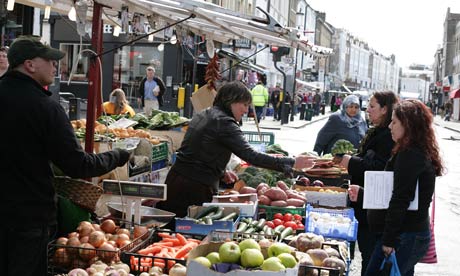 On your left, Portobello No. 191, stands the Electric Cinema, from year 1910, said to be the oldest, operating cinema in Great Britain. It has survived two world wars, including a bombing.
Turn right onto Colville Terrace. Walk 320 m. and turn left onto Powis Square. Continue onto Powis Terrace. Note on your right the Hedgegate Court:
Both of Powis Terrace sides are with lovely terraced Georgian white-washed houses. On your left (formal address is Talbot Road) is the Tabernacle ( see our tip on food in Notting Hill):
Return to Portobello Road, through Talbot Road. The northern part of Portobello Road is, actually, in Kensington. No need to walk until the north-most end of Portobelo Road. Walk until Portobello meets Golborne Road. At their junction and along Golborne Rd. you meet the Golborne Flea Market which is fully active on Fridays and Saturdays:
Try to spot Wall Grafittis along Portobello Road, Golborne Road or adjacent roads in Notting Hill (or Kensington). They appear/disappear every month. Some of then may be found in Notting Hill Gate main road as well. As far as I understand these wonderful paintings are under the Portobello Road Arts Project control: https://www.facebook.com/PortobelloWall http://www.rbkc.gov.uk/leisureandlibraries/culture/artsservices/portobelloroadartsproject.aspx
Turn right in Golborne Road and enjoy its Spanish and Portuguese restaurants, cafes and Patisseries like the Plaza or Lisboa ones:
From Golborne Road, turn right into Bevington Road, right along Blagrove Road and right again into Acklam Road (on your left is the Bay Sixty6 Skate Park) to bring you back to Portobello Road:
If you go right along Cambridge Gardens (continuation of Acklam Road after a short break), alongside Portobello Green - Stalls are set up under the awnings on some days. The Heart of Portobello Market, in Portobello Green, is a socially-responsible, people's market. The market operates Friday to Sunday. H.E.A.R.T= Handicraft, Entrepreneurs, Artists, Retro, and Talent. Friday - Antiques, Retro, Art Deco, Vintage
Saturday - Fashion Market, Designer Clothes, Jewellery and Accessories
Sunday - Bric-a-Brac, Clothes, Books, CDs and records etc.
We are back in the Portobello Road. Turn left through to Tavistock Road. Alongside is a small park. On Tavistock, the second turn to the right is the All Saints Road. Walk in All Saints until its end. Turn right at Westbourne Park Road and than left, back along Portobello Road.
Walk back (southward) along Portobello Road until it meets Talbot Road (left) and Blenheim Crescent (right, west). Turn right to Blenheim Crescent to see on No. 4 (on your right) the famous Books for Cooks red restaurant-cafe': where recipes from the latest books are prepared and...sold. Cookbooks are put to the test in their café at the back of the shop, while cookery classes take place in the demonstration kitchen upstairs:
A bit further, along Blenheim Crescent, on your right, was The Travel Bookshop, inspiration for the location of the famous 1999 film Notting Hill, in which Hugh Grant was the assistant and met Julia Roberts. At 13-15 Blenheim Crescent, the real Travel Bookshop traded for over 30 years but ceased trading in 2011. Another bookshop has opened in its place (the Notting Hill Bookshop)..
Return back to the Portobello Road and turn RIGHT to walk again on Portobello Road (southward). Pass Elgin Crescent and Vernon Yard, on your right and at the 3rd turn RIGHT at Westbourne Grove (it continues as Ladbroke Gardens). At Westbourne Grove No. 291, on your left, you'll see the 20th Century Cinema opened in 1866 as the Victoria Hall, later becoming the Bijou. On June 1st 1999, the 20th Century Theatre entered a new era of its history as a venue for art and photography exhibitions, private receptions, product and book launches, fashion shows, fashion sample sales, fairs, and most importantly, a restored and liberated landmark. Once one of London's "ghost" theatres, it was saved from obscurity by the owner.The theatre is now a Grade II, listed, English Heritage building.
Turn left along Kensington Park Road. We arrive to a building with of notable architectural quality - Saint Peter's Notting Hill Church, (Kensington Park Rd. opposite Stanley Gardens):
The classical St Peter's church was designed by Thomas Allom in 1855 along with the surrounding housing in an Italianate style. Head northwest on Kensington Park Rd toward Stanley Gardens, turn left onto Stanley Gardens, turn left onto Stanley Crescent, turn right onto Kensington Park Gardens and turn right onto Ladbroke Grove. The houses are separated by attractive private gardens. Turn left onto Lansdowne Crescent and you'll see on your left the impressive St. John's Notting Hiil Church. St John's Church is at the top of a hill, surrounded by the communal gardens and crescents of the Ladbroke Grove estate. The estate was laid out in the 1840s, and is therefore contemporary with the church at its centre:
Continue along Lansdowne Crescent until its end and turn right onto Ladbroke Grove. Your direction in Ladbroke Grove is south-east.
If you are really exhausted walk until Ladbroke Grove's end. On your right, in Holland Park is the Holland Park tube station and on your left, in Notting Hill Gate Rd is the Notting Hill Gate tube station.
In case you are still fit to make a short detour - continue along Ladbroke Square Road until its end.On the left is Ladbroke Square. Ladbroke is the largest of London's private squares.
At the end go right along Kensington Park Road. To the right is the Kensington Temple. Today, Kensington Temple is an international congregation drawing over 110 nationalities together.
Kensington Park Rd continues (south) as Pembridge Road back to Notting Hill Gate. Turn left to see the Notting Hill Gate tube station.
To continue the walk, cross to view, on you right, the Gate Cinema then go to the right (west) along to the Coronet Cinema. Built in 1898 as a theatre this converted to a cinema 20 years later.
Turn left to Hillgate Street alongside the Coronet then right along Uxbridge Street. Left at Farm Place then left along Hillgate Place.
This area was developed in the 1850s but by 1861 most of the houses were in multiple occupation. At the end go right into Jameson Street and left at Kensington Place. If you are exhausted, at this point, turn LEFT to Kensington Church Street, walk until its end and turn left to Notting Hill Gate road to meet the Notting Hill Gate tube station.
Otherwise, whilst in the area you may like to visit the KENSINGTON ROOF GARDEN: a series of themed gardens; Tudor, Spanish and English Woodland.turn right to Kensington Church Street, walk until its end, turn right to Kensington High Street and, immediately, LEFT to Derry Street. The roof gardens are accessible from Derry Street, through a doorway marked "99 Kensington High Street". The gardens are not visible from Kensington High Street. The property can be identified by the Virgin flags flying from the top of the building. The gardens are open to the public unless pre-booked by a private party.
Return from Derry Street (north) to Kensington High Street and turn left to meet the tube station.