Tip 1: Izmailovo Market.
Tip 2: Izmailovo Park and the Tsar Estate.
Walk in Izmailovo Kremlin and Markets:
Duration: 3-4 hours. PLEASE ALLOW EVEN 4-5 hours (especially, in the weekends). You won't regret allowing more time for this very typical Russian site ! One of the more interesting places to visit in Moscow.
This vibrant, exceptionally colorful, authentic and cheap market is packed with handmade crafts, antiques, original atifacts and pure Russian memorabilia. The market is formally open every day. BUT, BETTER come here on weekends, when the selection is far greater. You'll find here just about anything you might want for a souvenir. This is the most extensive market on earth for traditional woodworking crafts. There are also rugs, pottery, napkins, hats, jewellery, handkerchiefs, chess sets, home decoration items from Central Asia and Past-Soviet republics. Don't hesitate to negotiate (politely). From my experience, don't expect vendors to come down more than 20-30%. Most of the vendors look honest and hard-day workers. On Izmailovo market all the souvenirs are much cheaper than in the center of the city. After three weeks in Russia - we can say that we didn't face such low prices in any other place in this giant country cities.
Directions from Izmailovo Hotels complex (near Partizanskaya Metro station in line 3, the Dark Blue one):
From the Izmailovo-Gamma-Delta building head north for 500 m. and turn right for 230 m. You'll see a VERY COLORFUL complex of towers, turrets and walls in front of you. This is the Izmailovo Kremlin (see below). The complex "Kremlin and Vernissage in Izmailovo" is located in one of the most beautiful historical places of Moscow, on the bank of Serebryano-Vinogradny pond.
History: During Perestroika (the literal meaning of Perestroika is "restructuring", referring to the restructuring of the Soviet political and economic system) and post-Perestroika times (from years 1986-7), there was Cherkizovsky market nearby. The market was founded in the early 1990s. It was the BIGGEST marketplace in Europe and employed nearly 100,000 workers (mainly from Central-Asia republics). It was quite a filthy place. Prime Minister Vladimir Putin complained at a government meeting that last year's large-scale confiscation of smuggled Chinese goods on the Cherkizovsky market hadn't resulted in convictions. Moscow city authorities closed it down on June 29, 2009 on grounds of numerous violations of regulations and illegal activities. In July, 2009, Moscow authorities confirmed that the market was to be replaced with a Chinatown.
There was no Kremlin in Izmailovo back then, but there was something called Izmailovo Vernissage, a place where all kinds of Russian and pseudo-Russian items were sold, like souvenirs, clothes, jewlery etc. The place was quite popular with tourists and foreigners. Izmailovo Vernissage burned down several times, probably due to mafia wars. Cherkizovsky market was completely closed down, and, gradually, the Izmailovo Kremlin was erected nearby. From ancient times every Russian town had its own Kremlin that protected it from enemies. A Kremlin was considered to be a center of all settlement. Firstly Kremlins were wooden, then, stone and refractory with impregnable towers and moats. Nowadays Russia has about 20 such historic and cultural buildings that are not just military fortresses but also great architectural complexes with temples, palaces and halls. Everybody knows about the famous Moscow Kremlin BUT only few know about the second Kremlin in Moscow, that is called the Izmailovo Kremlin. To the foreign visitor it looks spectacular - but, it is very kitschy and simplistic. The Kremlin in Izmailovo has already gained its reputation for its unusual architecture and style performed in native Russian traditions. Each building is unique and has its own name and history.


Opening Times: Every day, 9.00 - 18.00. Entrance is FREE.


Transport: Izmailovo Market is a 5-7 minutes walk from metro Partizanskaya, east on the dark blue line.
Just take a left from the metro entrance, follow the crowds, and look for the brightly painted Kremlin. DO NOT go to metro Izmailovskaya — the walk is quite far.
The entrance to the Kremlin:
Nowadays, the Kremlin in Izmailovo - is a center of culture and entertainment, based at the famous Izmailovo Vernissage. You each find here - tours, workshops on Russian crafts, meal in restaurants and cafes. For the little and the older ones. The whole site was intended for conferences, ceremonies, weddings, entertainment and even as a business center. But, here I must warn you: it looks a bit neglected, not homogenous and lacks direction and purpose. It looks very impressive from the distance (and, even, close-by) - a fairy-tale site. But, your main purpose, here, would be the souvenirs and Russian memorabilia markets. There are fequent workshops, fairs, exhibitions, conferences - but, mainly, in the weekends. See Izmailovo web site: http://www.kremlin-izmailovo.com
The Vernissage, a fair where objects of fine arts, crafts, folk crafts, souvenirs and antiques can be found, is very popular among the visitors of the capital. Vernissage is a town of craftsmen where you can visit the Street of Handicrafts, the Paintings Lane, the Flea Market, the Antique and Silver Rows and purchase appealing souvenirs. The first level of the wooden market structure is filled with classic Russian Matryoshki (Russian nesting dolls), clothing and art. Further from the entrance and in the 2nd floor (see below) are antiques, Soviet paraphernalia, and piles of junk which might hold some undiscovered treasures:
In the south-east corner of the whole complex - you enter a MARVELLOUS INTERNAL COURTYARD WITH A STUNNING COLLECTION OF COLORFUL HOUSES, MOATS, TOWERS, BRIDGES - ALL MADE OF WOOD. It is the fairy-tale Izmailovo Kremlin built during the last seventies near the market. UNFORGETTABLE PLACE !
In Izmailovo Kremlin you can visit various museums: Museum of Bread (Wednesday - Sunday, from 10.00 to 18.00),
Chocolate Museum, the Museum of Russian toys, Museum of Russian dresses and life, Museum of Bells, Museum of Russian Fairy-Tale, Museum of the History of vodka and the Museum of the History of the Russian Navy.
One of the most interesting museums is probably the Russian Vodka History Museum. The Vodka Museum is located inside the Izmailovo Kremlin. Once you reach the Izmailovsky market entrance, just follow the signs. The museum only has one floor, and it's not very big. But you should still expect to spend about an hour and a half looking around. The collection represented there demonstrates century-long history of Russian vodka since the time it was invented till the present day and contains over 600 kinds of this drink. The exhibits give you the detailed and fun history of vodka in Russia and tell you about the role it plays in Russian society. You will learn that it has changed the course of history in Russia on more than one occasion. The museum is quite impressive, plus with the regular tour a complimentary shot is of course included ! After the tour you can also arrange to attend a vodka tasting session and buy your favorite brands. All information and signs at the museum are in Russian and English. Worth a visit if you're prepared to find it !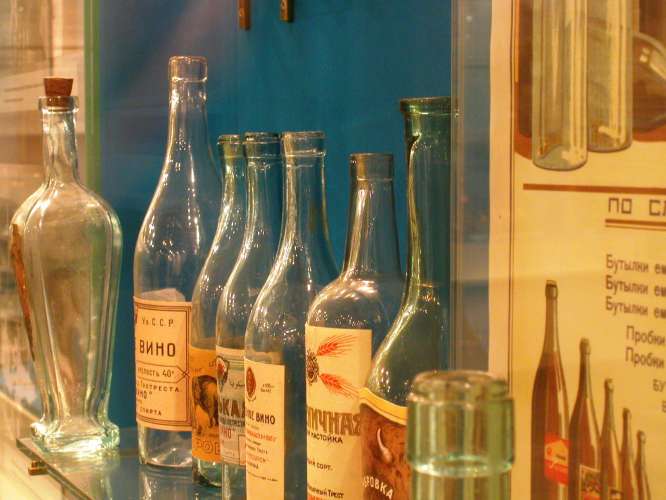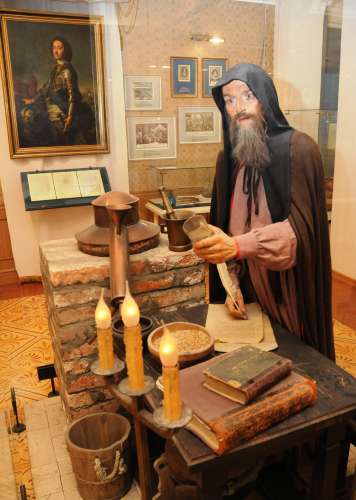 Apart from the Vernissage and museums, you are invited to participate in unusual master classes in pottery, soap making, willow weaving, gingerbread painting and other kinds of folk crafts. Here you will not only get acquainted with the old Russian manufacturing history and secrets, but will also be able to create your own handiwork that will keep reminding you of your joyful and unusual leisure for a long time.
Once you have passed the through the main lane alleyways (there are two from the entrance) , you will reach some steps that go up. These steps go (in the centre of the photo below) up to the second floor - antique section: