Cimiez:
Main Attractions: Musée National Marc Chagall, Boulvard de Cimiez, Villa El Paradisio, Alhambra hotel, Queen Victoria Monument, Regina Palace, Parc des Arenes de Cimiez, Roman Amphitheatre, Monastere de Cimiez, Musée Matisse, Parc de Valrose.

How to get to Cimiez:
Walk: it is a pleasant and a bit demanding uphill 45-minute (2.6 km.) climb from Nice main railway station (Gare de Ville, 12 Avenue Thiers), via Boulevard de Cimiez, a lovely tree-lined, wide avenue with some lovely Belle Epoque architecture.
Bus: Buses no. 17 does the whole way up to Monastère de Cimiez from the Gare de Ville or from Place Massena. From the Promenade des Anglais - take buses 9 (until Défly) and 17 (stop at Monastère de Cimiez, Place Jean Paul 2). Can be combined with bus 22 (change in Prince de Galles). Take also the Bus #15 (direction:Rimiez) that can be caught from behind Nice Etoile Shopping Center (on Blvd. Jean Medecin), behind Galeries Lafayette, or anywhere on rue Geoffredo which runs one block inland from the Promenade du Paillon gardens.
Start and End: Nice Gare de Ville, 12 Avenue Thiers.
Duration: 3/4 - 1 day. Weather: ONLY bright or a bit cloudy day.
Introduction: Cimiez may be off the main tourist trail and it is located 2.5-3 km. north-east of the Nice Ville train station on top of an hill. This is an upper-class residential district. This is one of few areas in Nice - where you can see real French (old)-style people with their best costumes, age and manners. It was a Roman settlement of Cemenelum before becoming in the late 19th century one of the favourite haunts of the rich and famous, notably British aristocrats, explaining the sumptuous Belle Epoque architecture. Queen Victoria was a regular at the Regina Palace Hotel, which still dominates the hill with its magnificent 200m wide façade, Other attractions include: the Chagall Museum (!!!), the Matisse Museum, the Franciscan Cimiez Monastery, the ruined Roman Amphitheatre, the Archaeology Museum, the atmospheric, antique olive-trees park and the the beautiful Parc de Valrose. Don't go Tuesdays. Roman ruins and Matisse Gallery are closed.
Our itinerary:
Head northeast on Avenue Thiers toward Rue de Belgique, 250 m. Turn right toward Avenue Jean Médecin, 40 m. Turn right onto Boulevard Raimbaldi and walk , 400 m., almost until its end.You can find several Belle Epoque buildings along this street:
Here, you find stairs leading to Blvd. de Cimiez. Look for brown directional signs of the Chagalle Museum. Climb the stairs, turn left, slight right, continue climbing and on your left is Avenue Dr. Menard with the Musée National Marc Chagall. OR:
Head northeast on Boulevard Raimbaldi toward Rue de Lépante
210 m. Continue straight onto Rue d'Urfé, 20 m. Turn right onto Blvd. de Cimiez, and zigzag along this wide avenue for 400 m. Turn left onto Avenue Dr Ménard, 20 m. for facing Musée National Marc Chagall, 36 Avenue Dr Ménard. Note: the museum might be closed for renovation until "early 2016" ! Opening hours: open daily except Tuesdays, 1 January, 1 May, 25 December. MAY - OCT: 10.00 - 18.00, NOV - APR: 10.00 - 17.00. Prices: Adult - €9, reduced rate €7 - including access to the permanent collection. You can get an audio-guide for FREE (prepare, in advance, your passport !) and listen to explanations on Chagall's paintings you wouldn't even notice by yourself - well worth its weight in gold. Free for visitors under 26 (ONLY EU citizens). FREE - every first Sunday of the month. Photos allowed - without flash. Spend at least 2 - 2 1/2 hours here. The movie on Chagall lasts 50 minutes on its own (Check the times when you buy your ticket). The museum is dedicated to the Bible-related work of Marc Chagall – paintings, mosaics, drawings, statues; however, there is one section dedicated to his Nice-related work – indeed beautiful – and one section with paintings on loan from the Musée National d'Art Moderne Georges Pompidou of Paris. Unbelievable exposition of over 250 works by the genius artist (many of which were donated by the artist before his death). Once-in-life experience. The paintings have to be seen to be believed. Most of the pictures are biblical-themed works of Chagall (first books of the Old Testament as well as paintings based on Song of Songs of Solomon). A sublime artistic and spiritual experience. One of the best exhibitions - you'll ever see in your life - and you'll remember it for years. This museum is a highlight for the entire Cote d'Azur. It was the highlight of our trip to Nice. Divine and magical visit. Don't be put off by the photos enclosed below. These paintings cannot be appreciated in photographs and are particularly enjoyable in close-up. The naive paintings are only visually innocent as the meanings are intricate and thought provoking for long time. Make sure you see the wonderful film (50 minutes) before seeing the exhibition. It covers Chagall's life and work in both English and French and will fully prepare you to learn far more of his works found in the museum. There is a lovely garden and restaurant-café (affordable prices, good service) to relax outside (fantastic Greek and Nicoise salads).
Marc Chagall was a Russian-Jewish artist and writer in Yiddish who moved to France and developed his highly original style by blending elements of traditional Jewish culture with very advanced innovations in modern art. He was born as Moishe Segal (Russan: Marc Zakharovich Shagalov) on July 7, 1887, in Liozno, a suburb of Vitebsk, Russia (now in Belarus). He was the first-born of nine children in the traditional close-knit Russian-Jewish family. Chagall's father and mother were cousins. His father, Khatskel Segal, was a fishmonger. His mother, Feiga-Ita, was a housewife. Chagall studied Torah and Talmud in Hebrew for basic education at home. At that time Jews were not admitted to schools in Russia, but Chagall's parents managed to get him admitted by bribing a school principal. Chagall's favorite classes were drawing and geometry. Young Chagall made his first artwork for the Haggadah of Passover for his family. Then he did a copy of the portrait of composer Anton Rubinstein from the magazine "Niva". His first job was as a photo-retoucher at the photo studio of Meshchaninov in Vitebsk. Chagall briefly studied in the "Cheder" of the Zarechenskaya synagogue, the biggest temple in Vitebsk. There he also sang as a cantor's assistant and studied violin. He later took painting lessons from Yehuda Pen in Vitebsk for two months. In 1907 Chagall went to St. Petersburg. There he studied art under Nikolai Roerich at the Imperial Society of Art Supporters; then under Leon Bakst and Mstislav Doboujinsky at Zviagintseva School of Art. From 1910-1914 he lived in Paris on a stipend of 125 francs a month from a notable Russian-Jewish lawyer. Chagall settled in the Montparnasse community of La Ruche. There he associated with Fernand Léger, Guillaume Apollinaire, Robert Delaunay and others. During those four years in Paris he witnessed the emerging new styles of Fauvism, Cubism, Surrealism and various Avant-garde currents being created by Henri Matisse, Pablo Picasso, Georges Braque, Amedeo Modigliani (a close friend as well) and Giorgio De Chirico, as well as other leading artists of the time. In May of 1914 Chagall went to Germany. There he became acquainted with the artistic experiments of Wassily Kandinsky. Chagall had his first solo show at the Sturm gallery in Berlin. Then, after the onset of World War I, he went back to Russia. In May of 1915 Chagall married his first love, Bella Rosenfeld, the daughter of a wealthy jeweler in Vitebsk. She was the inspirational model for his famous series of paintings with passionate flying figures. In 1916 the Chagalls had a daughter, Ida. At that time he created his most vibrant and youthful paintings depicting his wife Bella flying with him in the skies above their hometown of Vitebsk. Chagall was appointed the Commissar of Arts in Vitebsk Province after the Russian Revolution of 1917. He organized the new Vitebsk Art School and also taught there. He moved to Moscow in 1920. There he took an active part in the stage productions of the newly formed Moscow Jewish Theatre, of which he was the Art Director from 1920-1922. Chagall designed the stage decoration for the production of "Fiddler on the Roof", based on the story by Shalom Aleichem. Chagall's work was marked by surrealistic inventiveness and continued his emergence as a cross-cultural artist. In 1922 the Chagalls fled the troubled Russia and moved to Berlin, then to Paris in 1923, as did many Russian intellectuals. He published his book of memoirs with illustrations in 1923. Then he made illustrations for "Dead Souls" by Nikolai Gogol, and began illustrating the Bible in 1930. In 1937 Chagall became a naturalized French citizen. In 1941, however, the Chagalls fled the German occupation of Paris and lived in New York until 1947. There Chagall designed decorations for the production of "Firebird" with the music of Igor Stravinsky and choreography by George Balanchine. Chagall also made a stage set for "Aleko" with the music of Pyotr Ilyich Tchaikovsky. In September of 1944 his beloved wife and inspirational muse Bella died. Back in Europe, Chagall settled in Provence, France. His creativity was now inspired by his new love, Valentina (Vava) Brodsky, whom he married in 1952. His works during this period are marked with energetic and joyful feelings, expressed by vibrant lines and vivid colors. He expanded his creativity into sculpture, ceramics and stained glass, making stained glass windows for several Catholic and Protestant cathedrals in France, Switzerland and Germany. In 1960 Chagall created remarkable stained glass windows for the Synagogue of the Hadassah Ein Kerem hospital in Jerusalem. In the 1960s and 1970s he decorated the new Parliament (Kneset) in Jerusalem, the ceiling of the Grand Opera in Paris, the lobby of the Metropolitan Opera House in New York and the National Bank Building in Chicago with a series of large-scale mosaic murals that define the language of 20th-century monumental art. Mark Chagall died at the age of 97, on March 28, 1985, in Saint-Paul de Vence, France, and was laid to rest in Saint-Paul Town Cemetery, Provence, France (see our blog on Saint Paul de Vence). Chagall's art is the pride of museum collections across the world. In 1973, the Musee National Message Biblique Marc Chagall (The Chagall Museum) opened in Nice.
Musée National Marc Chagall - Prophet Jeremiah, 1968:
Musée National Marc Chagall - Prophet Isaiah, 1968:
Musée National Marc Chagall - The Red Horses:
Musée National Marc Chagall - Liberation, 1952:
Musée National Marc Chagall - The Dance, 1951:
Musée National Marc Chagall - The Circus (Le cirque bleu), 1950-52:
Musée National Marc Chagall - The Acrobat (L'Acrobate), 1930:
Musée National Marc Chagall - Lovers in Green, 1917:
Musée National Marc Chagall - Creation:
Musée National Marc Chagall - Adam and Eve in Paradise, 1961:
Musée National Marc Chagall - Adam and Eve expelled from Paradise, 1961:
Musée National Marc Chagall - Noah and Rainbow, 1963:
Musée National Marc Chagall - Noah's Ark, 1966:
Musée National Marc Chagall - Abraham and the Three Angels, 1966:
Musée National Marc Chagall - The Sacrifice of Isaac, 1960-196l:
Musée National Marc Chagall - Jacob's Dream, 1963:
Nice - Musée National Marc Chagall - Jacob Struggles the Angel, 1963:
Musée National Marc Chagall - Moses and the Burning Bush, 1963:
Musée National Marc Chagall - Moses receives Tables of Law (Moses and the Ten Commandments), 1952:
Musée National Marc Chagall - Moses receives Tables of Law (Moses and the Ten Commandments), 1963:
Musée National Marc Chagall - King David, 1971:
"The prophet Elijah in his chariot of fire" (Mosaic) and the Museum's Garden Pool (La mosaïque "Le prophète Elie"):
Musée National Marc Chagall - Le Cantique des Cantiques ("Song of Songs"), 1958:
ée National Marc Chagall - Le Cantique des Cantiques ("Song of Songs"), 1965:
Musée National Marc Chagall - Le Cantique des Cantiques ("Song of Songs"), 1960:
Musée National Marc Chagall - Woman and Flowers, 1967:
Musée National Marc Chagall - La Baie des Anges (Nice Bay), 2003:
Musée National Marc Chagall - Fiance's dans le Ciel de Nice, 1960:
Musée National Marc Chagall - Kleizemers:
Musée National Marc Chagall - Gobelin above the entrance of the Museum "Message Biblique":
Stained Glasses in the Museum's Auditorium:
We exit the Chagalle Museum and continue climbing up along Cimiez Boulevard from south to north. It is, approx. 1.2 km. climb to our next destination Hotel Regina (which is pretty close to most of Cimiez attractions (residing around the top of Cimiez hill). Cimiez Boulvard, the main thoroughfare of this district is one of the most exclusive area of ​​Nice and is , in itself , a visit to magnificent mansions , old palaces converted into luxury residences , of which it is composed. You will discover the typical architecture of Nice upscale . Allow, at least, half an hour walk arriving to the other Cimiez tourist attractions. Do not miss viewing the mansion on your right (opposite the Avenue Dr. Menard - where the Musée National Marc Chagall resides) (Villa El Paradisio):
Most of the houses, courts and gardens are blocked and locked. Here and there you can approach and have close-by sight of the historical facades and details of the villas spread along this aristocrat avenue:
Note the extensive (closed) garden at No. 46/48. This the past Alhambra hotel built in 1901 as a hotel in an oriental architecture style: minarets, large bays with horseshoe arches , its white stucco and its superb marquise - all make it one of the most spectacular buildings of the Belle Époque in Nice. A beautiful park extends forward and blocks the sight of the oriental mansion: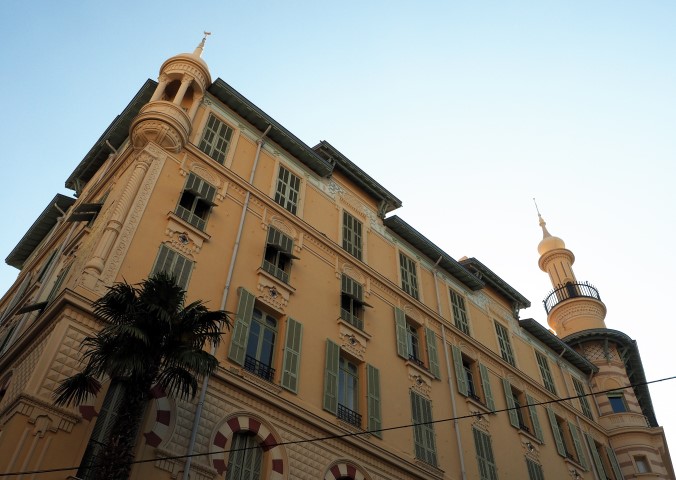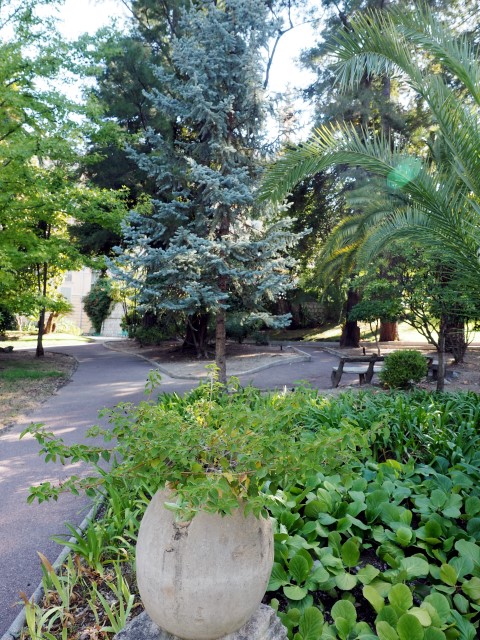 On your right (east) - you'll see a signpost pointing or leading to a "Mirador". DO NOT follow this sign. Continue climbing along the Cimiez avenue. On your left (near Avenue Liserb) - you see this mansion at #57:
You arrive to a Y-fork. On your right continues Cimiez Boulvard and the left leg is - Avenue Reine Victoria. In this junction (on your left) - stands the Queen Victoria Monument. The monument to Queen Victoria was erected in 1912 by sculptor Louis Maubert to honor the queen, who frequently wintered in Nice 1887-1899 and contributed to the reputation of Cimiez. In the 1890s, Queen Victoria was a frequent visitor in NIce (and Russian royal family members were also in regular attendance from the late 1850s until the First World War). The queen's visits did a lot for the Cimiez neighborhood overlooking coastal Nice. The queen spent five consecutive winters in Nice from 1895. She was staying at the Grand Hotel de Cimiez and the Excelsior Hotel Regina (see below). Made of white marble, it represents Queen Victoria seated and receiving armfuls of flowers offered by girls. These, four in number, personify the cities of Nice, Cannes, Grasse and Menton in which the queen had visited:
Behind the Queen Victoria monument stands, proudly, the Regina Palace. Queen Victoria was a regular at the Regina Palace Hotel (she traveled with a staff of 100 and took over the whole west wing). Not open to visitors. Former palace dating from the late nineteenth century, the Hotel Excelsior Regina is now a private residential residence. The building , one of the most prestigious of Nice, therefore, can not be visited from the inside but nevertheless impressive by its size and luxury and worth the whole climb along Blvd. de Cimiez. The Regina hotel still dominates the Cimiez hill with its magnificent 200m wide façade, even though it is no longer a hotel. The Grand Hôtel and the Excelsior Hôtel Regina are both at the top of the Boulevard de Cimiez. The Grand Hotel was turned into a hospital and the Excelsior Regina - into apartments:
Continue climbing approx. 250 m. along Blvd. de Cimiez and on your right (east) resides an extensive park - Parc des Arenes de Cimiez or JARDIN DES ARÈNES DE CIMIEZ. This is the lovely park of Cimiez, full of olive trees ( a bit further from the entrance) and nostalgia from the Jazz Festival that used to take place here. Opening hours: 08.30 - 18.00 from 01 OCT until 31 MAR. 08.30 - 20.00 from 01 APR until 30 SEP.
Playing Pétanque in the Cimiez Park:
The Roman Amphitheatre and ruins are free to access. The arena also used to be the location of concerts during the jazz festivals held, here, until year 2003. Stop by and take in this Roman ruin on your way to the Musee Matisse and the Monastere de Cimiez - they are all on the same path circuit in this lovely park:
The Archeological Museum of Nice-Cimiez is located on the outskirts of the ancient city of Cemenelum (Cimiez), between the amphitheatre and the three ancient baths from the third century. The Cemenelum was a base of the Ligures Vediantii between the third and second centuries BC, and was subsequently chosen by Augustus (14 BC) as the site for the capital city of the Alpes-Maritimes province. The archeological site incorporates three ensembles of baths built between the second and third century AD. Opening hours: every day 10.00 - 18.00. Closed: Tuesdays and certain national holidays. Full price : 3,80 € ; reduced price : 2,30 €. Free : the 1st and the 3rd Sunday every month:
The Franciscan Monastery or Franciscan Friary of Cimiez (Monastere de Cimiez), on the opposite side of the park (the eastern edge), was built in the XVIth century in a rather extravagant neo-Byzantine style. Beautiful architecture but the main draw is the monastery grounds, with a splendid garden offering fantastic views over the city centre, the eastern hills of Nice and the Paillon river valley: this is where you can see how the city is completely encircled by mountains. The monastery is beautifully decorated with terracotta hues on the outside. it features many works of art within, and perhaps for that reason, you are not allowed to take any photographs within the church. But it is so beautiful, with all it's painted arches and domes. No photos allowed. Open: everyday (except Wednesdays) - 09.00 - 18.00:
To the left of the monastery - a small side church. This has been used by the Franciscan monks since the 16th century. The church houses the Pietà and the Crucifixion pictures of Louis (or Ludovic) Brea (born around 1450 in Nice). The church has a beautifully painted ceiling but it's very dark when you go in. To see the art more clearly, be sure to put 50 cents in the box and the lights will come on.The museum recounts the life of Francis in great detail:
The gardens of the monastery are a tranquil haven. This monastery garden is attested since 1546; it is the oldest garden in the French Riviera. The southern facade of the monastery is lined with a long lawn flanked by flowerbeds in the spirit of French garden: these beds are in addition to many of citrus trees (orange, lemon). Pening hours: 1 JAN - 31 MAR: 08.30 - 18.00, 1 APR - 30 SEP: 08.30 - 20.00. FREE:
On the right, a rose garden is still in good shape for the end of July, and what fragrances !
South view:
The walled garden:

At the end of the garden, there is striking vista over the city. Terraces above the old Nice allow the light to embrace the old town and the deep blue sea:
There is also a small cemetery (on Av. Bellanda) with some spectacular tombs (including of: Mattisse and Dufy). The grave of Henri Matisse (1869-1954) (his grave is signposted "sépulture Henri Matisse" from the cemetery's main entrance) is covered in stones, some which come from the rocky beach of Nice down below. Raoul Dufy (1877 – 1953) is also buried here:
DO NOT MISS the BEAUTIFUL Olives Park. The large olive grove at Cimiez is a favorite for families, children, cyclists and picnickers. The ancient OLIVE TRESS - are very very impressive:
There you'll find also the very popular Musée Matisse, 164 Avenue des Arènes de Cimiez - a beautiful 17th-century Italian villa which houses Matisse's works from every period (paintings and paper cut-outs), as well as vases, shell furniture and Moroccan wall-hangings. The Matisse Museum is a completely renovated 17th-century Genoan-style near the (above) olive grove in the Jardin des Arenes de Cimiez. The museum houses the personal collection of the great painter who lived in Nice from 1917 until his death in 1954. On display are works from all periods of he artist's life. Opening hours: everyday except on Tuesdays: 10.00 to 18.00. Closed: Tuesdays, 1st January, Easter Sunday, 1st May, 25th December. Price: 10€ (the price includes entry also to: Palais Lascaris,
MAMAC, Théâtre de la Photographie & de l'Image, Espace Ferrero, Galerie de la Marine and Galerie des Ponchettes. Valid also for more museums in Nice - but, for 48hrs only. See museum web site: http://www.musee-matisse-nice.org/ Keep in mind: might be long queue waiting for tickets. There is no shelter outside for the waiting line. POOR VALUE FOR 10 EUROS. You feel ripped off after viewing the few items there to see. This disappointing museum has VERY FEW interesting exhibits at all. Museum space is packed, dirty, poorly maintained and poorly lit. The real highlight is the story of Matisse life, especially his revival from his awful illness and his dedication to art and human relations during his last years. For example, his proficiency in paper cut-outs during his recovery years. But, the artistic value of the paper cut-outs - displayed in this museum - is doubtful. Come in a day when admission is FREE ! A HUGE DISAPPOINTMENT !
For an alternative return route, bring a map and turn right off Boulevard de Cimiez into Avenue du Prince de Galles,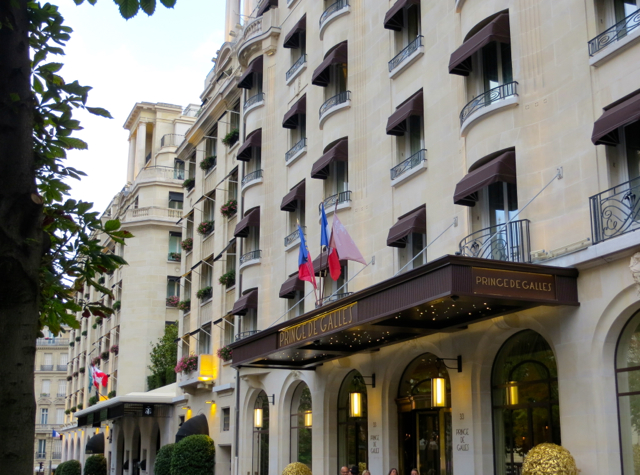 and walk through the elegant gate of the university campus in the beautiful Parc de Valrose which will bring you back down to the city centre. Chateau and Park Valrose lay inside the campus of University of Nice Sophia Antipolis. This is where the Sciences Division of the University of Nice has been located since 1961, one of the most beautiful campuses in Europe. In the second half of the nineteenth century Nice is a popular holiday resort of Russian aristocrats. The hill of Cimiez is chosen by the Russian Baron Paul Von Georgevitch Derwies to retire in the sun and concentrate on the music which he is a great patron. Between 1867 and 1870 the architect David Grimm built the "Château Valrose" (castle). The castle and the garden were designed and built at the same time, between 1867 and 1870. The garden required the contribution of Joseph Carles, a horticulturist who had also designed the gardens of Monte-Carlo. The beauty of this garden has reached the ears of Queen Victoria who, as the story goes, used to stroll around in the park during her stays in Nice. The Valrose park is decorated with numerous ornamental ponds, fountains, artificial caves, waterfalls and very diverse statues. The Belle Époque castle was built by the architect Berenger; originally intended to house the stables it is now the headquarters of the management of the Faculty of Science. The hut, above the "little castle" was brought from Ukraine by ship. Lovely and peaceful gardens which are a nice chance to get away from the hustle of the town, and just relax. NO ENTRY DURING WEEKENDS. Open upon request - contact: sciences@unice.fr. Free admission: