From Burlington Arcade to Trafalgar Square - Picadilly, St. James, Waterloo Place and Haymarket.
Start: Picadilly Circus or Green Park tube station. or: Buses: 8, 9, 14, 19, 22, 38.
End: Charing Cross tube station.
Duration: 1 day.
Weather: Very good itinerary for a gloomy or even rainy day. Many shelters along the first half of the day.
From Picadilly Circus - take the Picadilly street to the west. From Green Park - take the Picadilly to the east. It takes 5-10 minutes ( 500 m.) to arrive from Picadilly Circus to the Burlington Arcade or 3-4 min. (300 m.) to arrive from Green Park station.
Opening times:
MON: 09.00 - 20.00, TUE: 09.00 - 20.00, WED: 09.00 - 20.00, THU: 09.00 - 20.00, FRI: 09.00 - 20.00, SAT: 09.00 - 20.00, SUN: 11.00 - 18.00.
Not to be missed. A wonderful enclosed walkway. This is the best known of London's grand shopping arcades. The Burlington Arcade is not not for me and for you... You cannot afford it!!! All things here, on sale, are of luxury style. Fabulously expensive array of shops and goods. Uniformed concierge at both entrances of the arcade/passage. Priceless jewelry and top brand watches. Wood paneled shops. All you can do is just walk up and down the Arcade and marvel at the variety of the luxuries and smell the perfume of the old world - in this special arcade.
Cross the whole arcade and exit at the far end (starting at Picadilly). Head north toward Burlington Gardens. Turn right onto Burlington Gardens and after 50 m. you face the Royal Academy of Arts. Opening times: 10.00 - 18.00 Saturday-Thursday (last admission to galleries 5.30pm), 10.00 - 22.00 Friday (last admission to galleries 21.30). Admission: Adult: £14, Senior (aged 60+): £13. Student ID - entitles for discount. Quite expensive. The Academy was founded by George III in 1768. The Academy, today, continues to present a broad range of visual arts to the widest possible audience. The Academy is an independent institution. It is a privately funded institution led by artists and architects. Past Royal academicians include: John Constable, Thomas Gainsborough, JMW Turner, while current Members include Norman Foster, Richard Rogers, David Hockney, Antony Gormley and Anish Kapoor. The enjoyment of a visit depends on the current exhibition(s). The RA collection is impressive and the summer exhibits - exceptional. An annual feature of the RA is its summer show.It is a monster exhibition of over 2,000 items and more than a thousand artists housed in a number of large rooms - most of them for sale. Most of them submitted by the public and unknown artists. The Royal Academy is housed in magnificent old buildings (exterior and interior).
We return to Picadilly to see the Fortnum and Mason shop. Head northeast and walk 40 m. on Burlington Gardens toward Savile Row. Continue onto Vigo St. After 60 m. turn right onto Sackville St. Walk 200 m. and turn right onto Piccadilly. Fortnum and Mason will be on the left. Fortnum's began in 1707, when William Fortnum set up shop in St James's with his landlord, Hugh Mason. One of London most famous, upscale department stores. Fortnum and Mason is a part of the British tradition and a London icon. It is a delight for all senses. A special feeling of luxury. Elegant and classic. F&M can take you hours to browse. Spend at least one hour in the store. You are unable to cover every floor and the whole store:
If all these luxury shopping stores and galleries are not enough for you - head to another arcade in Picadilly. The Princes Arcade is located at 192/196 Piccadilly & 36/40 Jermyn Street. Continue with the Picadilly for further 60 m. and the arcade will be on your right. Open: Sunday: 10.00-17.00, weekdays: 08.00-19.00. Princes Arcade forms part of Princes House which was originally built to house the Royal Institute of Painters in Water Colours and was opened by the Prince and Princess of Wales in 1883. The Arcade itself was opened in 1933:
Picadilly Arcade, Jermyn St. 23:
Continue walking along the Picadilly (north-eastward) until number 198. Here you find the Picadilly Market (opposite the St. James Church). Most of the week the market is about handicrafts, clothes, pictures, pub signs etc, but on Monday a food market is held and on Tuesday an antiques market. On Sunday there is no market. Not a "must see" in London, but a nice stopping place. Mainly for tourists:
St. James Church was designed and built by Sir Christopher Wren. The church was consecrated on July 1684 by the Bishop of London. The church was severely damaged in 1940, during the Second World War. Restored in 1954. A London contemporary art gallery is running outdoor sculpture exhibitions in Southwood Garden in the grounds of the church. St James Piccadilly often holds FREE lunchtime concerts performed by talented students. Acoustics and general ambience are great. There are lots of monuments to look at within the church. The interior is peaceful - quite a contrast to the noisy traffic in Piccadilly:
Parallel to the {icadilly (southward) stretches Jermyn Street (you could enter this road by passing the Picadilly Arcade). Leaving St. James Church and exiting to Jermyn Street - you meet the statue of George Bryan "Beau" Brummell (7 June 1778 – 30 March 1840). The statue was created by Irena Sedlecka (2002). His most famous saying: "To be truly elegant one should be noticed" - says it all. He established the mode of dress for men. His mode was based on dark coats and full-length trousers. His style of dress is often referred to as Dandyism:
In Jermyn Street, with your face to the north (to the Picadilly), turn left onto Duke of York St (southward), walk 110 m. and enter the roundabout to face the the only square in the exclusive St James's district - St. James's Square. St James's Square was built after the restoration of Charles II (in 1660). It has neo-Georgian architecture and a PRIVATE garden in the centre (no access). It is now home to the London Library (access only to members. You are unable to use their toilets). The buildings round St James Square are now occupied by clubs and the HQs of large corporations but it remains what it has always been: London's grandest square - isolated green area with a ring road around it. In the square stands the statue of William III: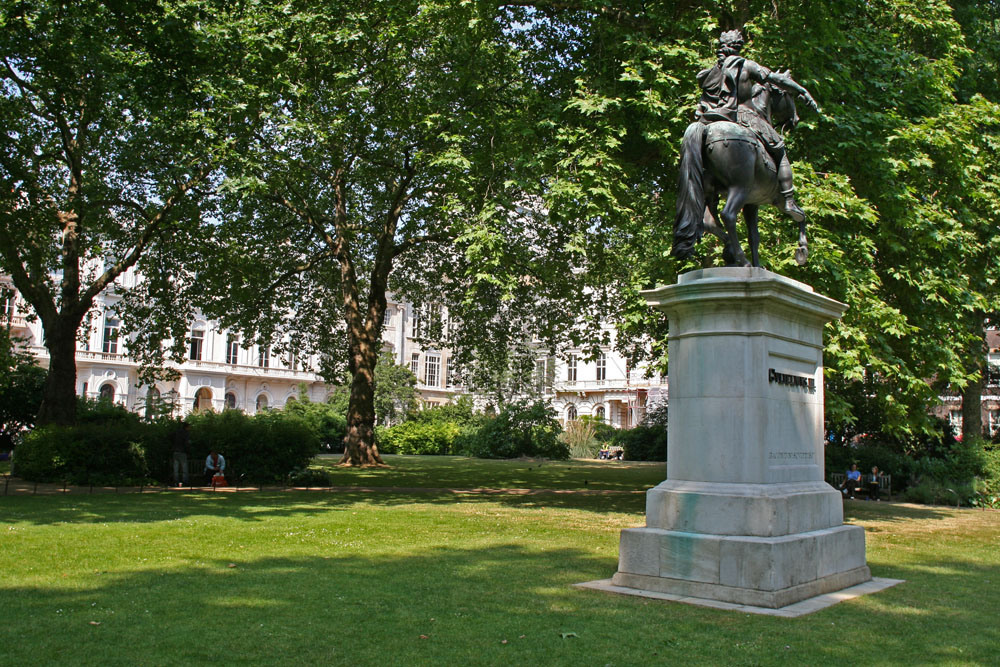 There are two intersections of the ring road St. James Square and the Pall Mall road. In one of them stands this nice red-bricked house:
Turn left (westward) onto the Pall Mall. Walk until its end and you see the St. James Street on your right. Here stands the St. James Palace. it is often in use for official functions and is not open to the public. St James's Palace is one of the five buildings in London where guards from the Household Division can be seen (the other four are Buckingham Palace, Clarence House, The Tower of London and Horse Guards). Main entrance of St James's Palace in Pall Mall survives from Henry VIII's palace. The nearby Queen's Chapel (the opposite side of Marlborough road) , built by Inigo Jones, adjoins St James's Palace. While the Queen's Chapel is open to the public at selected times, the Chapel Royal in the palace is not accessible to the public:
St. James Palace - The Friars Yard:
St. James Palace - Queen Alexandra Memorial opposite St. James's Palace outside Marlborough House:
The Queen's Chapel (Marlborough House):
Now take the Pall Mall from west to east. The name of the street is derived from "pall-mall", a ball game that was played there during the 17th century. The street starts at St.James Palace (West) and ends at the National Gallery and Trafalgar Square (East). Pall Mall is best known for being the home of various gentlemen clubs built in the 19th and early 20th centuries. These include the Athenaeum. This club at Pall Mall 107, was home to several famous authors including Thackeray, Dickens and Anthony Trollope. It was also home to Kipling, Conrad and Charles Darwin. It started up at Somerset House, but moved to its Pall Mall premises in 1828:
Admittance to these clubs is strictly by invitation only – so don't try and blag your way in. Other members clubs are: the Army and Navy Club, the Reform Club, the Oxford and Cambridge Club (No. 71), the Royal Automobile Club and the Travellers Club (No. 106). The Reform Club at 104–5, opened by the Liberals in 1841. It was here that the fictional Phileas Fogg made a bet that he could travel around the world in 80 days:
From Pall Mall turn RIGHT to Waterloo Place road (a purposefully wide endpoint of Regent Street). Walk until it meets the Carlton Terrace. On your left is the Carlton House - the Royal Society's home since year 1967:
On Your right are the Waterloo Gardens or the Carlton House Terrace Gardens:
On your right (intersection of Waterloo Place avenue and the Carlton House Terrace roads stands the Duke of York Monument or Column. The Duke of York Column or monument - memorial to Prince Frederick, Duke of York, the second eldest son of King George III. The designer was Benjamin Dean Wyatt. In its southernmost side - Regent Street meets The Mall. The three very wide flights of steps down to The Mall adjoining are known as the Duke of York Steps:
Return (northward) along the Waterloo Place (avenue) to the Pall Mall. You face the Crimean War Memorial monument. It is located, actually, at the junction of Regent Street and Pall Mall. It commemorates the Allied victory in the Crimean War of 1853-56:
Don't miss the Balcon Hotel, adjacent (more to the east) to the Crimean War monument. Great internal decor:
Here, you can continue along the Pall Mall until Trafalgar Square (see next paragraph) or go down through the flights of steps to the Mall and continue until the Admiralty Arch. Until year 2012 the building housed government offices. In 2012 the government sold the building to a property developer for redevelopment into a luxury hotel. Admiralty Arch plays an important role on ceremonial occasions: royal weddings, funerals, coronations and other public processions. At the 2012 Olympic and Paralympic Games the final processions, at the end of the games, passed under the Admiralty Arch:
Second option: take the Pall Mall until you arrive to the Trafalgar Square and the National Gallery (on your left). It is, supposedly, the afternoon or evening hours of the day. Climb on the National Gallery steps to catch a view of the Trafalgar Square lit by the afternoon sun: