Grasse:
Main Attractions: Train Station of Grasse, Rue Tracastel, Cathedrale Notre Dame du Puy, Place de l'Évêché, Place aux Herbes, Place de la Poissonnerie, Place aux Aires, Fontaine du Thouron, Office de Tourisme de Grasse / Grasse Bus Station, Palais des Congrès de Grasse / Place Cours Honoré Cresp, Parfumerie Fragonard, Musee d'Art et d'Histoire de Provence.
Duration: 1/2 - 3/4 day.
Weather: Bright or cloudy day. NOT in rainy or windy days. We stroll along open areas. In very hot days - come early in the morning. The first hour is concerned with climb-up.
Start & End: SNCF Train Station of Grasse.
Introduction: Grasse France might be the sweetest smelling city in Europe, widely known as the perfume capital of the world. Grasse is situated 16 km north of Cannes in southern Provence. The old town ("vieille ville") is large, old, and extremely interesting. Tiny streets wind forever between the 17th and 18th century buildings, up and down ancient steps, passing through arched tunnels and sometimes opening out onto large squares. Many of the streets aren't as clean as they should be, but still worth a wander. With the smell of flowers and clear air. Part of the appeal of our day in Grasse was that it was a welcome break from hot and crowded Provençal hill towns and popular Riviera coastal towns. The altitude of the town, from 300-400 m, and the hills behind give Grasse a fresher climate than the beach during the heat of the summer. The town was originally best known as a centre for leather tanners, but this gave way to perfume production, for which the town is still famous today. Grasse has been a perfume town ever since the 17th century, and today as the world's perfume capital, its reputation speaks for itself. Every year some two million tourists arrive from all over the world to visit the perfume museum, perfume factories and perfume shops. Grasse is a very charming town, a place where the splendid and picturesque Provence views and the perfumes produced there gave that place prestige and popularity all around the world, including a celebrated artist as the German writer Patrick Süskind who found in that centre located in the Alpes-Maritimes and the Provence-Alpes-Cote d'Azur his deep inspiration of one of his most popular literary masterpieces as scene of its novel Perfume. English-speaking audiences are probably most familiar with Grasse due to its depiction in the 2006 film Perfume: Story of a Murderer, itself based on the 1985 novel Perfume by Patrick Süskind. Most of the movie was actually filmed in Spain, though...
History: Known for its leather tanning work in the Middle Ages, this hilly French town would eventually become the center of the French perfume industry after it began manufacturing perfumed gloves in the 16th century and farming a number of flowers used for fragrances. Grasse has been a popular tourist town for several centuries.
Princess Pauline Bonaparte, the Emperor's sister, spent the winter of 1807-08 in Grasse, recuperating her mental and physical strength. Queen Victoria vacationed through several winters in Grasse, staying at the Rothschild's or at the Grand Hotel. Napoléon himself passed through Grasse on 2 March 1815, but didn't have time for vacationing.
Getting there: Grasse is located in the Alpes-Maritimes department of France and is part of the inland French Riviera area. It is located about 20 km. northwest of Cannes.
Bus: You can get buses to Grasse from nearby towns, including Cannes and Nice (No. 500 from Albert 1er / Verdun, Nice). Once arriving by bus, you will then be a 5-7 minute walk from the main attractions in the Old Town. Allow 1.5 hrs. All fares cost €1.50 per one-way journey. Buses Timetable: https://accessriviera.files.wordpress.com/2014/05/500.pdf
Train: Grasse has a train station that connects with many Riviera towns. Once you arrive at the train station, you can take one of the local buses into the town center. Buy a daily pass (15 euros/person) and you can use trains from/to Grasse (also: Antibes, Cannes) - from/to Nice for the whole day. the fastest and most efficient way to move around. There is one drawback: the train station in Grasse is quite remote from the old town centre. We off er, here, a route for walking from the train station to the old town and back. Be ready for a significant amount of walks. Trains Timetable: http://www.thetrainline-europe.com/train/grasse-to-nice-ville~8705486~8700171
Car: The 4 lane N2285 'penetrante' from the A8 exit 42 (Grasse/Cannes) is the recommended access route. It terminates rather abruptly just before the steep ascent into Grasse on the old N85 (route Napoleon). Once in Grasse, follow signs for Center-Ville and then locate one of several pay parking garages near the town center. The one closest to the Fragnord perfume tour is at Place du Cours Honré Cresp (limited area). It is also quite possible to take the meandering inland roads from Vence via the Loup Valley and/or Fayence.
Learn about perfume:
Whether you are interested in the history of perfume making, the state of the current fragrance industry, seeing the flower fields, or just buying some good smelling goodies - Grasse has you covered.
In the Middle Ages, Grasse specialized in leather tanning. The tanned products were exported to Genoa or Pisa, cities that shared a commercial alliance with Grasse. In the 16th century, Galimard, a tanner in Grasse came up with the idea of scented leather gloves. The product spread through the royal courts and high societies in Europe and this made a worldwide reputation for Grasse. The seventeenth century has seen this industry of "Gloves Perfuming" in its climax. However, high taxes on leather and competition from Nice brought a decline for the leather industry in Grasse, and production of leather fragrance ceased. But, then, the rare flowers' scents from the Grasse area (lavender, myrtle, jasmine, rose, orange blossom and wild mimosa) did win the title for the Grasse as the perfume capital of the world. Harvesting flowers was a labor-intensive business, the flowers had to be hand picked at dawn, when their scent is in its peak, and immediately to be transported to the local factories for distilling their scents and oils. Nowadays, approximately sixty companies employ 3,500 people in the city and surrounding area. Additionally about 10,000 residents of Grasse are indirectly employed by the perfume industry. Almost half of the business tax for the city comes from the perfume sector and that is ahead of tourism and services. Just 30 years ago most companies were focused on the production of raw materials. However an overwhelming majority of the modern fragrances contain synthetic chemicals in part or in whole. Grasse perfume companies have therefore adapted by turning to aromatic synthesis and especially to food flavorings and successfully ended a long stagnation. However, Grasse perfume industry cannot compete against large chemical multinationals, but they benefit greatly from advantages of knowledge of raw materials, facilities, contractors, etc'. In addition, major brands like Chanel have their own plantations of aromatic flowers in the vicinity of Grasse. The main activity of perfumery in Grasse is in the production of natural raw materials and the production of concentrates. A concentrate is the main product that when diluted in at least 80% alcohol provides a perfume. Also food flavorings, which developed since the 1970s, account for over half of production output today.
For the history of perfume head to the Museé International de la Parfumerie (International Museum of Perfume, entrance fee), where exhibits chronicle over 3,000 years of perfume history and you can view their flower garden for an extra fee. To explore a functioning factory - THREE perfume manufacturers give free guided tours: Fragonard, Galimard and Molinard (what a trio !). The most popular factory tour is the Fragonard Perfumery tour which is the one we chose to visit. This "factory" provides free visits during the day and guided tours regularly throughout the day in several languages. These tours all include an overview of the history of perfume making, an overview of historical and current techniques (with some demonstrations), and a visit to a gift shop where you can purchase fragrance products. If visiting Grasse in the Spring or early Summer, you'll likely have the option to explore one of the nearby fields or gardens that contain the local flowers (such as roses, jasmine, violet, mimosa, lavender) that made Grasse famous and prosperous in the past. The Museé International de la Parfumerie mentioned above has an adjoining garden.
Note: Unfortunately the map the Grasse tourist offices (there are two of them) provide is missing many street and place names and largely incomprehensible because the writing is too small to read...but it does include information about where to find some of the more interesting little highlights so still worth getting hold of.
We start at the Train Station of Grasse - quite far south of the Old Town of Grasse (Centre de Ville Historique). From the station we head NORTH (follow the signs of Palais de Congres), and, immediately, turn right and climb with the road that climbs, steeply, EASTWARD (Avenue Pierre Semard). The Train Station should be down on your right. Avenue Pierre Semard slights left. DO NOT MISS THE GREEN SIGN INDICATING - "Centre de Ville". Turn left and start climbing the endless (188) stairs - leading to the Traverse de la Gard. Continue climbing the stairs NORTWARD (this section is shady) and follow the GREEN SIGNS of "Centre Ville":
We cross with the stairs and this steep ascent also the Blvd. Jacques Crouet and the next street Blvd. Fragonard (217 stairs) (we shall return to all these spots). We continue climbing and following the green signs of "Centre Ville". After 233 stairs we arrive to Place de barri. We follow the signs "Centre Historique". At this point we turn right to Rue Tracastel:
Do not miss this picturesque and atmospheric alley. It is full with splendid sights, persons and... cats. The painter Jean-Honoré Fragonard was born in the house #23 in Rue Tracastel:
We shall walk along this alley until its most eastern edge and return half way BACK north-west. On our right we shall see a sign pointing to the Hotel de Ville (Mairie) + Cathedrale Notre Dame du Puy and climb the stairs to the Cathedral. All in all - 285 stairs to the church. WE come onto the Place du Petit Puy with the 10-11th-century Notre Dame du Puy cathedral (rebuilt in the 17th c.) and its huge 18th century clock tower. Inside the cathedral there are 3 paintings from Rubens, "The Thorn Coronation," "Sainte Helene," and "The Foundation of the Cross." / The Crucification". Commissioned from the then-unknown artist in 1601 by the Archduke Albert for the Santa Croce di Gerusalemme in Rome, They were originally ordered for a church in Rome but instead donated to Grasse's hospital and in the Cathedral since 1972. Rubens' paintings are on the southern wall. There's also the 1754 painting Christ Washing the Feet of the Apostles by Jean-Honoré Fragonard. Free entrance. Note: it is closed from 12.00 till 13.00 most days.
We visited this square and church - in the annual memorial day off WW1 liberation day of Grasse with the participation of war (WW2) veterans:
The area the church is located in offers great views and photo opportunities over the region around Grasse. Go to the back courtyard of the church and enjoy the stunning views around (point de vue):
From the church there are stairs leading to the inner court of the Town Hall (Mairie) (Hôtel de Ville), Place du Petit Puy (north to the Cathedrale Notre Dame du Puy. Don't miss the interior courtyard, with its decorative fountain and very quaint atmosphere around (Cour D'honneur de L'Hotelle de Ville: Fontaine du Cours). On the right side - public restroom):
The stone square tower close to here is the Sarrasin Tower and was originally the watchtower for Grasse:
Head southwest on Place du Petit Puy, 15 m. Turn right to stay on Place du Petit Puy, 25 m. Slight right onto Rue Mougins Roquefort, 10 m. Turn right onto Escalier de l'Hôtel de ville, 10 m and continue onto Rue de l'Évêché, 40 m. Turn left, 15 m. and you are in Place de l'Évêché. From the lower part of Square of l'Évêché - you see the upper part of the Sarrasin Tower: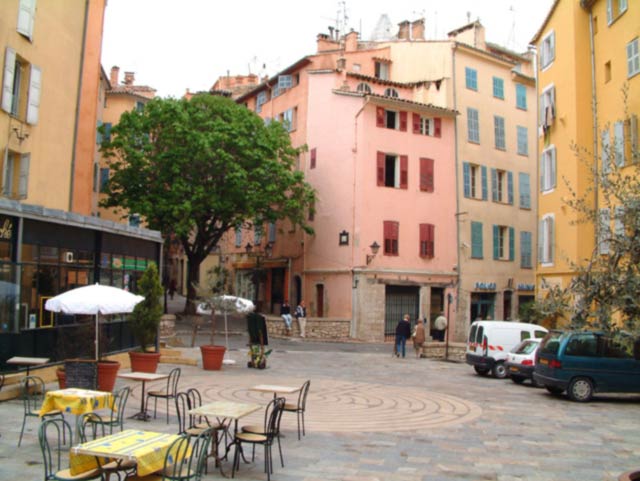 Head northwest on Place de l'Évêché toward Rue de la Poissonnerie
25 m. Turn right onto Rue de la Poissonnerie, 30 m. Turn left at Traverse de la Placette, 20 m. You face the small Place aux Herbes. The Grasse market is held regularly here in the mornings of Tuesdays, Thursday, Fridays and Sundays but also on Wednesdays (also producers of local products) and Saturdays (also clothing, utensils, furniture, toys or other non-food products as well as fish and seafood). The number of exhibitors and the products offered are variable depending on the season. The colourful houses make this lovely square especially striking:
From Place aux Herbes - head southeast, via Passage Masel, toward Place Jean Jaurès, 20 m.:

Turn right onto Rue de la Poissonnerie, 60 m. Turn left onto Place de la Poissonnerie, 15 m. Turn right to stay on Place de la Poissonnerie, 10 m.
Place de la Poissonnerie. Here, in the picture below - you see the Bell Epocque buildings, cover (shelter) and the orchestra band:

Head northwest on Place de la Poissonnerie toward Rue de la Poissonnerie, 10 m. Turn left onto Rue de la Poissonnerie, 25 m. Turn right onto Rue Mougins Roquefort, 40 m. Turn right onto Rue Marcel Journet, 25 m. We follow the signs of Place de aux Aires. Rue Marcel Journet is full with shops, cafe's and windows with flowers:
Now, turn LEFT (north-west) onto Rue des Moulinets, 75 m.On your left - Rue Amiral de Grasse:
Turn right onto Place aux Aires, 40 m. In Place aux Aires there is a daily market with flowers and food and the surrounding buildings have have hardly changed, apart from the modern shop fronts of course. A large fountain splashes in the centre of the flowers. The upper part of the square is fu. You, easily, face waht makes Grasse citizens tired every day -to discover their beloved Place aux Aires invaded by the terraces and chairs of local restaurants. Place aux Aires is the urban heart of Grasse. Founded in the fourteenth century, lined with arcaded houses where flower shops today, it was once the stronghold of the tanners who were soaking the skins in the channel crossing instead. Today, the highlights are: its beautiful fountain with four superimposed basins, the flower market and the regional products sold here:
At No. 33 stands the mansion of conventional Isnard Maximilian (1758-1825) (member of the Convention during the French Revolution), whose balcony is decorated with a beautiful wrought iron railing: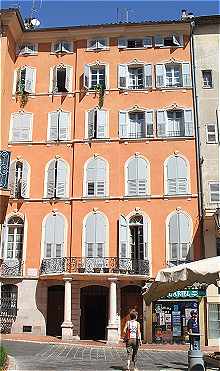 Head north on Place aux Aires toward Traverse du Thouron, 40 m.
Turn left onto Traverse du Thouron, 50 m. Slight right onto Rue du Thouron, 25 m:
Note this sign in the left side of Rue du Thouron:
In the end of Rue du Thouron waits the Fontaine du Thouron (Harmonie):
The stairs (photos above) are leading us to the Place de la Foux / Blvd. du Jeu de Ballon. Note this marble monument in the square. The Route of Napoleon passes through this square in Grasse:
If we climb up along the street (Avenue Thiers) - we see a statue of angel with nice view of sloping hill and splendid houses in the distance:
Head north on Place de la Foux toward Escalier Tressemannes, 18 m.
Turn left and walk down onto Escalier Tressemannes, 22 m. We follow the signs to the Office de Tourisme de Grasse. Near the Touruist Office resides the main Bus Station of Grasse (also buses to/from Nice and Cannes) with an extensive lookout point with WONDERFUL views of Grasse and its environs:


We change direction and walk DOWN the Boulevard du Jeu de Ballon / Route Napoléon from north to south. On your left, at # 2 (far down the street) - you find the Musée International de la Parfumerie (M.I.P), 2 Boulevard du Jeu de Ballon.
It is only a museum and NOT a site for perfumes shopping. In all civilisations, perfumes have triggered an incredible production of precious and refined objects in rare materials: alabaster, glazed earthenware, ceramics, glass, metalwork. Through exceptional collections of objects and the staging of different industrial processes, the museum retraces the history of perfumes as well as soaps, make-up and cosmetics back for four thousand years. The museum is organized into five sections according to Western historical chronology - Antiquity, Middle Ages, Modern and Contemporary periods , each representing a historical period and contemporary issues: elegance and classicism, magic and dynamism, frivolity and hygiene.
Opening hours: The MIP Museum: Summer (APR - SEP): 10.00 to 19.00,
Winter (OCT - MAR): 10.30 to 17.30. Closed on Tuesdays, May 1, December 25, January 1, three weeks from November 12. MIP Gardens:
Spring - Summer (MAR 28 - SEP 30): 10.00 to 19.00, Fall: (OCT 1 to NOV 11): 10.00 to 17.30. Closed on Tuesdays, May 1, from NOV 12 to the end of MAR. Prices: MIP Museum: Regular price: €4 (€6 during the temporary summer exhibition). Half price: students over 18. Free of charge (with proper documents): under 18, unemployed, disabled, the first Sunday of each month (fall/winter). MIP Gardens: Regular price: €3 (€4 during the temporary summer exhibition). Half price: students over 18, groups of 10 or more. Free of charge (with justification): under 18, unemployed, disabled. Ticket for both MIp Museum and Garden: Regular price: €5 (€7 during the MIP temporary summer exhibition). Half price: students over 18. Free of charge: under 18, unemployed, disabled. One of the first homes built "outside the city walls" at the end of the seventeenth century was certainly Villa Fragonard. A large and austere Provencal house, beautiful in its proportions, pleasantly surrounded by a terraced garden and vegetable growing terraces, dominated by the Charité hospital built in 1698, it saw a succession of old Provencal families live within its walls. Alexandre Maubert, a native of Grasse, a cultured man and musician, is a perfect representative of the Enlightenment. In 1790 he welcomed his cousin Jean-Honoré Fragonard as political events and poor health forced him to leave the capital. Fragonard arrived at his cousin's house with no possessions. Indeed, he brought with him four rolled panels showing the Progress of Love in the heart of a young girl, ordered by Madame Du Barry to decorate the pavilion that had been offered to her by Louis XV in Louveciennes, which she refused. The painter was well-compensated and kept these works in his studio for 20 years. The panels came to Grasse in January 1790 and the tradition is that Fragonard hung them in his cousin's living room himself. For the sections of the walls remaining empty, Alexandre Maubert ordered the rest of the story from the painter. They all remained in place until 1896, when Louis Malvillan, grandson of Alexandre Maubert, sold them but not without having a copy made by an excellent Lyon painter Auguste de La Brély. The originals, now known as the Fragonards from Grasse, have been exhibited in the Frick Collection in New York since 1915. Also, is it natural that, when the house was put up for sale in 1977, the City of Grasse bought it and decided to devote three rooms on the first floor to the exhibition of works by Jean-Honoré Fragonard and painters from his family, his son Alexander, his grandson Theophilus, his sister-in-law Marguerite Gérard and his great-grandson Antonin. A section is also dedicated to the memory of Jean-Honoré Fragonard remembered, among others, through sculpture, a bust by Gustave Deloye, and by moving memories such as the painter's chair and his box of colours: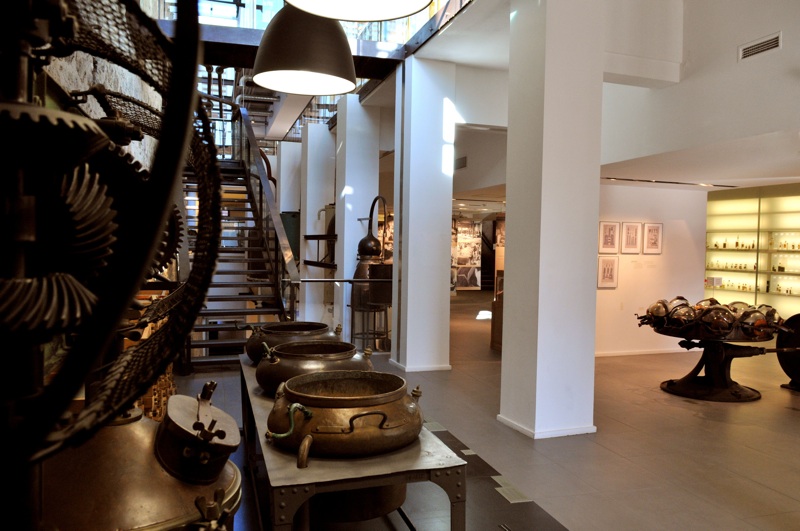 100-120 metres further down: on your right Grasse Casino (Closed. Out of business) and on your left a small park with a nice sculpture of Jean Honoré Fragonard (1732–1806):
200 m. further down (south-west) from the Casino and the garden - we arrive to Palais des Congrès de Grasse and Place Cours Honoré Cresp. This is the heart of Grasse. This is the Grasse Convention Centre. Built in 1893, this former "Casino des Fleurs" was renovated in 1989 and converted into a convention center, while keeping its exterior architecture style "Belle Epoque". This building houses many rooms of different sizes and adjusting to any special requests or events:
Place Cours Honoré Cresp - here, starts the tourists train. In this square stands Memorial Monument to the WW2 French Resistance:
From the square walk down (south), cross the broad street through Pedestrian crossing to the Parfumerie Fragonard, Perfume Store, 20 Boulevard Fragonard. Note: the nearby, Villa Musée Jean-Honoré Fragonard, 23 Boulevard Fragonard is currently (winter 2016) closed due to reconstruction works. Opening hours: every day, Sundays and public holidays included, from 9.00 to 18.30. Closed 12.30 to 14.00 from mid-November to Mid- December. Free guided tour in all European languages. Products at factory price. This historic perfume factory in the heart of the Old Town is one of the oldest in Grasse. This complex houses perfume making from its construction in 1782. In 1926 they took the name of Parfumerie Fragonard as a tribute to the famous painter Jean-Honoré Fragonard. Here on a daily basis they manufacture and market perfumes, cosmetics and soaps in a setting imbued with respect for tradition. Free guided tour are offered, during which you can discover the various procedures involved in creating and producing the aromatic products: 300 years of perfume history in a private, free museum (no signage in languages other than French) and shop. We didn't take part in the guided tour - but, were told that it is an excellent tour (English-speaking guide). It ends in the extensive, richly presents, highly-scented retail gallery/shop. No hard sell, however as the quality is so good, hard to leave without a purchase. Prices are cheaper than any other outlet. THIS IS THE ULTIMATE, OBLIGATORY SHOP THAT NO WOMAN OR GIRL CAN RESIST. It is lovely, the staff members are helpful, polite, full with know-how and not pushy. Definitely worth the time to visit !!! Prepare your nose and purse:
View from Parfumerie Fragonard to Grasse Old Town and the Cathedral Notre Dame de Puy:
To return to the Train Station - stick to the instructions below. Otherwise, using the main roads - it might be quite longer way of walk. Head northeast on Boulevard Fragonard toward Rue Mirabeau. Slight right onto crumbled Rue Mirabeau, 120 m. At 2 rue Mirabeau resides Musee d'Art et d'Histoire de Provence. Free admission. The museum presents impressive artifacts (pottery ,furniture, weaponry, costumes, paintings, jewels and toys) of daily Provencial life since prehistoric times. Free nostalgic display. Pleasant childhood memories:
Turn left onto Boulevard Fragonard, 45 m. At the roundabout, take the 3rd exit onto Traverse de la Gare, 60 m. Turn right to stay on Traverse de la Gare, 40 m. Turn left to stay on Traverse de la Gare, 100 m. Turn left to stay on Traverse de la Gare, 280 m and you arrive to Grasse Gare SNCF.In case you've arrived, accidentally, to Blvd. Carnot , take the stairs, at Traverse de la Gare, and walk down to the station.