District II and Újlipótváros (New Leopold Town):
Attractions: Széll Kálmán tér, Hungarian Post Office Headquarters in Széll Kálmán tér, Swan House, Széna tér, Millenaris Park, Bem Mozi art house cinema, Gül Baba Tomb, Lukacs Furdo, Szt. Lukács Gyógyfürdő és Uszoda Thermal Baths, Margit hid (Margaret bridge), Jászai Mari tér, Szent István körút, Pozsonyi útca, Hollán Ernő útca, Falk Miksa Utca 13, Comedy Theatre (Vígszinház), Nyugati tér.
Start: Széll Kálmán tér.
End: Nyugati pályaudvar Metro (Line 3) station, Nyugati tér.
Duration: 1 day. Distance: 9- 10 km.
Széll Kálmán tér (formerly, until 2011 Moszkva tér or Moscow Square) is one of the city's busiest transport interchanges. It is served by Metro line 2, tram lines 4, 6, 18, 59, 59A, 61 and bus lines 5, 16, 16A, 21, 21A, 22, 22A, 39, 91, 102, 116, 128, 129, 139, 149, 155, 156, 222. Buda Castle is easily accessible from here, either on foot or by bus lines 16, 16A or 116. Near the Metro station, numerous bus and tram routes pass or converge, making it one of the city's major transport interchanges.It can be considered the centre of Buda, because of its traffic and the several stores around it, including Mammut, a huge mall (see below). The square was renamed to Moszkva tér in 1951 under the Rákosi regime. From its opening in 1973 until 2011, the Metro station and the square were known as Moszkva tér. Following the fall of communist regimes, it was renamed again to the original Széll Kálmán - named after the Hungarian prime minister Kálmán Széll. Széll Kálmán tér Metro station is located under Széll Kálmán Square at 38 m. below ground level. It is the deepest station of the Budapest Metro. The square will be completely revamped under a 17 million EUR contract and traffic restrictions will apply from spring 2015. The entire project will be completed in spring 2016:
A hidden gem for photographers is the Hungarian Post Office Headquarters in Széll Kálmán tér. The building more resembles a red fortress more than an office building which makes the Soviet influence really stand out:
From the bustling square Head southeast, 30 m. Take the pedestrian overpass stairs, take the stairs, 170 m. Slight left onto Batthyány utca.
290 m. Walk along Batthyány utca (95 m.) until the second intersection with Fiáth János utca. Here, stands the Swan House (Hattyúház) (Ervin Nagy, 1998). The Swan House is one of the coolest modern buildings you'll find in Budapest. It was originally built in the early 1800's as a military hospital before being turned into Music Hall and Hotel called the White Swan Inn (Swan Vigadó). One of the Hall's most famous concerts was when the famous Budapest composer Liszt's held a show where all of the proceed were donated to charity. In the 1990's the Swan House got a facelift where they did a very unique blend of old stone arches, reclaimed wooden doors, and modern concrete curves. Today the Swan House has a bunch a different types of businesses including a cafe and a number of small offices.
Head northwest on Fiáth János utca toward Hattyú utca, 120 m. Turn left onto Csalogány utca, 100 m. You face Széna tér. This square was the centre of the Hungarian revolt against the Soviet occupation in October 1956. The imposing, yellow-ocre building in Széna tér is a past Soviet prison:
Since the mid-1990-ies numerous shopping malls have been built in Budapest and the number of large shopping centers is still growing in the Hungarian capital and in its outskirts. In the west side of Széna square stand the two Mammut shopping centres. Mammut I and Mammut II offer both big brand and smaller shops. For high-tech electronic gadgets visit Saturn on the underground level. The market at the back end of the mall sells fresh fruits, vegetables. The best place to munch some snacks, like lángos or pancakes. Open: Shops: MON - SAT 10.00 - 21.00, SUN 10.00 - 18.00, Restaurants: MON - SUN: 10.00 - 22.00, Supermarket (Match): MON - SAT: 06.30 - 21.00, SUN: 08.00 - 19.00, cinema ticket offices: MON - SUN: 09.30 - 22.45. Mammut II - next to the Mammut I. Open: same as Mammut I: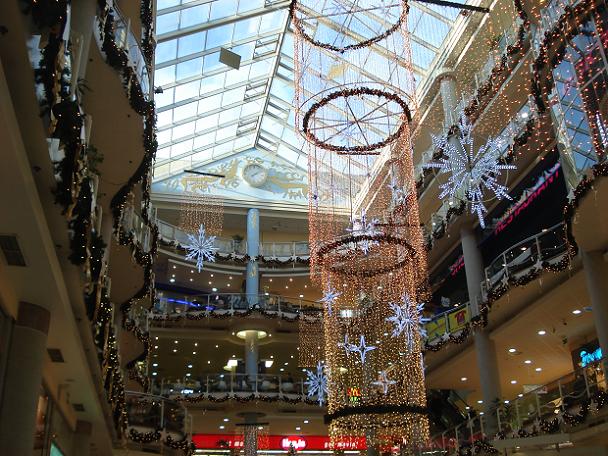 The monument in front of the Mammut II mall - commemorates the freedom fighters in 1956. Their task was to stop the incoming Russian army tanks from east and to protect this corner of Budapest. The monument is dedicated to the died warriors. The statue has been made by Ferec Árvai in 2001. This was the first monument of 1956 revolt in Budapest:
From the Mammut shopping centres - we head to the Millenaris cultural park. Head east on Retek utca toward Margit krt, 50 m. Turn left onto Margit krt., 15 m. Turn left onto Lövőház utca, 180 m. Turn right onto Fény utca, 240 m. Turn left onto Kis Rókus utca. The Milenaris park is on the left, 140 m. Millenaris, Kis Rókus utca 16–20 is a former industrial site in Buda - the old Ganz factory premises, which had been turned into a cultural center and a well-designed park. It is a modern cultural complex with exhibition halls, a large park with a pond and awesome custom-built playgrounds. At night, you can head to the Teátrum or to the 'Fogado' for a concert, a drink or a theatre performance. The teátrum is the venue of Budapest Orchestra's night concerts (Midnight Music). Millenáris is one of the most favored child friendly venues in Budapest with several kids programs to choose from year-round. There are puppet shows, theater performances, handicraft workshops and concerts for kids. The popular 'Chocolate Concert' series introduces children to classical music in an entertaining way. Check out millenaris.hu for upcoming events. Transportaion to Millenáris Park: take tram 4 or 6 to Széna tér and make a short walk over to the park.
Walk along Kis Rókus utca from west to east until its end - where it meets Margit körút. Turn LEFT (north) at Margit körút and walk along this busty street. You pass: Jurányi utca, Erőd utca, Szász Károly utca, Kapás utca, Horvát utca, Fekete Sas utca ON YOUR RIGHT (east) and Rómer Flóris utca on your LEFT - arriving to the Margit utcai park on your left:
Exactly where Margit körút has a sharp slight/turn to the right (east) stands (on the left/north side of the street) the Bem Mozi art house cinema, Margit Avenue 5/b. Once a tiny little renowned movie theater, Bem Mozi now hosts a trendy, fashionable bar. The stylistic approach of art house cinemas generates an unique, beloved culture of not only the movie itself but the process of a coffee before, a beer after, local art, the dialogue of artistic reflection and the sheer enjoyment of artisan moments that aren't rushed. Bem Mozi, opened in 1908, no longer plays movies but it still is an artistic relic that serves as a spot to sip among artsy individuals. They choose to use their space now for concerts and in this way, the showcasing of art continues in this establishment and the environment of supporting art thrives. Open, daily, 12.00 - 02.00: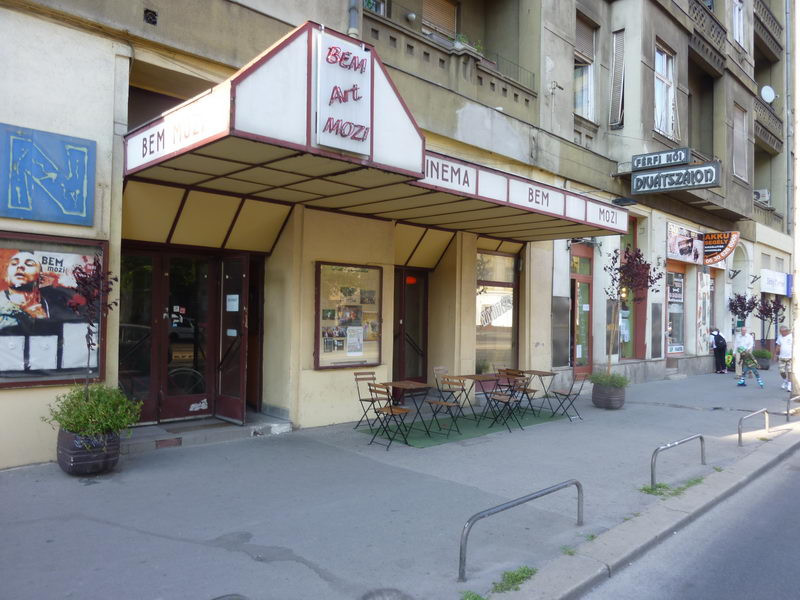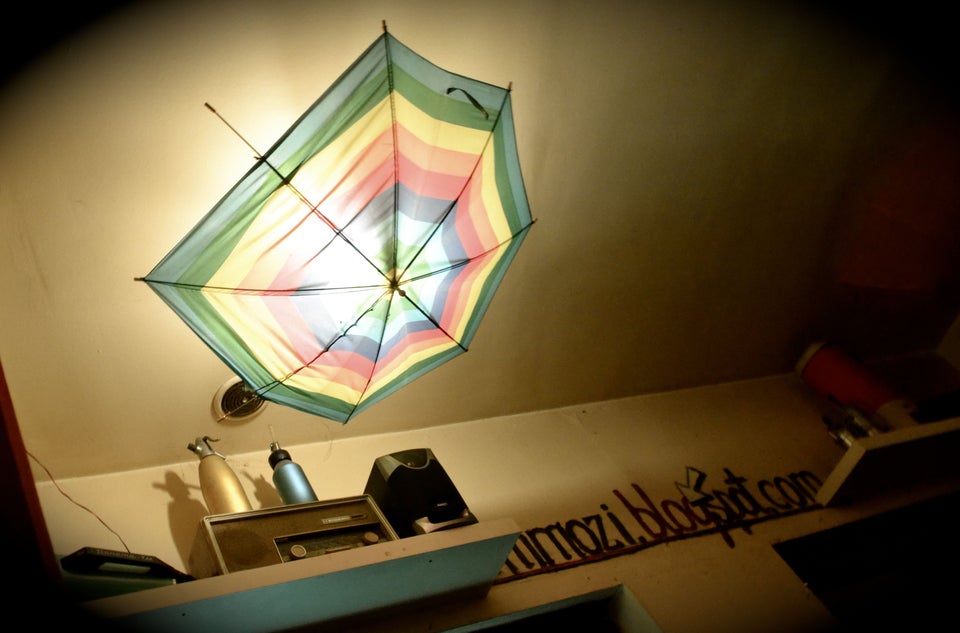 If you continue east along Margit körút - you'll arrive, within, a few minutes to the Margit hid (Margaret bridge) and the Danube. Instead, head west on Margit krt. toward Török utca, 35 m. Continue onto Margit utca, 50 m. Turn right onto and climb along steep Mecset utca, 110 m - to find the Gül Baba Türbe és Rózsakert, Mecset utca 14 on your left. Gül Baba's octagonal tomb (türbe) is located on Mecset (mosque) road. It is the district of Rózsadomb ("Rose Hill") - a wealthy area of the Buda side of Budapest. The area has easy access to local parks and the forests and hills around the Buda area, while also reasonably near the downtown area. Although it is mostly covered with exclusive villas, many old, dilapidated buildings can also be found here, remaining from the pre-war era. During the Turkish occupation of Hungary, most of the Turks lived in this neighbourhood. There are many urban myths about them planting roses on these hills. There are several Turkish related sights on Rose Hill, including the Turbe (tomb) of the famous Bektash dervish and poet, Gül Baba in Mecset street. This monument in Budapest was handed back to Turkey after some lobbying by the orientalist Gyula Germanus in the 1960s. The tomb was built between 1543 and 1548. The land later came under the ownership of János Wagner, who maintained the site and allowed access to Muslim pilgrims coming from the Ottoman Empire (see Islam in Hungary). In 1885, the Ottoman government commissioned a Hungarian engineer to restore the tomb and, when work was completed in 1914, it was declared a national monument. The site was restored again in the 1960s and ultimately in the 1990s and is now the property of the Republic of Turkey. From the tomb you have a wonderful view of District II and other parts of Buda hills.

Head south on Mecset (Mosque) utca. toward Türbe tér, 110 m. Turn left back onto Margit utca, 5) m. Turn left onto Török utca, 240 m. Turn left onto Frankel Leó útca and the Szt. Lukács Gyógyfürdő és Uszoda Thermal Baths, Frankel Leó út 25-29 will be on the right, 160 m. Opening times: daily, 06.00 – 21.00. Prices:
Weekdays Weekends and holidays
Daily ticket with locker usage:
3 000 HUF 3 100 HUF
Daily ticket with cabin usage:
3 400 HUF 3 500 HUF
Evening ticket (from 6 pm): 2 000 HUF.
Sauna world: 500 HUF.
In the 12th century, knights of the order of Saint John engaging in curing the sick settled in the area of today's Lukács Bath, followed by the orders of Rhodos and Malta, who built their monasteries baths as well. The bath operated through the time of the Turks but the energy of the springs were used primarily to produce gunpowder and for grinding wheat. After the reoccupation of Buda, the bath became the property of the Treasury. In 1884, Fülöp Palotay purchased the bath from the Treasury, thus a series of transformations began. The spa hotel was built, an up-to-date hydrotherapy department was established and the swimming pool was transformed. People wishing to be healed came from all over the world. Following their successful healing cure, they placed marble tablets o­n the wall of the Bath's courtyard to express their gratitude. The drinking cure hall of the Bath was built in 1937. The first department to ensure complex thermal bath facilities (daytime hospital) was established in 1979 in Budapest, in the Lukács Thermal Bath. In 1999, the open-air pools of the swimming pool section were modernised. In the course of this, the so-called mud-pond, hardly used before, was replaced by a fancy pool, equipped with a whirling corridor, underwater effervescence, neck shower, water beam back massage hidden in the seat banks, whirlpool, geysers, effervescent bed and many other facilities unfamiliar before this time. The two swimming pools of various temperature in the other courtyard of the Bath were also rebuilt with water-filtering and circulation devices. Lukács has four thermal baths, ranging in temperatures from the 26 °C (79 °F) cooling bath to the 40 °C (104 °F) hot bath. The hot spring water is rich in calcium hyrodgencarbonate, Calcium hydrogensulfite, and magnesium hydrogencarbonate and magnesium hydrogensulphate; chloride; and also contain sodium and a substantial content of fluoride ions: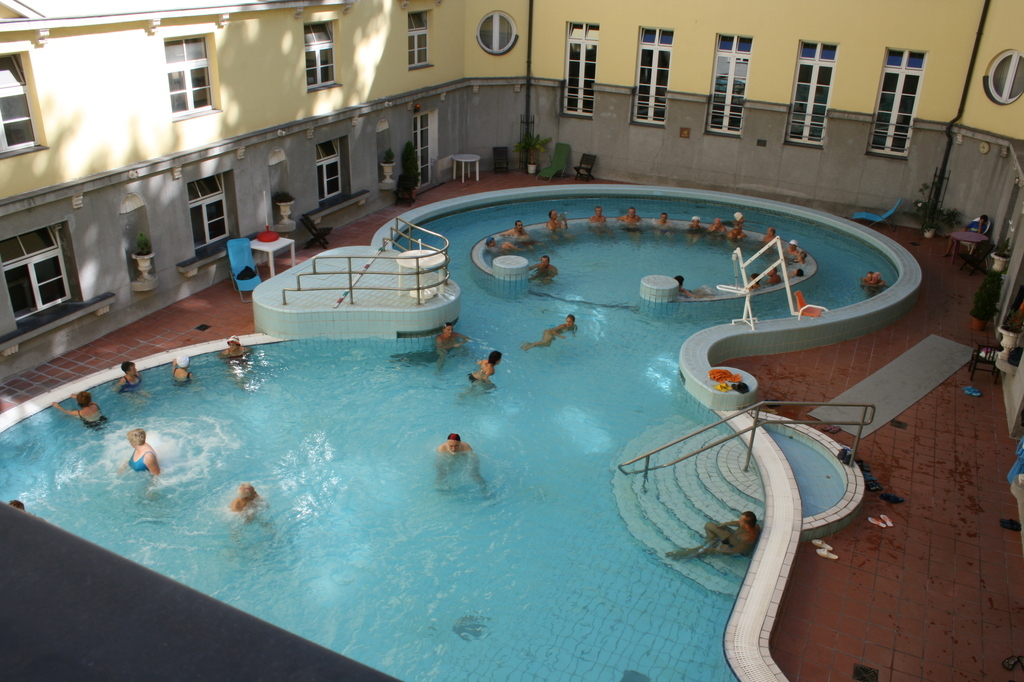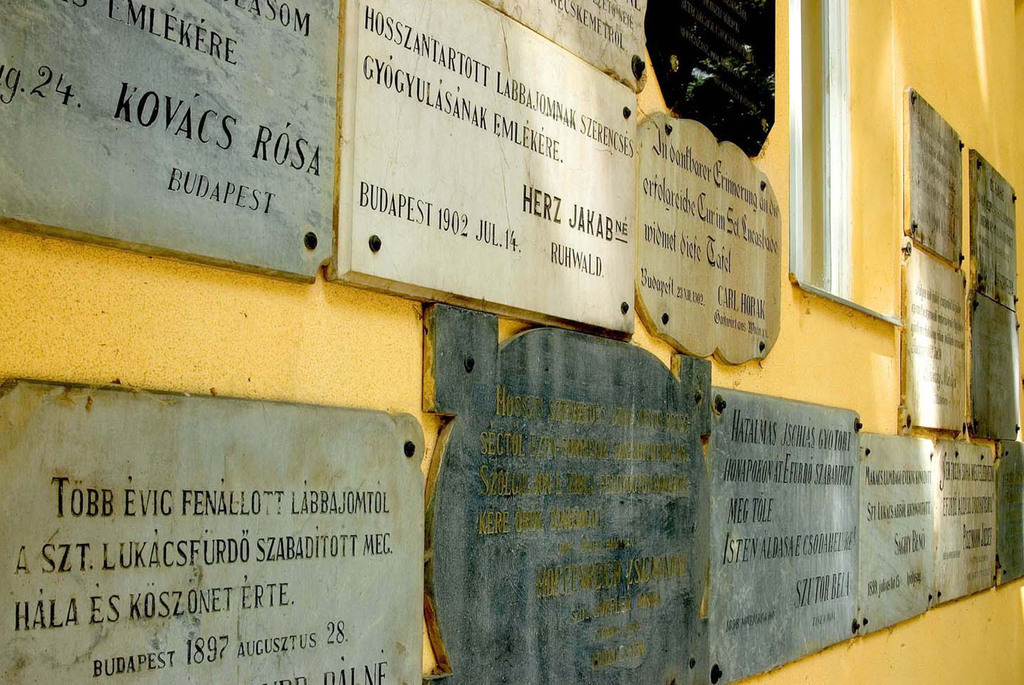 From the thermal baths we change direction and continue back, for, approx. 1 km. southward, heading, now to Margit Hid. Head north on Frankel Leó útca toward Zsigmond köz, 85 m. Turn right onto Zsigmond köz, 95 m. Turn right onto Germanus Gyula park, 160 m. Gyula Germanus (1884 - 1979), or Julius Abdulkerim Germanus, was a professor of oriental studies, a Hungarian writer and Islamologist of Jewish origin, member of the Hungarian Parliament and member of multiple Arabic academies of science, who made significant contributions to the study of the Arabic language, history of language and cultural history. He was a follower of the famous orientalist, Sir Ármin Vámbéry and became a scholar of world repute.
Germanus Gyula park:

Continue onto Árpád fejedelem útja, 70 m. Turn left onto Üstökös utca, 25 m. Slight right onto Árpád fejedelem útja, 260 m and continue onto Margit híd or Margaret Bridge (see "Budapest - Circular route: from Deák Ferenc tér to Erzsébet tér" blog), 350 m. - to catch a marvelous panoramic picture (the sun, if available, is in your back, in the west and your face to the east) of the Parliament buildings. Margaret Bridge is the second northernmost and second oldest public bridge in Budapest. It was planned by the French engineer Ernest Goüin and built between 1872-1876. Margaret Bridge became the second permanent bridge in Budapest after the Széchenyi Chain Bridge. The latest renovations were completed in the second half of 2011 and the bridge was officially reopened on December 20th. The beautiful historic design now incorporates modern elements. There is a brand new bicycle lane, a modern tram stop in the middle of the bridge, new road surface and environmentally friendly lighting:
After crossing the Margit hid - we arrive to the Pest side - landing upon Jászai Mari tér. This is the most northern terminus of tram nr. 2 at the Pest end of Margit híd. The white building between the tram stop and the Danube is the office building of the Hungarian Parliament. There is an extensive bunker system directly underneath the area, built by the German army in WWII, a part of which has been transformed into an art gallery - look for the stairs in front of the adjacent McDonalds. The Jászai Mari tér is split in two by the foot of Margaret Bridge. The modern building south of the square, nicknamed the White House , was once the headquarters of the Central Committee of the ruling Hungarian Socialist Workers' Party. It now contains offices of the members of Hungary's parliament. To the north of the square is an elegant apartment block forming part of the Palatinus Houses , built in 1912 and facing the Danube. They contain some of the most expensive flats for sale or rent in Budapest:
We are in Újlipótváros. Újlipótváros is a neighborhood in the 13th district of Budapest, Hungary. It is located to the north of Budapest city centre, with the Szent István Boulevard (Szent István körút) separating it from its southern neighbor, Lipótváros. It lies east of the river Danube, west of Terézváros, and south of Vizafogó. Unlike most other neighborhoods in the 13th district, Újlipótváros is considered part of the Budapest city center. Previously an industrial area, it was rebuilt as a residential district from the late 1920s. Almost all of the buildings were built between 1927 and 1944. This makes Újlipótváros quite different from the other parts of the inner city, which were mainly built before World War I, mostly in the last three decades of the nineteenth century. The very first buildings of Újlipótváros (the so-called "Palatinus houses") are notable exceptions, these were built in 1910-1911, and represent an interesting mixture of art nouveau and other contemporary styles. It has been a popular middle-class/intellectual residential district ever since it was built. Between the wars it was especially popular among middle-class citizens of Jewish origin and this is partially true even today, according to recent sociological research. The area closest to the river Danube is the most expensive, spacious and pleasant, especially the buildings around Szent István park, which is located on the riverside. Some of these buildings (especially the so-called "Dunapark houses") are regarded by many as one of the best examples of modernist architecture in Hungary. The district has quite serious problems with parking and over-crowdedness, especially in the narrower streets of its inner parts. Its main street is Pozsonyi útca (see below), a tree-lined street close to the river with a lot of restaurants, bookstores and shops.
If you take the next road to the left (north) - shady Pozsonyi útca
- you hit, at least, three splendid sweet-food street-eateries, cafe's and restaurants: Kiskakukk Etterem, Pozsonyi ut 12, The Donut Library, 22 Pozsonyi Street and Pervizaj Bakery, 32-34 Pozsonyi Street - see Tip below. Note also the Protestant Church (Pozsonyi út 58.) A church and a belfry in modern style with classicist streaks. It was opened in 1940:
If we continue the way from west to east, from the Margaret bridge - we walk along Szent István körút ("St. Stephen Boulevard") which extends between Margaret bridge and Nyugati ter (Vaci utca). The imposing eclectic buildings along Szent István körút, today a busy thoroughfare and an important shopping district with many restaurants, pastry-shops and espresso shops, were built about the turn of the 19th century.
If you turn left (north) to Hollán Ernő útca (the next intersection along Szent István körút, after Pozsonyi útca) and walk 100 m. - you arrive to Odeon Mozi - another converted art cinema. The newly restored building of the Odeon movie theater includes a cafe and a video rental, with their library offering over 6000 DVDs, as well as a DVD store:
Trace back your steps and walk back along Hollán Ernő útca from north back to south. Cross the bustling Szent István körút to continue along Falk Miksa Utca. Walk southward along Falk Miksa Utca (approx. 120 m.) to arrive to this splendid Art-Deco building built in year 1909 (Falk Miksa Utca 13):
We have 350 m. walk to the Comedy Theatre of Budapest. Head north on Falk Miksa utca toward Szent István krt., 130 m. Turn right onto Szent István krt., 150 m. Turn left onto Pannónia utca, 30 m. Turn right onto Szent István krt.(restricted access) and the domed Comedy Theatre (Vígszinház), Szent István Street 14 - will be on the right (30 m.). In front of it two busts represent Sándor Petôfi, the great poet of the 1848-49 War of Independence, and Miklós Zrínyi, the seventeenth-century Hungarian general and epic poet. The theatre was opened in 1896 to give a home to modern drama. Starting in the turn of the 19th and 20th century as an opposition to the conservative National Theatre, it became a pioneer institution of Hungarian drama, and one of the oldest theatres still in operation. The Vígszínház was designed by architects Ferdinand Fellner and Hermann Helmer who worked on over 47 state-of-the-art theatre buildings around Europe. The Comedy Theatre' three different stages can accommodate a total of 1,700 people each evening. With an average of 350.000 tickets sold each year, Vígszínház is still one of the most successful theatrical venues in Budapest. Besides contemporary foreign and Hungarian world premiers, Hungarian musicals are part of the repertoire of the Comedy Theatre of Budapest. It is a modern popular theatre, meaning that it attempts to maintain its popularity among all age groups. Celebrated actors and actresses perform in the imposing Comedy Theatre. The presence of the Vígszinház theatre invited more investments in the emerging district ( Újlipótváros or New Leopold Town). Today it remains one of the most popular inner-city residential areas of Budapest:

It is 450 m. walk further (east) along Szent István körút - until you arrive to Nyugati tér. Here, you can find the Nyugati pályaudvar Metro (Line 3) station.