Jewish Quarter Itinerary:
Itinaerary: Dohány Street Synagogue - Rumbach Street - Király Street - Gozsdu Courtyard - Kazinczy Street - Vasvári Pál Street - Klauzál tér - Dob utca - Dohány Street Synagogue.
Time: This walk will take about 2-3 hours. Add 2-3 hours if you plan to visit the Great Synagogue and some of the museums (see Tip above).
The old Jewish Quarter was established at the turn of the 19th century when the Jewish community gathered in the 7th District. The center of this area became Király Street. In 1944 the Pest Ghetto was also built here crowding 70.000 people together. In 2002 this historic neighborhood bordered by Király and Csányi Streets, Klauzál Square, Kisdiófa and Dohány Streets and Károly Boulevard was named as the old Jewish Quarter of Pest and entered into the UNESCO World Heritage Conservation program. This area is home to the most famous Jewish cultural heritage sites: "the Synagogue Triangle": Dohány Street Synagogue (the Great Synagogue), Rumbach Street Synagogue (also known as the "Little Synagogue" and the Kazinczy Street Orthodox Synagogue. This historic district, as a part of the city's reconstruction strategy, started to to look towards youth culture and tourism in recent years. From 2002 some now very popular cafes, bars and summer music venues opened in buildings that were earlier considered for demolition: the Szimpla-garden, the Gozsdu Courtyard, or the Kőleves (Stone Soup) garden to name a few. Since then the area, especially Kazinczy Street is not only known for its rich cultural heritage, but also for it's unique pubs, art and design shops and nightlife.
From the back of the Great Synagogue (north-west) walk along Wesselényi utca (your back to the south-west and your face to the north-east). Raise your head and see the sculptures, Stephen Strasser relief works, on top of the Art-Deco building on your left (Wesselényi utca 5). They can be see, better, from the Raoul Wallenberg Holocaust Memorial Park of the Dohány Street Great Synagogue.
Wesselényi utca is a very long street ( 5 km. !). It is parallel (north) to Rákóczi út and Dohány utca in its first hundred metres. In Wesselényi utca #7 there is Talmud Torah Education Center (Orthodox school for young children). The Goldmark Hall is located in the Talmud Tóra building (Wesselényi u. 7.). Its total renovation has finished in May 2011. The hall inside has a capacity of 140 people and it is equipped with the most up-to-date sound- and light-technology, making it a perfect location for chamber performances:
Turn left (1st left turn) on Rumbach utca. The Carl Lutz Memorial will be on your right, near the corner of Rumbach utca, at 10 Dob utca, located on the wall. Carl Lutz (born in Walzenhausen, Switzerland on 30 March 1895; died in Bern, Switzerland on 12 February 1975) was the Swiss Vice-Consul in Budapest, Hungary from 1942 until the end of World War II. He is credited with saving over 62,000 Jews, the largest rescue operation of Jews of WW2. Due to his actions, half of Jewish population of Budapest survived and was not deported to Nazi Extermination camps during The Holocaust. Nominated three times for the Nobel Peace Prize, he was awarded the title of Righteous Among the Nations by Yad Vashem institute in Israel. Lutz's wife Trudi notably played a central supporting role during the whole period of her husband's activities in Budapest:
Half a block farther along Rumbach utca is the exquisitely beautiful Rumbach Street Synagogue (Rumbach zsinagóga, Rumbach Sebestyén utca 11-13). Built in 1872, patterned and painted in Islamic style, today it is more like a museum as it is not a functioning synagogue. The Rumbach Street synagogue (Hungarian: Rumbach utcai zsinagóga) was built in 1872 to the design of the Viennese architect Otto Wagner.It served the Status Quo Ante community (see former Tip for explanations of the Jewish Community segmentation).
The Moorish Revival synagogue has eight sides and while the interior as of this writing (2008) is badly in need of restoration, the octagonal, balconied, domed synagogue intricately patterned and painted in Islamic style is exquisitely beautiful. It was built not as an exact replica of, but as an homage to the style of the octagonal, domed Dome of the Rock Muslim shrine in Jerusalem. The synagogue was designed by the most renown Viennese architect of the late 19th-early 20th century - Otto Wagner, a creator of architectural modernism and Art Nouveau. It was built between 1868 and 1872. The building is a stunning example of arabesque Synagogues around the world, with one of the nicest inner spaces amongst the synagogues of Budapest. The building was rented to the Jews by the Orczy barons before 1840, when royal cities prohibited their settlement. After 1840 the parliament permitted Jews to acquire real estate and the Jews in Budapest soon intended to erect a Synagogue on a separate piece of land. Prayers were held in the Rumbach Street Synagogue until 1959. At the end of the 80's, a construction company bought the property and decided to completely restore it, then to sell the building. The street façade and the structure of the synagogue were refurbished and the cover of the inner walls was redone. In 1992 the company went bankrupt and in exchange for its liabilities, the building was handed over to the Hungarian Privatization and State Holding Company (ÁPV), from where it was returned to the Budapest Jewish Community. A Jewish culture festival has been held in this Synagogue during 2014. August 31 - September 7. Even if Rumbach Synagogue has seen much deterioration and restoration - it is NOT currently functioning as a consecrated place of worship. The exterior facade has been restored, but the the interior still needs work. OUTSIDE visit only.
Rumbach Street Synagogue with its minaret-style towers: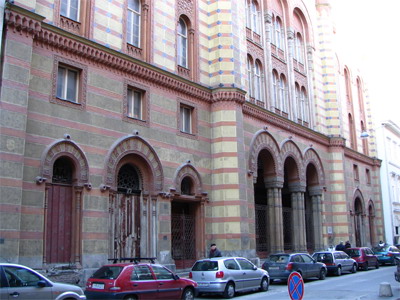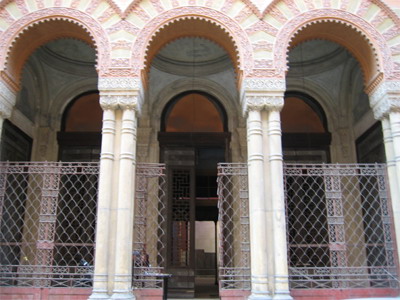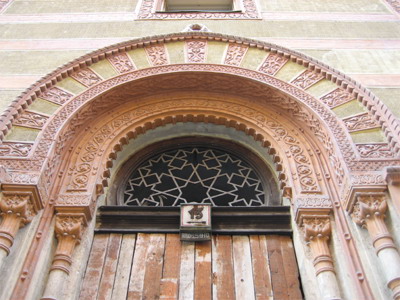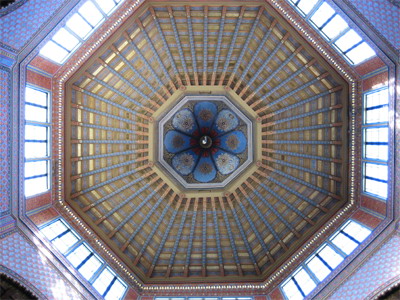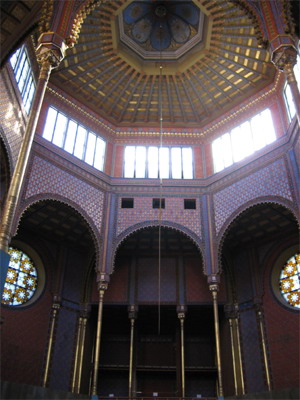 I advise you to visit a magnificent designer's shop & coffee shop at the same time - PRINTA, at Rumbach utca 10: Modern contemporary very unusual art: pictures, clothes, home stuff, postcards, even (average) coffee and more....
Continue north-west on Rumbach utca, passing two small commercial centres and take a right (2nd) onto Király utca. Király utca, also known as Budapest's Design Street, forms the northern border of the historic Jewish District. Király Street (or Király utca) is filled with interior design and furniture stores, funky boutiques and modern art galleries, and is quickly becoming a trendy part of Budapest. For instance, on your right, Arioso - home design, flowers, and French food products by La Petite Francaise (Király utca 9). Another example in your proximity: G13 Art Gallery - works of contemporary photographers, sculptures and painters (Király utca 13):
At 11 Király utca, you will see the entrance to Gozsdu Courtyard (Gozsdu Udvar) ((Go-Jdoo)), a long series of connected courtyards. About 500 meters of restaurants, bars, shops and other nice things. The houses served as a passageway between Király utca and Dob utca, with apartments on the top floors, and small shops and workshops on the ground floor.
Recently, Gozsdu Courtyard was converted into a modern residential complex with some great restaurants, pubs and outdoor cafés. The atmosphere is really good, and there are lots of places in close proximity so you don't have to walk too far to go to a selection.
The place comes alive every Sunday from March to October during the Gozsdu Bazaar (GOUBA), a little market with different handmade crafts. It opens at 10 in the morning. Entrance is free:
You can have good meal in the Yiddish Mamma Mia restaurant. Other favorite hangouts to check out include: the lively Kolor,
the very popular Spiler 'Bistropub', the trendy wine bar DiVino, Gozsdu Sky Terrace and the French-style Café Vian. All offer indoor and outdoor dining:
At the east (Dob utca) end of Gozsdu Courtyard is the Spinoza House, a café, restaurant and theater (Dob utca 15). This lively little place is obviously a legend. Some evenings Kletzmer music playing, in others - pleasant piano playing. GREAT GASTRONOMY: The restaurant offers a large variety of traditional and reformed Jewish / Hungarian dishes. Don't miss the 5 euros breakfast:
Exit the Gozsdu Courtyard in its south-east exit near SpinozaHaz and continue your walk on Dob utca with your face to the north-east. Take the second right turn onto Kazinczy utca. Kazinczy Street connects Király utca with Rákóczi út in district VII:

Most parts of the Kazinczy Street and the Jewish Quarter - are full of run-down, historic buildings. This one was built in 1838 in classicist style:
The Orthodox Synagogue is only a short walk away on Kazinczy utca, on your left, located at No. 29-31. This Synagogue was built in 1913 in the Hungarian Art Nouveau style according to the design of the Béla and Sándor Loeffler brothers. The traceries, hand-painted by Miksa Róth stained glass artist are beautiful ornamental elements of the Kazinczy Synagogue. There is a lively courtyard in its center surrounded by other buildings, with entrances on both Kazinczy street and Dob street. The synagogue is attended by Budapest's orthodox Jewish community. The most characteristic synagogue is part of a complex including a school and communal Hall. It is not normally open to visitors, but you can get a closer look around the corner at Dob utca 35 and through the courtyard by the Kosher butchers still functioning since 1914 and the strictly Kosher Hanna restaurant you can find the former orthodox school. Near the Synagogue - there are Kosher shops, Kosher butcher and salami-maker and even the only Mikve (religious bath) of Budapest can be found. The rather simple Hanna Kosher restaurant (Dob utca 35) is located in the courtyard. Next door on Kazinczy there is an upscale Kosher restaurant, Carmel (Kazinczy utca 31):
The Kazimir Info Point at 34. Kazinczy Street (open: Mon-Fri: 10.00 - 18.00) is a new information center of Budapest's Jewish District introducing the historical, architectural, and cultural heritage of the Jewish community. They also give nightlife, and clubbing tips, and organise guided thematic tours in the Jewish Quarter. The Info point web site is packed with information, but so far is only in Hungarian. The Kazimir Point regularly hosts concerts, exhibitions, children programs. The Kazimir Bistro, at the same address, is a budget-friendly place (2 floors + garden) offering breakfast (coffee is only 190 HUF till 11.00), daily menu (2 courses: 990 HUF, or 3 courses 1 190 HUF) ), a wide selection of Hungarian wines by the glass, beers, cocktails, and spirits. Its menu includes pork dishes (!) as well as Chulent. The names clearly refer to Kazimierz, the old Jewish quarter of Krakow, which has become a major Jewish tourist attraction and includes several "Jewish style" cafes aimed at evoking pre-WW2 times nostalgies. It hosts exhibitions and concerts (tango night every Thursday night, and the Lakatos Trio on Fridays). Tips should be added to the menu prices. Still, budget prices:
The Cari Mama Pizzeria is at Kazinczy Utca 28. Small with only 8-10 tables but very cosy. The staff are friendly and helpful. The food is tasty and and they have a good range of selection. The portions are reasonable large on pasta and you can choose different sizes of pizzas. As being a bakery as well as pizzeria you are able to buy fresh pastry too. Open: MON - THU: 08.00 - 12.00, 16.00 - 19.00, FRI: 07.00- 12.00. Note: might be closed.
Ruin Pubs (romkocsmák) or garden pubs have become icons of the city's nightclub scene. Even if you're not into partying, drop by at least one to experience the multicultural and retro ambience of these pubs unique to Budapest. Relaxed atmosphere, unusual interior decor, friendly people all characterize a couple of garden pubs in Kazinczy Street (and other parts of the city): Bar 400 (12.00 - 02.00) in Kazinczy Street 52/B
and Szimpla Kert (12.00 - 03.00) at Kazinczy street 14 - trendy but a bit decorated trashy with recycled objects and furniture. Numerous rooms and separate sitting areas:
Most of the Ruin Pubs are open from mid-morning or the early afternoon hours till late night. They offer good, inexpensive food and a wide variety of drinks.
Return your whole way and trace back in Kazinczy utca, with your face north-west until its end and intersection with Király utca. Turn right onto Király utca and, immediately, turn left to Vasvári Pál utca. Built in 1887 in Neo-Gothic and Neo-Renaisance style, the Synagogue at 5 Vasvári Pál Street is hidden in a courtyard surrounded by residential buildings. Renovated in the 1990s the synagogue and the adjacent complex is used by the Chabad-Lubavitch movement as a gathering place and school for Judaic studies. Open: Daily. Opening Hours: Shacharit: 08.00, Friday: Kabbalat Shabat, winter 18.00, summer 19.30, Shabbat: Shacharit 09.00.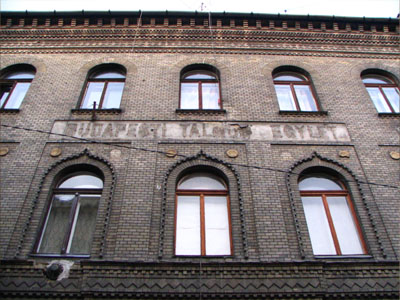 Retrace your steps in Vasvári Pál utca and return, by turning left to Király utca. On the first turn to the right walk onto Kis Diófa utca until you reach Klauzál tér, the district's largest square. The original name of this square was Stephans Platz. After 1874, it was known as István tér. In 1907, the square was named after Gábor Klauzál (18 November 1804 – 3 August 1866) who was a Hungarian politician, and served as Minister of Agriculture, Industry and Trade during the Hungarian Revolution of 1848 in the first government of Hungary. A theater opened in the square in the year of 1872, but was destroyed in 1874. A shopping hall (market) opened in 1897, in the place of the former theater and, nowadays houses a Kaizer supermarket. Just a few small stall holders remain offering limp lettuce wilting in the heat. Take a stroll through Klauzál Square Market Hall (Klauzál téri piac), one of the five large market halls in the city. The square contains a playground, sports facilities, beautiful environment for relaxation and entertainment, and even dog walking course:
Klauzál tér represented the centre of the ghetto in 1944-45. Over 50,000 Jews were crammed together here in terrible circumstances. First the Jewish people bodies were kept in Klauzál tér market fridges, then when it was very cold the Germans laid the bodies out in the square and buried them there.
There are several interesting, renovated buildings surrounding the square. In the No. 9 Klauzál square you find the Kádár Étkezde. The legendary Kádár Restaurant is also located in in the square, close to the entrance of the market. It is one of those small places where homemade food is served, tables are shared and there are only a few dishes to choose from. A great spot for lunch. Charmingly worn-down and homely, inexpensive too. Opening hours: Mon-Sat 11.30 – 15.30. Note: No dinner time. Sundays closed:
Next door a plaque on the wall reminds passers-by that Klauzál Tér was also a scene of confrontation in 1956. A memorial tablet to Attila Gérecz who died, aged 27, reads "Only he who is bigger than his fate can win in the final push". The first grave of this poet of the revolution stood in the square and fading flags with the central communist motif burnt out are stuck behind the marble tablet.
It is 800 m. or 10-15 minutes to return to the Dohány Street Synagogue. Exit the Klauzál Tér from its most northern point. Head northwest on Klauzál tér toward Dob utca. Turn left onto Dob utca, 650 m. Dob utca begins at Károly körút and runs up to Rottenbiller utca along the length of the long narrow seventh district of Erzsebetvaros (Elizabeth Town) which continues up to Dózsa György út and the Városliget - City Park. The origin of its name Dob (Drum) utca is a mystery. Shalimar, at Dob utca 50, serves tandoori, tikka and kebab dishes from an open kitchen that taste like they've come via southern Hungary (there's got to be paprika in there somewhere)... Open: noon - 16.00 & 18.00 - midnight. The Macesz Huszár is at Dob utca 26. A literal translation of the Hungarian name would be " The Noodle Hussar ". it is an excellent choice. It is not strictly Kosher but certainly Jewish inspired, Mostly used by Jewish families that are going to dinner. Excellent Chulent. There are also Latkes and desserts. Aside from the a la carte menu there are several chef's specials that change every two weeks. You can eat cheaper in this district if you only want pizza, burgers , shawharma or basic goulash, but if you want something better then this is it. The Fröhlich Pastry Shop is at Dob utca 22. The Fröhlich cukrászda has been producing delicious Kosher cakes since 1962, although the establishment dates back to 1917. Fröhlich is exceptional because all of its goods are made daily on site, Fortunately business is booming, and the café doubled in size two years ago, replacing the hard stone floor with white tiles. The Fröhlich family says it is the only genuine kosher café in Hungary and possibly in Central Europe. Dob utca 16 is the entrance to the Gozsdu Udvar (see above) - decorated with signs for a goldsmith, violin repair and engraving. Only five residents and five workshops remain in the 230-meter-long chain of seven courtyards of Gozsdu Udvar, built in the early 20th century, linking Dob and Király utca.
Turn left onto Károly krt., 34 m. Turn left onto Dohány u. and the Great Synagogue will be on the left. Kinor David is at Dohány utca 10. Budapest's largest kosher restaurant, 'David's Harp' is a cut above the usual and serves dinner as well. There are special fish dishes and Israeli treats as well. Shabbat meals (Friday dinner and Saturday lunch) by prepaid reservation only. Pay in advance for Friday dinner and Saturday lunch. Open: 11.00 - 23.00 MON - FRI & SUN, 12.00 - 14.00 SAT.