One day Walk in Batthyány tér and Obuda:
Attractions: Batthyány tér, Szent Anna-templom (Church of Saint Anne), Fő utca, Szilágyi Dezső tér, Bem József tér, Margit House, Leó úti Synagogue, Zsigmond tér, Bécsi út, Lajos utca, Aquincumi military amphitheater, Flórián tér, St. Peter and Paul Parish Church, Óbudai zsinagóga, Arpad Bridge, Szentlélek tér, Zichy palace, Victor Vasarely Museum, (Obuda Museum), Fő tér,
Start: Batthyány tér Metro (RED M2 line) station. It is located under Batthyány Square in Buda, near the Danube river. Next to the station, there is the southern terminus of the Szentendre HÉV suburban railway. The station has two tram connections, to 19 and 41. Buses connections: Bus: 11, 17, 39, 86, 111, 160, 260, 260A.
End: Fő tér
Duration: 1 day. Distance: 12-13 km. Note: long-distance walk.
Introduction: Óbuda (Old Buda) (Ó means 'ancient' in Hungarian) is in the III. disrtrict of Budapes. Óbuda is the oldest part of Buda. It played an important role in Budapest's history from the Roman Era till the modern days. Although at first glance Óbuda seems to be a plain residential area with blocks erected in the communist regime - the centre has numerous sights and a lovely, quaint atmosphere that make it like a small rural town or even a village inside the city. For history lovers the district is well-preserved with remains from the Roman period to Baroque ornate mansions. Hungarians arrived after 900 and it served as an important settlement of major tribal leaders, later kings. Béla IV of Hungary built a new capital after the 1241-1242 Mongol invasion in Buda, somewhat south of Óbuda. On 1 January 1873 it was united with Buda and Pest to form Budapest. The area of Óbuda was inhabited in as early as the stone age. The Romans formed the capital of their Pannonia province - bordered by the river Danube - Aquincum in AD 106. Aquincum, garrison and civilian town, means "abundant in water" indicating that the Romans discovered and appreciated the area's most important natural treasure the thermal springs.
Batthyány Square (Batthyány tér) is a town square in the Buda side of the Danube directly opposite the Hungarian Parliament Building (Pest side). It is named after Lajos Batthyány, the first Prime Minister of Hungary, and a statue for him was erected in 2008. The HÉV suburban railway originates from the square, connecting Batthyány Square with Szentendre (see "Szentendre" blog).
The square is best known for its market hall - built between 1900 and 1902, which houses a modern supermarket and a small café on the second floor with views of the Parliament Building. Good thing that the market is open on Sundays. It's been recently renovated: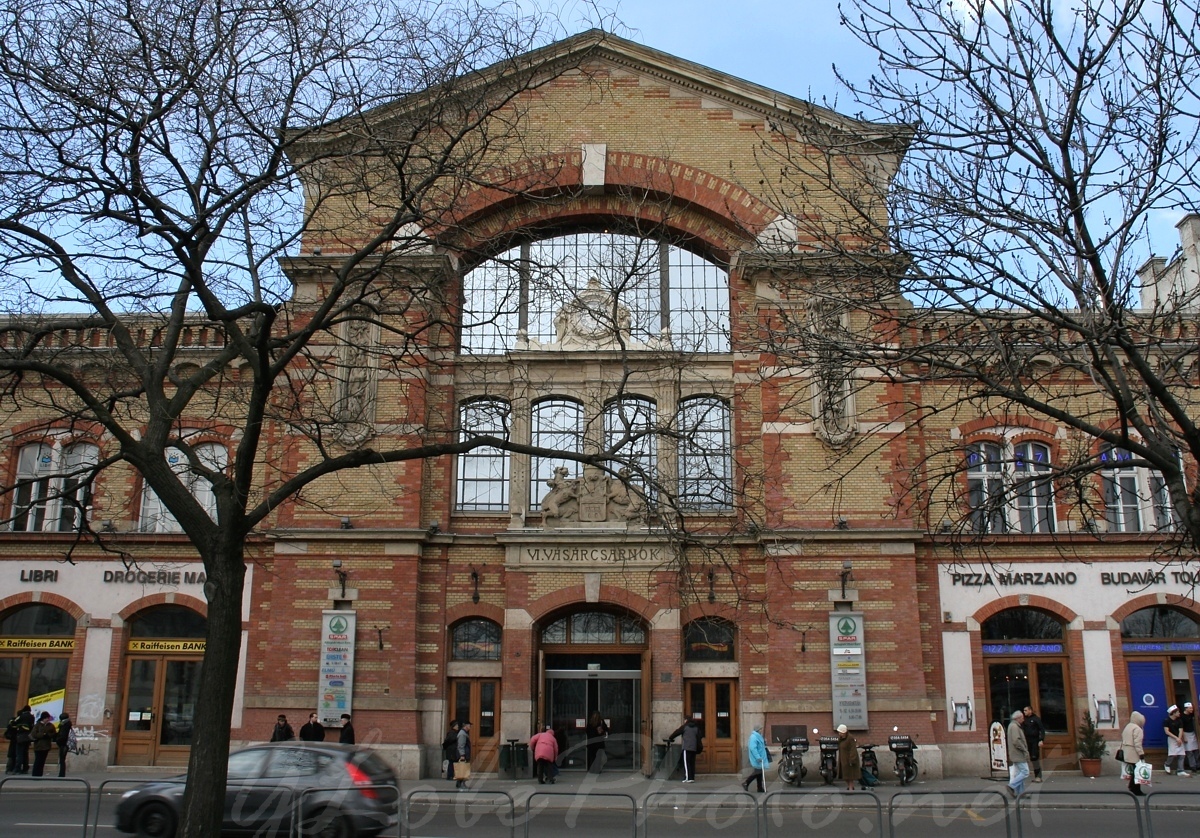 Batthyány Square is also noted for the Szent Anna-templom (Church of Saint Anne), a Roman Catholic church built by the Jesuits between 1740 and 1762, and one of Budapest's most beautiful Baroque buildings. The beautiful façade is dominated by two symmetric towers and between them the symbol of Holy Trinity and two angels. In the centre of the facade there is the statue of Szent Anna and the coat of arms of Budapest. The interior is in Baroque style with beautiful ceiling frescoes, the one over the high altar shows Holy Trinity and dates from 1771 while the central one is from early 20th century (paintings made by Pal C. Molnar and Bela Kontuly in the 1938). Frequent concerts, recitals and other musical events held here in the evenings. The church has a very fine pipe organ which is often used for recitals: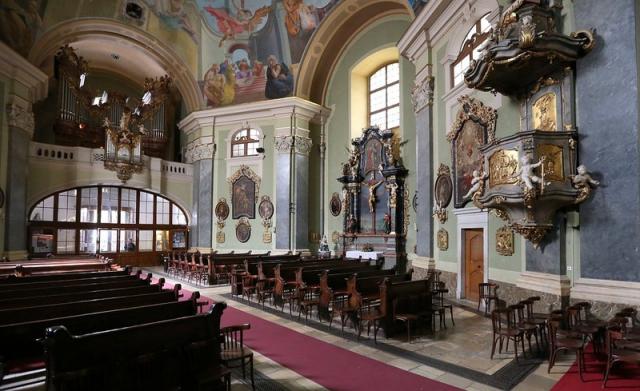 Another noteworthy building in the square is the former 'White Cross Inn' (Batthyány tér 4), which was established in 1766 when two older buildings were rebuilt in Rococo style. Habsburg king Joseph II stayed here twice when visiting Buda in 1783 and 1784. Nowadays, it is a beautiful Baroque building with Rococco ornamentation at the lower level, marred somewhat by a neon "Casanova" sign. According to legend, the serial seducer Giovanni Jacopo Casanova once stayed there when he came to Buda to take the water cure after many years languishing in prison.
On Batthyány tér the big red building on the north side was once a Franciscan Monastery, then a hospital run by nuns. It was built in the 18th century. Outside it is a statue of Ferenc Kölcsey created in 1939 by the sculptor Ede Kallós. Kölcsey (1790-1838) wrote the Himnusz, the Hungarian national anthem: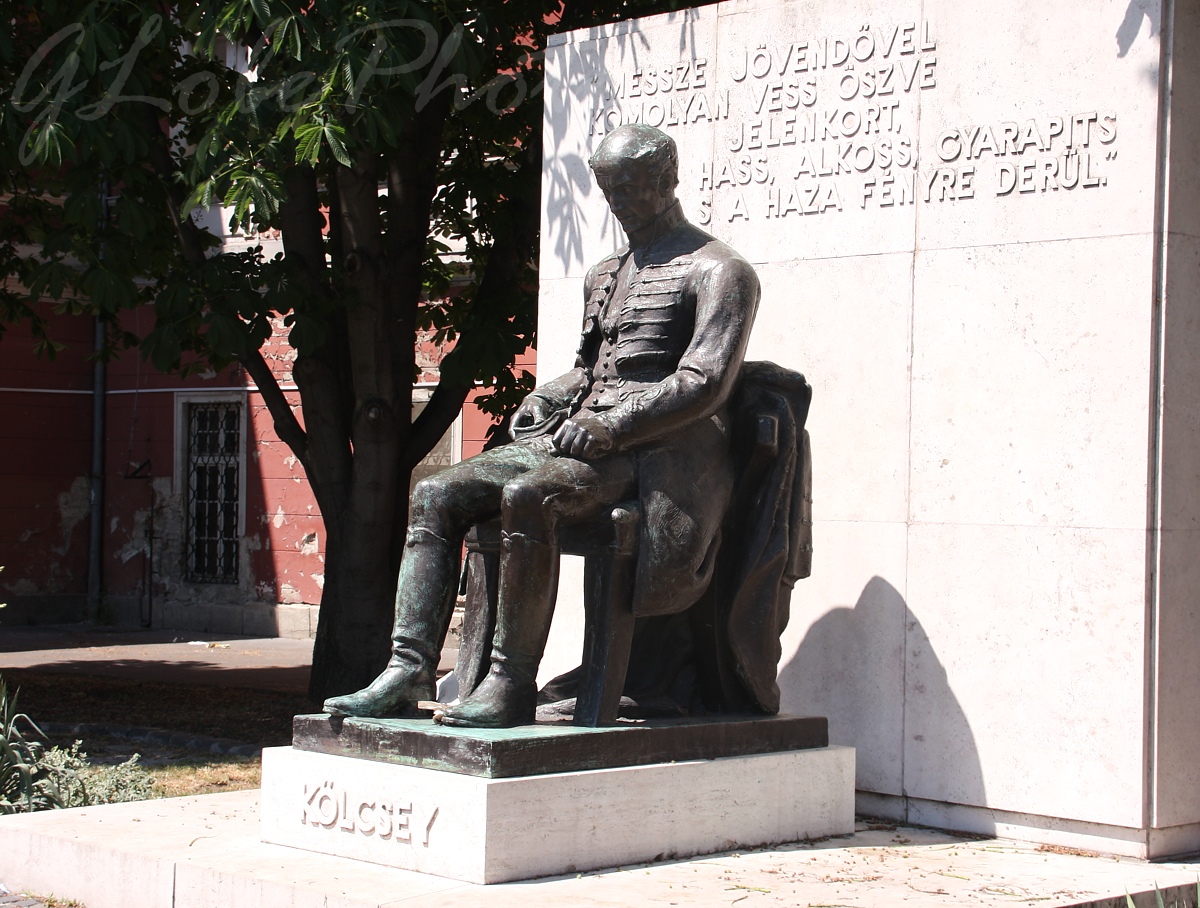 This square is right on the river (but look to the left...) and, like most of this city, boasts some pretty spectacular scenery. You can get a good view of the Hungarian Parliament Building and the Chain Bridge from the riverbank.
From Batthyány tér we head south, 55 m. Turn right to stay on Batthyány tér, 70 m. Then, turn left for 12 m. Continue onto Fő utca, 180 m. (passing Markovits Iván utca and Coyote Cafe' on your right) (see Tip below). The historic Fő utca (Main Street) crosses the square, and connects it to the lower end of the Budapest Castle Hill Funicular to the Buda end of the Széchenyi Chain Bridge. It continues further north until the Bem József tér. It dates from Roman times. It is bustling with commerce from as early as the 18th century. The area is called Watertown; following the 1686 siege of Buda, mostly German merchants and other privileged citizens moved here, building Baroque houses and courtyards.
Fő utca is lying parallel with the Danube. As we said before, walking along this road, from north to south, the huge Parliament building on the Pest bank will appear from time to time between blocks of buildings.
Continue straight onto Szilágyi Dezső tér, 95 m. Turn left to stay on Szilágyi Dezső tér, 60 m. Opposite stands the red-brick neo-Gothic Calvinist church whose roof is adorned with ceramic Zsolnay tiles from the Pécs factory. The church was designed and built in 1893-96 by Sámuel Pecz, who created the Main Market Hall, also with Zsolnay tiles. The building suffered bomb damage in the Second World War and was restored in the 1980s. The church is closed most of the time:
Outside the church on the river bank is a memorial to the March 15, 1848 revolution with the message 'Hazádnak rendületlenül' (steadfastly for your homeland):

There is a tiny statue by Béla Berán of Pecz dressed in medieval master builder's clothes on a drinking fountain in the tiny park surrounding the church:
From Szilágyi Dezső tér - we change our direction and head to the north consuming, from now, quite a lot of kilometres of walk. We' ll strat in walking 950 m. (15-20 minutes) from Szilágyi Dezső tér to Bem József tér retracing our steps along Fő utca. Head north on Szilágyi Dezső tér toward Székely utca, 45 m. Continue onto Fő utca, 180 m. Continue onto Batthyány tér, 130 m. Continue onto Fő utca, 170 m. Continue straight onto Nagy Imre tér, 65 m. In Nagy Imre tér is located the former Communist Military Court of Justice on its northern side. Imre Nagy was sentenced to death here in 1958 for his prime role in the 1956 revolt. Here was also the site of the cruel prison , where many other victims of the Communist regime in Hungary were imprisoned and tortured.

Continue onto Fő utca, 300 m. Turn right onto Bem József tér, 35 m. József Bem (1794 – 1850) was a Polish general and a national hero of Poland and Hungary. Bem fought outside Poland's borders for the future of Poland. This square was the centre for the meetings during the Hungarian uprising of October 1956 against the Soviet invaders. The square was also a centre of 200,000 Hungarian students parade - protesting against Soviet rule in 1956. The statue in the square is of József Bem:
Continue northward onto Frankel Leó útca. In the intersection of Margit Krt. and Continue onto Frankel Leó út stands the Margit Haz (house):
The Frankel Leó road is quite long and it is 1.4 km. walk northward until we arrive to the Jewish Synagogue (Frankel Leó úti zsinagóga). The beautiful synagogue, in No. 49, wedged between apartment buildings, was built in neo-Gothic style. It was constructed by Sandor Fellner. and its inaguration was in year1888. The synagogue was empty and used as a stable during the WW2:
350 m. further and Frankel Leó road ends in Zsigmond tér: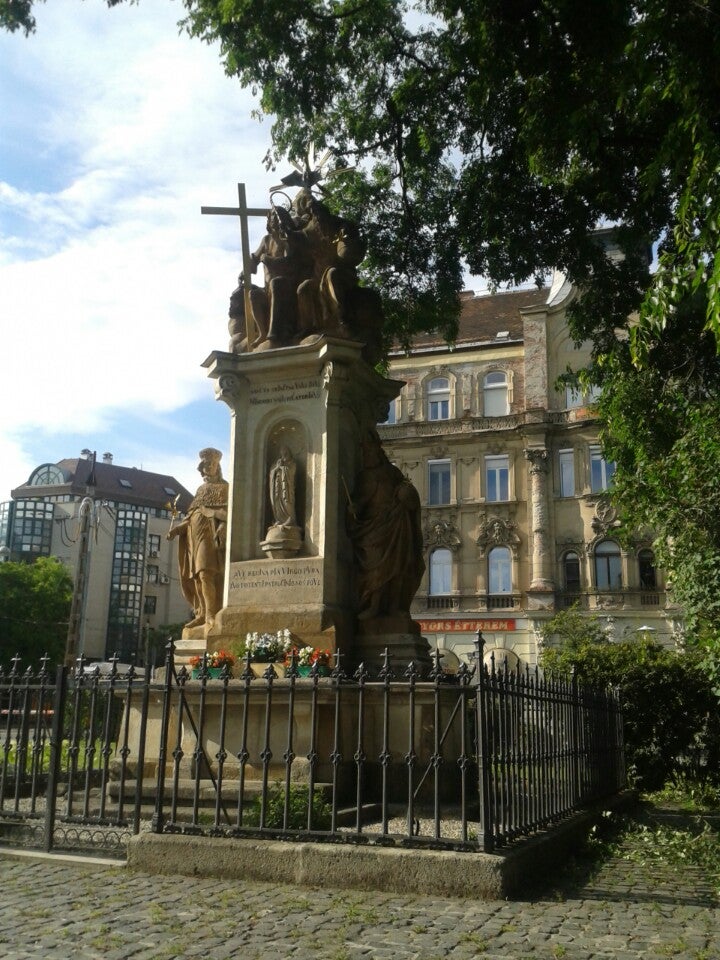 A stone relief on a house in Zsigmond tér:
We are in Obuda. Getting to Óbuda from Downtown Budapest:
By Suburban Railway H5 from Batthyány Square (M2 red, metro), get off at Szentlélek tér.
Take tram 1 and get off at Flórián tér stop.
Take M3, blue metro, get off at Árpád híd station, from there take tram 1.
We take the western wing of Zsigmond tér and continue northward along Bécsi út. This street is still an important route, III. district's main thoroughfares. There are several famous buildings along Bécsi út (Újlaki Catholic Church, the People's Freedom Headquarters in St. Margaret's Hospital, an Óbuda University campus, Euro Center plaza, Óbuda cemetery next to the Jewish cemetery of Óbuda, and many other buildings, office buildings). DO NOT MISS THE SPECIAL ROOFS of many houses along this street:
We walk, now, approx. 1 km NORTHWARD along Bécsi út ( and its parallel road Lajos utca). Head north on Bécsi út toward Cserfa utca, 350 m.
Turn right onto Szépvölgyi út, 70 m. Turn left onto Kolosy tér, 77 m. The surrounding area is a shopping mall, a bunch of office buildings, good patisserie, and, moreover, it is the city's main sushi eateries. Continue onto Lajos utca, 400 m. Turn left to stay on Lajos utca, 45 m. Beyond the intersection with Nagyszombat utca - yo see the Aquincumi military amphitheater. A military amphitheater located south of former Roman military camp. It's an interesting fact that this amphitheatre had an arena that was larger than the arena of the Colosseum in Rome (89,6 x 66,1 metres). The amphitheater was built during the reign of emperor Antoninus Pius. The construction work was performed by the Legio II Adiutrix technical corps. Imagine: the walls were supported by huge stone pillars. Free entrance. Aquincum Military Amphitheatre is the greater of two amphitheatres in Budapest, Hungary. (The other being the Aquincum Civil Amphitheatre,. located in further north in Obuda.). The Aquincum Museum is also 3.5 km. further north. To see the Aquinicum Museum - see our suggestion below to take a bus from Flórián tér:
It is another 1.1. km. walk to Flórián tér and more Obuda attractions. Head north on Pacsirtamező utca. toward Viador utca, 400 m. Slight right to stay on Pacsirtamező utca, 500 m. Turn right onto Flórián tér, 50 m. In Flórián tér ruins of a Roman military camp were discovered. The vsquare is built on the nucleus of this camp. The well preserved ruins of a bath complex called Thermae Maiores are on the north side of the square on grassy grounds. A small museum provides information about the baths and medicine in Roman times is seen in the Flórian tér underpass. The square itself is noisy and busy:
Side trip to the Aquinicum Museum, Budapesti Történeti Múzeum - Aquincumi Múzeuma, Szentendrei street 135: From Flórián tér walk About 3 min , 230 m north-west to Szentlélek tér. Take Bus134 towards Békásmegyer, Újmegyeri tér. Drop off at the 5th stop, Záhony utca and walk About 2 min ,,140 m to the Budapesti Történeti Múzeum - Aquincumi Múzeuma,
Záhony utca 4. The Aquincum Museum is definitely an interesting site to visit. The museum houses amazing archeological artifacts from the ancient Roman city of Aquinicum. You can also see the actual site of excavation outdoors. English translations could be improved. Prices: 1600 HUF. Opening hours : 10.00 - 16.00. Time Required : 1 - 2 hours.

From Flórián tér move eastward crossing the road beneath Árpád híd (Árpád bridge) will take you to the 18th century Baroque style St. Peter and Paul Parish Church, Lajos utca 168. From lórián tér head south on Polgár utca. toward Tavasz utca, 10 m. Turn left onto Tavasz utca, 170 m
Slight right at Szentlélek tér, 95 m. Turn right toward Lajos utca. Take the stairs, 60 m. Turn left toward Lajos utca. Take the stairs, 90 m. Turn left onto Lajos utca, 130 m. Turn left onto Zichy utca, 35 m. Turn right onto Lajos utca. The yellow-colored church will be on your right. After the Roman era the Hungarian tribes arrived in the 9th century and Óbuda started to flourish once again. A castle and several churches were built on top of the Roman ruins. The first church, named after St. Peter, was built here in 1015. At the time Óbuda was significantly more developed than Buda, which only became popular in the wake of the Mongol invasion in the 13th century, when King Bela IV moved his royal seat to higher ground. Dominating the easternmost side of III Flórián tér is the yellow Baroque Óbuda Parish Church, which was built in 1749 and dedicated to Sts Peter and Paul. There's a lovely rococo pulpit inside. Architect: János György Paur. The first church was built here in 1015. This church has only one big nave with lovely side altars on both sides.
Antonio Bonfini (1427–1502) was the personal historian of king Matthias Corvinus. His sepulchral monument, which the sculptor John Seres works, can be seen at the left (south) side of the parish. Relief carved of red limestone. Author: János Seres. Inscription: IN MEMORY OF ANTONIO BONFINI KING MATTHIAS' CHRONICLER, BECAME HUNGARIAN, WHO WAS BURIED IN THE CHAPEL OF ST. MARGARET DRAWN IN THE OLD DAYS THIS PLACE.
Adjacent to the parish church (east of it) is the Óbudai zsinagóga, Obuda Synagogue. Budapest's oldest synagogue, was built in 1737, demolished and rebuilt in 1820-1821 in classic style. Architect: Andreas Landesherr. Jews settled in Óbuda from 1712 at a time when Jews were forbidden to live in Buda. Countess Zichy invited them to live on Zichy family property in Óbuda. The building's original copper roof was requisitioned by the government and melted for ammunitions production during World War I. At the time the synagogue was built, the community of Óbuda was the largest Jewish community in Hungary. In 1850, the town had 3440 Jewish residents. The community shrank throughout the nineteenth and early twentieth centuries as members moved into the flourishing city of Pest. But the town, district III of Budapest was still 10% Jewish in 1926. In the 1970s, the diminishing Jewish community sold the building for use as a television studio. Used for a long time as a TV studio, it was reinaugurated as a Synagogue on September 5, 2010:
The Two Tablets on the top of the Obuda"s synagogue:
200 m. west to the Synagogue - there is a famous restaurant - Kehli (see Tip below).
We change direction and head northward again. It is 450 m. walk to the Vasarely Museum. From the Óbudai zsinagóga we head north on Lajos utca toward Zichy utca, 25 m. Turn left onto Zichy utca, 35 m. Turn right onto Lajos utca, 130 m. Turn right toward Szentlélek tér, 65 m. Slight left at Serfőző utca, Take the stairs, 110 m. Turn left onto Szentlélek tér, 45 m.
We crossed the Arpad bridgw from south to north and, now, we are north to Arpad hid. The Danube is on our right (east). Situated at the northern end of Margaret Island, Arpad Bridge is the second longest and at present the most congested bridge in Budapest. It is named after chieftain Arpad, the leader of the first Magyar settlers of Hungary. The construction of the bridge had been planned since the installation of the old Elizabeth Bridge in 1903, however the design competition was only launched in 1930. Its construction was started in 1939 to the plans of János Kossalka. Due to World War II, the construction of the bridge was suspended in 1943 and could only be resumed in 1948. At that time, the so-called post-war "bridge battle"- i.e. the reinforcement of the endeavor to set into operation the largest possible number of Danube bridges as soon as possible and with the lowest possible material consumption - was in full swing. For this reason, the installation of the steel structure only included the parts attached to the two middle head-beams of the bridge, thus narrowing the bridge-deck from the originally planned 27.6 meters to 13 meters. The bridge was finally inaugurated on 7 November 1950, yet the socialist government named it after Stalin instead of the originally proposed Arpad. Finally, it was rechristened Arpad in 1958: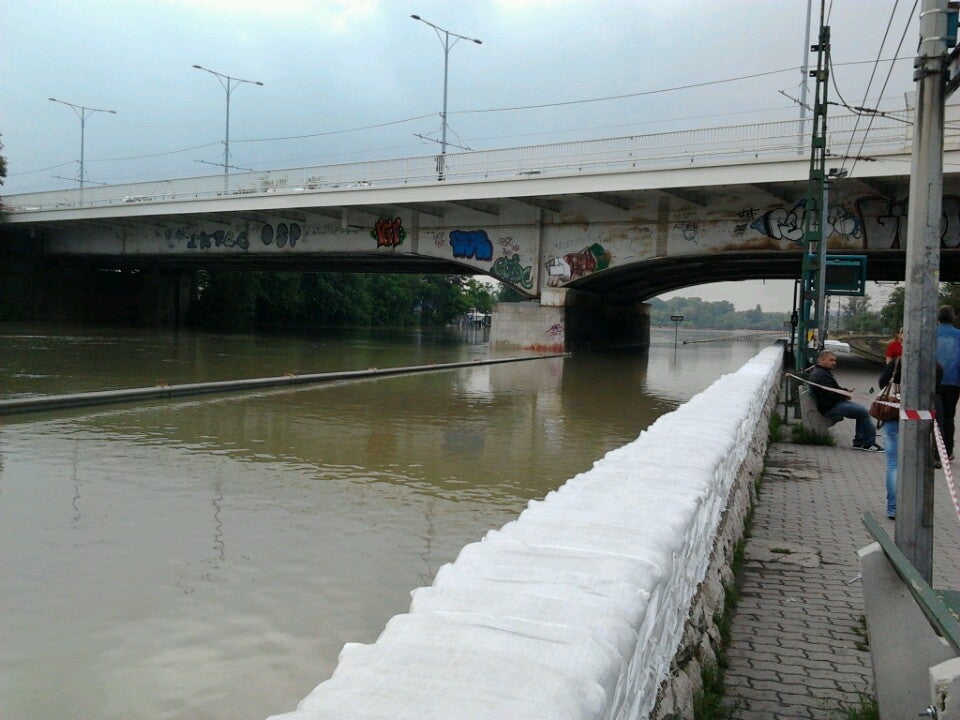 On your way you will pass the Baroque-style Zichy palace (Zichy-kastély) that belonged to an aristocratic family, who once owned Óbuda. The palace, commissioned in the 18th century, is home to several Museums. There is a museum dedicated to the Hungarian born pop artist, Victor Vasarely, another to Lajos Kassák, an iconic figure of the Hungarian avant-garde movement and yet another to the history of Óbuda. The Baroque-style mansion was built by Henry John Zichy Jäger stonemason and Bebo Charles, sculptor between 1746 and 1752. The outbuildings were also made in the 18th century:
Szentlélek tér:
The Holy Trinity Statue at Szentlélek tér:
At Szentlélek tér (or at the eastern end of Fő tér) an engrossing group of sculptures by Imre Varga - an artwork which became a symbol of Óbuda. The amazing group of sculptures "Women with Umbrellas" makes you stop for a while and admire the artwork which became a symbol of Obuda. They lend a peculiar atmosphere to both of the the squares. You remember that Imre Varga also created the Tree of Life in the Great Jewish Synagogue in Pest:
The first museum we'll browse is the Victor Vasarely Museum, 3rd District, Szentlélek tér 6, next to Árpád híd HÉV (Green Train Line departing from Red Metro Line Batthyány tér stop) - 170 m. south to Zichy-kastély. Victor Vasarely Museum, Hungarian born founder of op art. Two floors of colorful, geometric art. Hundreds of works by the Hungarian born painter can be seen along with temporary exhibitions of other Hungarian artists. The museum is very well organized, and shows the evolution of Vasarely style until his late projects. Vasarely created his art without computers and used his imagination to make the geometric shapes in various shades. I loved this museum. The permanent exhibition is a refreshing, colorful and quite extraordinary. Opening hours: 10.00 - 17.30. Prices (valid for both the permanent and temporary exhibits): full price 800 HUF, for Budapest Card owners: 700 HUF, discount tickets: (visitors from EU countries aged between 6-26, and 62-70): 400 HUF, free - for children under 6, visitors from EU countries over 70 years of age. Photo permit: 300 HUF, Video permit: 1 500 HUF:
Óbuda Museum is in Fő tér - adjacent and north to Szentlélek tér. Entrance from: Fő tér (Main Square) 1-4. Open: TUE - SUN 10.00 - 18.00. Prices: full price: 800 HUF, discount ticket (visitors from EU countries aged between 6-26, and 62-70): 400 HUF, admission is free for children under 6, visitors from EU countries over 70 years of age, family ticket (2 adults+2 kids): 2 000 HUF. Rich collection introduces local history. Highlights include a 19th-century farmhouse kitchen from Békásmegyer, the output of master cooper Simon Tóbiás, and a vintage 1970s apartment interior. Hungary's only toy museum will be a thrill to kids and their parent alike. The Zsigmond Kun Flat Museum has a unique collection of folk art furniture.
Lajos Kassák Museum, Entrance: Fő tér (Main Square) 1. Opening Hours: WED - SUN: 10.00 - 17.00, closed on MON - TUE. Prices: full price. 600 HUF, discount ticket (visitors from EU countries aged between 6-26, and 62-70): 300 HUF, admission is free for children under 6, visitors from EU countries over 70 years of age. The exhibition consisting of 20, 000 items depicts the life and works of Lajos Kassák (1887-1967), famous representative of Hungarian Avant-garde:
We walk a few steps to the north to Fő tér. Getting to Fő tér: Take Subway (M2) to Batthyhány tér. From Batthyhány tér take the Suburban Railway (HÉV) to Árpád híd. FÖ TER (MAIN SQUARE) in Obuda is a secluded square from the 17th-18th centuries. The town hall is a beautiful building constructed in the 18th century. Fő tér is the main square in Óbuda, the oldest part of Budapest. This charming square is surrounded by several Baroque-style buildings, including the City Hall of Óbuda and some museums and restaurants. Most buildings were commissioned in the 17th and 18th centuries, when Óbuda belonged to the Zichys, a wealthy aristocratic family. Its like a little, silent island within the large city. Interestingly, the Fő tér is very quiet most of the time.
The YELLOW building of the local government (to the left, west of the statues of "Women with Humbrellas") is also located at this square. The word VÁROSHÁZA means City Hall, but, nowadays, it hosts the district mayor. The exterior is MARVELLOUS:
We return to the centre of Pest by: Walk about 3 min , 230 m to 8:54 PM
Szentlélek tér. We take the HEV Commuter train H5 towards Batthyány tér (4 stops) to Batthyány tér stop. We take the Subway M2 (RED) towards Örs vezér tere (2 stops) and stop at Deák Ferenc tér.