Around Hampstead Heath and Village:
Start/End: Hampstead tube station.
Minimum time: 3-4 hrs.
Distance: 9-10 km.
Orientation: Landscape Heath and woodland scenery and some impressive views across London. The Heath may be a bit complicated to navigation. Come on sunny weekends and you'll find many visitors everywhere - locals and tourists. This trip supplies very detailed instructions. Signposts along the Heath paths - help as well.
Weather: only on 100% sunny day. No compromise. The walk crosses Hampstead Heath can be muddy in places after heavy rain. Most oft our walk is along non-muddy paths.
Accessbile toilets: Parliament Hill staff yard, Athletics track, Golders Hill Park Café, Golders Hill Park Zoo, Vale of Health, Heath Extension, Kenwood House.
Note: Many places is forbidden to bicycle or have barbecue.
Health walks on the Heath: Suitable for all levels of fitness, but especially aimed at those just starting to exercise and older people. Any participants with health concerns should consult their personal doctor before coming on their first walk.
Camden: Every Monday, 9.50, Meet: Hampstead Heath Overground Station, Contact: Camden Active Health Team, www.camden.gov.uk/activehealth.
Islington: Every Thursday, 11.00, Meet: Archway Leisure Centre, McDonald Road, N19, Contact: Active Health Team, www.aquaterra.org, Tel: 020 7689 9846.
Barnet: Every Tuesday, 9.30, Meet: Golders Hill Park, North End Road entrance, Every Thursday, 9.30, Meet: Hampstead Way/Linnell Drive junction.
Heath Extension: Every Sunday, 10.30, Meet: Hampstead Way/Wildwood Road junction, Heath Extension, www.barnet.gov.uk, Tel: 020 8359 4600.
In an EMERGENCY Tel: 999
The earliest known inhabitants of the Hampstead area were Mesolithic forest hunters who settled here in about 7000BC, with their campsites being excavated on the West Heath between 1976 and 1981. A barrow on Parliament Hill suggests that there was a Bronze Age settlement on this desirable hilltop.In the end of the 17th century many wells containing medical waters were discovered in Hampstead Heath. They gave Hampstead Heath a long period of reputation of 'Spa Area'. After a bright start, Hampstead wells popularity declined, a casualty of competition with other London spas. By the end of the 18th century Hampstead's days as a spa were over, but they'd managed to attract substantial development in the area and established its reputation as a healthy and attractive place to stay. The 19th century saw Hampstead expanding with the 1860 North London Line ('Silverlink') bringing in crowds of day-trippers to enjoy the Heath. By 1891 the population of Hampstead had doubled to 68,000 from its 1871 total, spurring on the building of new churches, chapels, schools, police and fire stations, a cemetery, water supply and sewage system, with a Town Hall being built in Haverstock Hill in 1878. Hampstead became part of London of 1888.
We start at the Hampstead tube station - where Heath Rd (south) and Hampstead High Street meeting point.
Head northwest on Hampstead High St toward Heath St. Turn right onto Heath St. Turn right onto Back Ln:
Turn left onto Flask Walk. Turn left onto New End Square. Burgh House & Hampstead Museum is on the right. Burgh House is a Queen Anne building, built in 1703. At one time, After WW2, which it was lucky to survive, it was bought by the local council. It is now the home of the Hampstead Museum of Local History. One of the rooms is a wood panelled art gallery with regular exhibitions. There is a delightful, prize winning terraced garden, originally designed by Gertrude Jekyll (world reputed gardens designer) and maintained in her style with tables and chairs set up for the enjoyment of afternoon tea. In the garden there is a little wooden handcart, painted with the name Henry Kippin. Henry Kippin was the local chimney sweep, the last of three generations of Kippins who swept the chimneys of Hampstead for a hundred years.
Continue walking (north-west) along New End Square and (in the junction) bend LEFT (almost straight on) to New End Road - with beautiful red-bricked houses along its left (west) side.
On your right you've passed the 18th century Duke of Hamilton Pub:
New End Theatre, Hampstead, 27 New End, is one of London's leading Off West End theatres presenting the best in new and and issue–led writing, which includes musicals, comedy and classic revivals:
We are heading now to the Heath and, first, to to several ponds. It is approximayely 10 minutes walk to the Vale of Health Pond. Head west on New End toward Heath. Turn right onto Heath St. Turn right onto Hampstead Square. Turn left toward Holford Rd. Turn right onto Holford Rd. Slight left onto Cannon Pl. Turn left onto Squire's Mount. Continue onto Vale of Health. Turn RIGHT on the first path and a bit later LEFT (in the T-junction of paths). Two blue plaques can be found for previous residents DH Lawrence and Rabindranath Tagore.
The Vale of Health Pond is on your left. Today, it is, mainly, a fishing area:
It is 10 minutes walk to the Viaduct Pond. Continue walking in Vale of Health (heading north). After 160 m. turn right and after 500 m. the Viaduct Pond will be on the right.
It is 1.6 km. 20 minutes walk to the Wood Pond (very close to Kenwood House). With the Viaduct Pond (its length) on your back - take the forward path i.e: Head southeast toward Lime Ave. Turn left onto Lime Ave. After 160 m. turn left. After 320 m. you come to a junction of paths. Take the LEFT path. After 480-500 m. take the FIRST RIGHT path. After 160 m. in another junction take the RIGHT path and after 320 m. the Wood Pond will be on the left. Wood Pond is found to have a round island close to the shore with silver birch trees.
More eastward there are: Thousand Pound Pond and Stock Pond. Further 10 minutes walk to Kenwood House. From Wood Pond head NORTHWEST with the path. On the next junction of paths take the RIGHT path (when the heath is on your right). Continue on this apth when Kenwood House (Hampstead Lane) is on your left (signposts will help here). (Do not take the path leading to the Pagoda). Open: everyday 10.00 - 17.00. FREE.
There's been a house on this site since 1616, but the current neoclassical mansion was remodeled by Robert Adam between 1764-73. Kenwood House has fabulous landscaped gardens with open air concerts held in the bowl by the lake during the summer. The estate was bought in stages for the nation in the 1920s and the final acres being entrusted to the nation in 1927. The House just opened in 2014 after almost 1 year of restoration. Bus 210 brings you from the tube station to the front entrance.
Central entrance to Kenwood House:
Handkerchief Tree in Kenwood Estate grounds:
View to the Heath from Kenwood House:
Restaurant in Kenwood House Garden:
Two Piece Reclining Figure, 1963–1964 by Henry Moore:
Flamme by Eugène Dodeigne:
Kenwood House interiors. The art collection, while truly sublime, is small. A wonderful collection of art: Rembrandt , Constable, Reynolds among others. The house has leather covered seats and you can sit on them (!) if you get tired:
Self Portrait with Two Circles by Rembrandt (1661):
It takes 2.2. km. approx. 30-35 minutes to walk from Kenwood House to the Parliament Hill. From the Pagoda in Kenwood Estate, go down and turn right. When starts the downhill, pass through the gates. The path bends left (eastward). The path surface is now paved. Keep going straight down the hill. You pass Goodison Fountain on your left. The path continues east-south and you pass Wood Pond on your left. Further down Millfield Lane you pass the entrance to Kenwood Ladies' Bathing Pond on your right. Keep going straight along Millfield Lane (direction: east-south).From Millfield Lane you turn right to a gravel path. Pass traffic barrier and you pass Toilets and drinking fountains are on your left. Take the right fork at the end of the Bird Sanctuary Pond. Your direction now is west-south. After the Bird Sanctuary Pond is the Model Boating Pond. Turn left and follow the path downhill. Your direction is now southward and the Model Boating Pond is on your left. Following the path you pass the Men's Bathing Pond on your left. Your direction now is east-south. You will pass Highgate Number 1 Pond on your left. At the junction - keep going straight ahead. At the next junction take the left hand path and with your face to the Parliament Hill Staffyard and the cafe to your right,
Parliament Hill is famous for its iconic views over London. Tourists and locals lounging on the grass and admiring landmarks (The Gherkin, St Paul's) among the numerous tower blocks. Originally a point of defense during the English Civil War, it was named after the troops loyal to Parliament and was often referred to as Traitor's Hill. More recently, it is a film location and a popular place to fly kites. The surrounding Parliament Fields also play host to a regular farmers' market and house a public lido. Parliament Hill sports a state-of-the-art adventure playground. The imaginative equipment is designed to challenge children rather than keep them boringly safe, and there's also a huge and popular paddling pool. Parliament Hill café: T: 020 7485 6606, Location: off Highgate Road, Parliament Hill, between the tennis courts/bowling green and the bandstand. Opening hours: 9.00 - 16.00 (earliest) 21.00 (latest) as seasons change.
To go down from the Kites Flying top of the Parliament Hill to Keats House - we chose a bit longer route (there are at least three routes), but it is an interesting one meandering between more ponds. It take 12-15 minutes to arrive to Keats House. Head south toward Parliament Hill. Continue straight onto Parliament Hill road. Turn right toward S Hill Park Gardens. Turn right onto S Hill Park Gardens. After 160 m. turn right toward S End Rd. After 150m. turn left toward S End Rd. 150 m. further turn left onto S End Rd and turn right onto Keats Grove. Keats House, 10 Keats Grove, will be on the left. Opening hours: Summer (1 March - 31 October) Tuesday to Sunday: 13.00 – 17.00, Also open on Bank Holiday Mondays. Winter (1 November – 28 February) Friday to Sunday: 13.00 – 17.00, Last admission time 16.30. Admission prices (tickets are valid for one year)​: Adults: 5.50 GBP, Concessions (Over 60s, students and jobseekers): 3.50 GBP, Children 17 and under: Free.
In this house Keats fell in love with Fanny Brawne, wrote some of his greatest poems and was nursed through tuberculosis before dying on a trip to Italy. It is a sad but beautiful place. Worth the price of admission only if you are interested in poetry and Keats. There is a tour of the house and a tour of the garden. Both are included in the admission charge. There is a beautiful garden and the house is in great shape and with historic value and heritage. Allow 1 hour. The guided tour lasts 40-45 minutes.
Head east on Keats Grove toward S End Rd. Turn left onto S End Rd, slight left to stay on S End Rd and Continue onto 2 Willow Rd. This historic house is on your left. Entry to 2 Willow Road is by tour only for the first part of the day. Tours at 11.00, 12.00, 13.00 and 14.00 are filled on a first come, first served basis at the door on the day itself. Alternatively, you can explore independently from 15.00. Last entry is at 16.30. Prices: Adult: 6.00 GBP, Child: 3.00 GBP, Family: 15.00 GBP.
2 Willow Road is part of a terrace of three houses designed by architect Erno Goldfinger and completed in 1939. It was one of the first modernist buildings acquired by the National Trust, giving rise to some controversy. Goldfinger lived there with his wife Ursula and their children until his death in 1987. With surprising design details that were ground-breaking at the time and still feel fresh today, the house also contains the Goldfingers' impressive collection of modern art, intriguing personal possessions and innovative furniture.The collection includes important works of 20th-century art by Henry Moore, Max Ernst and Bridget Riley amongst others, as well as original furniture and fittings designed by Goldfinger. A very interesting place and personality behind and well designed home that stands the test of time very well:
Return to the beginning of Willow Road (eastward, exiting Goldfinger's house - turn right) and turn RIGHT to Downshire Hill Road (the heath should be on your back). Consider eating at the Freemasons Arms restaurant (modern house and popular restaurant):
Downshire Hill road is a splendid typical Hampstead with Georgian houses especially in its last section:
St John's Church, Downshire Hill:
Head southwest on Downshire Hill and walk the whole road until its end. Turn right onto Rosslyn Hill which continues as Hampstead High Street (350 m.). Turn left onto Perrin's Ct. Turn right onto Heath St and turn left onto Church Row. This is even better typical Georgian road with preserved houses iron fences. Church Row, often praised as one of the most attractive streets in Hampstead:
Do not miss the St. John-at-Hampstead Church, 14 Church Row built in 1745. The wooded churchyard is a lovely spot for quiet contemplation. Many famous Hampsted residents buried in its churchyard including: John Constable, romantic painter, Peter Cook, writer and comedian, Kay Kendall, actress, film star of the 1950s, Hugh Gaitskell, Labour Party leader from 1955 until 1963, John Harrison, inventor of the marine chronometer, J M Barrie whose children inspired Peter Pan, Jack and Peter Llewelyn Davies (children of the above) in the same grave as their parents and their brother Michael, in a separate grave,
We are approaching the end of our day. It is 8-10 minutes walk (at most) to our last two destinations: Fenton House and the Admiral's House.
Head west on Church Row (the church to your left) toward Holly Walk. Turn right onto Holly Walk (nice climb). Turn right onto Mt Vernon. Turn left onto Frognal Rise. Slight right onto Windmill Hill. In the middle of Winmill Hill, on your right is Fenton House. Prices: House and Garden: Adult - 6.50 GBP, Child: 3.00 GBP, Family: 16.00 GBP. Garden only: Adult: 2.00 GBP.
Handsome 17th-century merchant's house with walled garden. Fenton House dates from 1696. It was built by William Eades, who designed a house with a minimum of carved stone detail. The house was purchased by the Fenton family in 1793. In the early 19th century James Fenton added Regency detailing and a classical colonnade to the exterior. The exteriors are largely brown brick with rubbed red brick used for window and door details. The house is two story, with a third level of rooms under the gabled eaves. Lady Binning bought this beautiful 17th-century house in 1936 and filled it with her highly decorative collections of porcelain, Georgian furniture and 17th-century needlework. The delightful walled garden includes fine displays of roses and a vegetable garden: it is really several gardens in one. A formal area of terraced walks surround green lawns. There is a separate rose garden, and a kitchen garden and apple orchard beyond. Unique charm and atmosphere.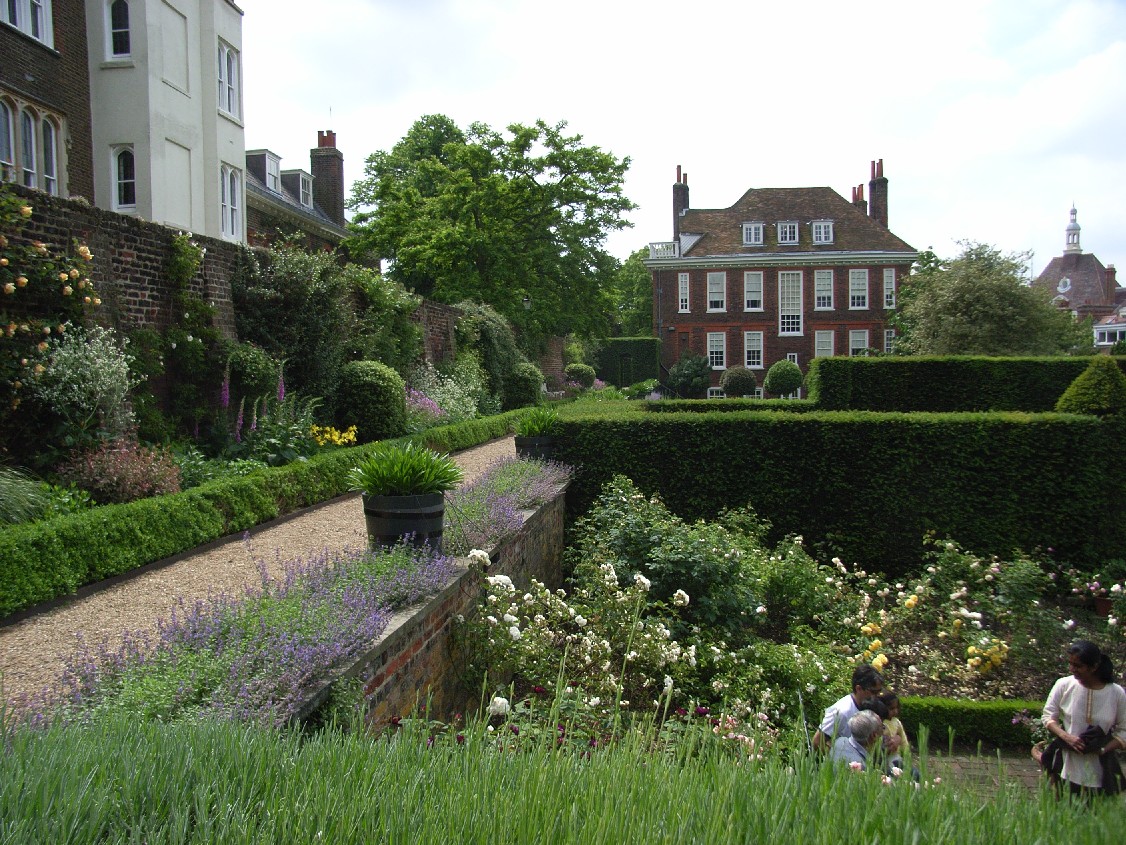 Turn right onto Admiral's Walk. Discover the Admiral's House built around 1700, and featuring in the Walt Disney film Mary Poppins.
Continue along Admiral's walk to one of John Constable's residence and discover how the great artist attempted to paint the very nature of 'wind' itself inspired by his experiences here. It is 5 minutes walk to the underground station. Head EAST on Admiral's Walk toward Hampstead Grove. Turn right onto Hampstead Grove. Continue onto Holly Bush Hill. Keep left to continue on Holly Hill. Turn right onto Heath St and you face the Hampstead tube station.