Southern parts of Budapest:
Attractions: Museum of Applied Arts, Semmelweis University - Semmelweis Egyetem, Budapest Holocaust Memorial, Millenium City, Nehru part, Bálna Budapest, the Central Market Hall (Nagycsarnok Market), Fővám tér, Liberty Bridge (Szabadság-híd), Vigadó tér, Deák Ferenc tér.

Duration: 1 day. Distance: 8-9 km.
Start: Corvin-negyed (M3 line) Metro station.
End: Deák Ferenc tér.
Orientation: A route for more experienced visitors in Budapest. Clearly, NOT your first day route in Budapest. Most of the parts of this route fit a rainy day, or, at least a gloomy, cloudy day. The first half is along sheltered places. The second half involves more walking in open spaces but, the attractions are, still, under shelter. The route involves retracing your steps for 500 m. (from the Holocaust Memorial to the Museum of Applied Arts). I, intentionally, didn't put the Holocaust Memorial as the first site of visit. It is an overwhelming place. This is the perfect route for a day with a first half of rain or bad weather.
The Museum of Applied Arts (Iparművészeti Múzeum), Üllői út 33-37 is the third oldest applied arts museum in the world. The imposing museum building is a wonderful example of Art Nouveau style. Traditional Hungarian design elements merged with Islamic and Hindu motifs along with some Western European Art Noveau influence characterize the building. It is located opposite (west) to the Corvin-negyed (M3 line) Metro station. You can take trams 4 or 6 (Ferenc körút direction) and stop at Corvin-negyed. It was built between 1893 and 1896 and was designed by Ödön Lechner. It has a green roof and the interior is designed using Hindu, Mogul, and Islamic designs. The museum houses major antiques, a collection of metalwork, furniture, textiles, and glass and jewelry & artworks collections. It also has a library. Don't be confused by the seeming variety of combination tickets: the bottom line is that you pay just 2000 HUF and see one exhibition or 3000 HUF and see everything... Museum visit with guide HUF 800. 50% off ticket price for every exhibition: young people (over 6 and under 26),
visitors aged over 62, one or two parents (or other close relatives) accompanying at least two children (under 18). Free admission (Hungarian and European Economic Area citizens): children under 6, visitors over 70, visitors with disabilities, with one accompanying person, on Hungary's three national holidays: 15 March, 20 August and 23 October. 50% off ticket price for every exhibition: young people (over 6 and under 26), visitors aged over 62, one or two parents (or other close relatives) accompanying at least two children (under 18). Opening Hours: TUE - SUN: 10.00 - 18.00. Monday: closed. Photos allowed - but without flash. The museum building, the Atrium, the glass dome and the interior courtyard are spectacular. Its green dome is visible from streets away. It may be under refurbishments and surrounded by scaffolding. I would definitely recommend visiting the museum interiors and (permanent & temporary) exhibitions - even if you only came in order to see the building itself:
Before looking at the exhibitions, take a good look at the inside, which is all white with plenty of attractive white stucco work. A nice hall with a polished floor is situated in the centre and off - limits.It is surrounded by arches that remind you of Indian palaces. From each level, you can look through an arch to the beautiful ground floor and the big hall. On the top floor there is an irregular opening with a balustrade surrounding the opening. From here, you can peer down from three stories high down to the bottom. Stunning view. On this top floor there is a stained glass window of a most unusual shape and a large glass ceiling:
Head northwest on Üllői út and turn RIGHT to Mária utca, 120 m. On your left is the Semmelweis University - Semmelweis Egyetem. The name of the institution honors Ignác Semmelweis, a former professor of the Medical Faculty between 1855 and 1865, who discovered the cause and prevention of puerperal fever. The university has around 10,000 students from 60 nations over five continents. Its five faculties offer courses from undergraduate to doctorate level in Hungarian, English, and German. Foreign students account for about 18% of the total community. Semmelweis was the first Hungarian university, which started to offer international courses at the Faculty of Medicine in German in 1983. The English programs started four years later, in 1987. Nowadays, the university enrolls more than 200 new international students each year. Still, students from Germany form the majority of the international student body, although numbers from Israel, Scandinavia, Ireland and Cyprus show consistent growth in recent years. Semmelweis University is the largest health care institution in Hungary, with over 9,000 employees covering about 6% of the health care needs of the country's population. The university has several clinics along Üllői Avenue. Founded in 1769, Semmelweis University (Semmelweis Egyetem) is the oldest medical school in Hungary. The faculty became an independent medical school after the Second World War and developed into a university teaching medicine, dentistry, pharmacy, health sciences, and health management, as well as physical education and sport sciences:
Turn right toward Baross utca, 75 m, Slight left toward Baross utca another 150 m. Turn left in Baross utca, turn right still in Baross utca, turn right again, and, finally, turn left onto Mária utca, 75 m and the Budapest Holocaust Memorial, Holokauszt Emlékközpont, Páva St. 39 is on your right. Opening Hours: TUE - SUN: 10.00 - 18.00, Monday: Closed. Adult individual tickets: HUF 1400/person. Visitors with Budapest Card are entitled for 50 percent of discount. Security check at the entrance. The Holocaust Memorial Center is one of the few institutions in the world, established by the state, that focuses entirely on Holocaust research and education. An insight into the persecution of the Jews and Roma in Hungary by their own government and by the Nazis. The Holocaust Memorial Center is a national institution established by the Government in 1999. In 2002, it decided to construct the building of the Center in Páva Street, outside of the traditional Jewish quarter, further emphasizing its national character. The visitors are welcomed into a unique space designed by Frank Owen Gehry, one of the leading architects in our time. Building itself is beautiful, wonderful way to preserve the Synagogue in the centre.
The museum is broken up into very clear sections that are all explained with both Hungarian and English captions. Before entering the memorial, you see massive black walls inscribing the names of more than 500,000 Hungarian Jews who perished in the Holocaust. This feat itself would be enough to make the Holocaust Center a must-see in Budapest. There are also 6 large pillars on either side of the entrance to the Pava Synagogue representing the 6,0000 Jews who were slaughtered during WWII. The well-organized exhibition inside begins with an amateur film of a Jewish marriage ceremony just before the Holocaust and ends with an Allied documentary film of hundreds of rotting corpses bulldozed into mass graves after the Holocaust. As an introduction, there is a compelling 15-minute film on the insidious evolution of anti-Semitism. The museum is filled with videos, pictures and artifacts but not in an overwhelming way that takes away from the message:
The rooms follow an order that brings you deeper into the Holocaust with an ending in the brightly lit Synagogue. On the last wall in the museum, there is a startling quote from Night, a book written by the celebrated Holocaust survivor and Nobel Peace Prize recipient Elie Wiesel: "it is a powerful reminder of the horror of genocide not just against the Jews but against all minorities: Never shall I forget these things, even if I am condemned to live as long as God Himself. Never !".
The modern building is organically linked to the Páva Street Synagogue, an authentic venue that once used to be the second largest site for Jewish worship in Budapest. The exhibition ends with this beautifully and buoyantly decorated Pava Synagogue used as a concert hall, especially for the Jewish Summer Festival:
Highly recommended site. Be aware: you can be easily, emotionally be affected. You can spend several moving hours here. Very well done experience with a respectful and honest approach.
It is a 2.5 km walk from the Holocaust Memorial Centre further to the SOUTH to the Millenium City center (Palace of Arts, National Theatre, Ludwig Museum etc'). We retrace our steps back in the direction of the Museum of Applied Arts. Head south on Mária u. toward Baross utca, 400 m. Turn left onto Üllői út, 180 m. Turn right onto Ferenc krt.,(the Corvin-Negyed Metro station is on our left) 600 m. Turn left onto Soroksári útca, 550 m. Turn right onto Dandár köz, 32 m. Turn left onto Lechner Ödön fasor, 160 m. Turn right onto Haller János kapu, 50 m. Haller János kapu turns left and becomes Somlay Artúr stny, 500 m. Turn right onto Komor Marcell utca, 60 m. The Millenium City is opposite and on both sides. The Palace of Arts is in Komor Marcell utca 1. Getting to the Millenium City: Take the Suburban Railway (HÉV) from Boráros tér to Lágymányosi Bridge station (Boráros tér – Csepel route), or Streetcar 2 to Millenniumi Kulturális Központ station:
The Millenium City Center from the Buda side:
The new building complex (opened in 2005) houses the Ludwig Museum, the National Philharmonic Orchestra, Chorus and Music Library and the National Dance Theatre. Beside these there's a nice coffe, a restaurant and a bookstore where you can be lost in admiration of beautiful art albums or just get some special souvenirs or gifts. The Palace of Arts (Művészetek Palotája) had been officially opened in March 2005. It is located near Rákóczi Bridge and was designed by Zoboky, Demeter and Partners Architectural Office. The structure of the Palace of Arts covers a ground area of 10,000 m² and the total floor space of the building is 70,000 m². It received the Prix d'Excellence of FIABCI in 2006 (often referred to as "the Oscars of architecture and real estate development" – in the "specialized" category for buildings offering public services, such as educational institutions, libraries and airports). The venue known to Hungarians simply as Müpa. it's one of the most modern builidng in the city with colorful lights in the night. Come for the Architecture and stay for the top-quality performances. State-of-the-art facilities with top acoustics. Rush for high-value exhibitions and performances with reasonable prices:
Commuter train pass through near the Millenium Center and near the Rákóczi híd (bridge):
Interior of Palace of Arts:
The organ in the Béla Bartók National Concert Hall is ranked among the largest concert hall organs in the world. The instrument - built under the cooperation of Pécsi Orgonaépítő Manufaktúra and Mühleisen Orgelbau Stuttgart - was inaugurated in May 2006 at a ceremony attended by leading figures from Hungary's art, economic and political scene:
The Ludwig Museum of Contemporary Art collects international and Hungarian art, and displays artworks from the past 50 years that have been collected by Peter and Irene Ludwig. Their intention was to bring East and West closer through art. Their donation of 70 contemporary pieces is the basis of Ludwig's collection. Valuable American Pop Art, such as pieces by Andy Warhol, Roy Lichtenstein, Claes Oldenburg and Jasper Johns, as well as significant works of hyperrealism from Chuck Close, Malcom Morley and Richard Estes can be seen. Artworks representing the Eastern-European avant-garde from the 1960s and 70s are displayed parallel with the Western tendencies. Opening hours:
TUE - SUN: 10.00 - 20.00. Entrance fees: Permanent exhibition: Adult: HUF 700, Student & senior: 50% off, Children under 6: free, Budapest Card: 20% off. Temporary exhibition: Adult: HUF 1,400, Student & senior: 50% off, Children under 6: free, Budapest Card: 20% off. Combined tickets are also available:
Béla Bartók National Concert Hall: Tickets Prices (by categories): I: HUF 5 200 II: HUF 4 300 III: HUF 3 600 IV: HUF 2 900 V:HUF 2 100.
- Book at least 3 concerts and receive a 15% discount
• Book 4 concerts and receive a 25% discount
• Book 5–7 concerts and receive a 35% discount
• Book 8 or more concerts and receive a 50% discount.
The National Theatre, which opened in 2002, is located next to it. The National Theatre is a showcase of Hungarian artists and stage directors. Traditional theatre classics, contemporary plays and adaptations from Hungarian literature are on the repertoire. Designed by architect Mária Siklós, the National Theatre has a 619-seat auditorium. The stage is a real moving stage that can be raised at 72 different points, which makes it unique in Europe. The park surrounding the theatre building is full of statues portraying famous Hungarian actors. The park's sculpted gate was designed by contemporary sculptor Miklós Melocco. Hungary's old National Theatre used to be at Blaha Lujza Square, until 1964 when it was torn down by the ruling Communist government. Finding the appropriate location for the new national theatre was the topic of heated debates for decades. In the 1990s the planned location of the new National Theater was Erzsébet Square in the center of the city. Construction started and the underground parking had been built when a new government was elected and the plans were abandoned. They selected the current location in 2000 and the theatre was inaugurated on March 15, 2002:
Duna-Pest Residences at the Millennium City Center, a dual building, luxury residential development includes approximately 310 suites that will offer floor plans ranging from 30 to 240 square meters with final layout and buildups arranged at the owner's requests. As a part of Millennium City Center luxurious condominiums were created in the heart of Budapest. Due to the ideal location, the complete panorama of Buda is visible from the windows of these exceptional condominiums, from the southern part of Buda, up to the Buda Castle and beyond.
The two buildings are attached on the first floor with a glass corridor to make the exclusive service offerings accessible from both buildings. Duna-Pest Residences feature such deluxe amenities as a state-of-the-art controlled access system, full-service concierge, full maintenance service, valet parking and thermal water within the building. The buildings also feature remarkably appointed facilities including fitness center, spa, squash, game room, wine cellar with private lockers and a library. Furthermore, the building's residents can enjoy a private pool with sun patio and a thermal pool. One of the masin offices complexes has been sold to a Dutch private hospital corporation in SEP 2014:
The restaurants and commercial units at ground level also offer a variety of services. At 30 meters above the ground, on the top of the buildings, there are secluded green havens. These roof gardens built as part of the penthouse suites with a superb view of Budapest.
From here we head northward. It is 1.8 km, 35 minutes walk to Nehru part. From Komor Marcell utca - head southwest toward Gizella stny.
120 m. Turn right (north) onto Gizella stny, 1.2 km. Continue onto Nehru part, 230 m. Nehru part is the name of a park in Budapest, on the bank of the Danube, between Bálna and Petőfi Bridge. The Nehru Bank has everything to make it a cool place to hang out: fresh air, a breath-taking panorama of Gellért Hill (on the Buda side of the Danube), and great accessibility. Waiting for coming renovation, it will, certainly, become one of the coolest spots in Budapest:
Continuing north along the Pest bank (the east bank) of the Danube, 5 minutes walk from the Nehru part - will bring us to the Bálna Budapest. The city's newest sight, the Whale (Bálna, formerly called CET) opened in November 2013 after a long period of debate and legal dispute between the municipality of Budapest and the constructor. It is a commercial, cultural, entertainment and leisure centre. A meeting point and a place for experiences. It connects downtown and inner Ferencváros. It has a unique way to create an intimate contact with the Danube. The building is a characteristic attraction, as well as the sight of the city from Bálna. The building alone combines the architectural traits of different eras. The historical brick building and the concrete structures typical of the last century are embraced in a computer designed metal-glass shell. The architect who designed the building, Kas Oosterhuis is one of the most well-known representatives of today's non-standard architecture. The feature of this style is that buildings also function as sculptures, cityscape elements. The marketplace of Bálna serves as a continuation of the market described as the best one in Europe: Nagycsarnok (see below). It offers a wide range of bio-products, antiquities, and everyday tools that represent the recent aesthetic values. Opening hours: MON - THU 10.00 - 20.00, FRI - SAT 10.00 - 22.00, SUN 10.00 - 20.00.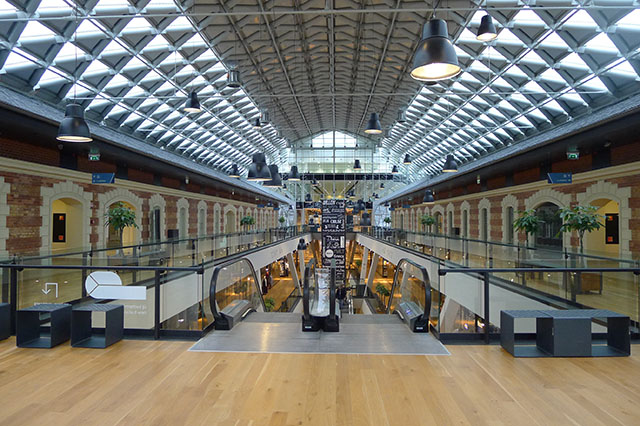 Head north toward Csarnok tér, 30 m. Slight left onto Csarnok tér, 55 m.
Slight right to stay on Csarnok tér and you arrive to the Central Market Hall (Nagycsarnok Market): restored neo-Gothic hall for traders with grocery produce on the ground & souvenirs on the 1st floor. It is located at the end of the famous pedestrian shopping street Váci utca and on the Pest side of the Liberty bridge at Fővám square. The idea of building such large market hall arose from the first mayor of Budapest, Károly Kamermayer, in 1896, and it was his largest investment. The building was designed and built by Samu Pecz around 1897. During the World Wars it was completely damaged and then closed for some years. This is Budapest's biggest market, though it has become a tourist magnet since its renovation, during the 1990s, for the millecentenary celebrations in 1996. The building was awarded with FIABCI Prix d'Excellence in 1999. Still, plenty of locals come here for the fruit, vegetables, deli items, fish and meat. Head up to the 1st floor for Hungarian folk costumes, dolls, painted eggs, embroidered tablecloths, carved hunting knives and other souvenirs. It is the largest and oldest indoor market in Budapest. The Central Market Hall is one of the most popular tourist attractions of the city.
Opening hours: MON - SAT opens at 06.00, closes at 17.00 MON,, 18.00 TUE - FRI and 15.00 SAT. The market is closed on Sunday,
The outside aisles are smaller and frequented more by locals doing their shopping. In general, prices are lower there than on the main center aisle. The interior is very cool looking. Most of the stalls on the ground floor offer produce, meats, pastries, candies, spices (very cheap saffron), and spirits such as paprika, tokaji, túró rudi, and caviar. On the north end of the hall you can get fresh and dried mushrooms and homemade honey. The real tourist shopping is to be found upstairs. On the first mezzanine floor there's food stands and plenty of handicrafts, clothing, embroidery, and other tourist nonsenses. A nice treat is to have a savoury or sweet 'Lángos' (pronounced Lahngosh) (yeast-based dough deep fried in oil topped with sour cream and cheese) from one of the upstairs food stalls. Try the Brumi Food Bar with ample choice of spicy Hungarian dishes: gulyás, stuffed cabbage, lecsó. Most dishes cost around 600 HUF/2.0 EUR. A good value eatery. The basement contains butcher shops, fish market, and pickles. Not only do they have traditional cucumber pickles, but they also offer pickled cauliflower, cabbage, beets, tomatoes, and garlic. The Ázsia delicatessen next to the Match supermarket sells oriental spices, teas, kitchen utensils, sweets, exotic spices like curry, bourbon vanilla and special herb mixes. No elevators. There is an escalator to the upper levels and to the basement. Allow about 2-3 hours exploring the different stalls !!! There are several places to have lunch or dinner. Don't miss the SECOND floor with various prepared hot food vendors. Great souvenirs to bring home since they are light weight and don't take up much room (paprika, caviar (fake ?), red currants, goose liver pate, embroidery etc'). With many items - high quality and reasonably low prices. How to arrive: Fòvam ter metro station on the green line, or Kálvin tér (M3 blue line) or on the 2, 47, 48, 49 trams:
National Gastro Days: Each week from THU to SAT a different nation introduces its culinary delights as well as cultural, and natural treasures. Browse the schedule in http://www.budapestbylocals.com/great-market-hall.html and pick a nation the cuisine and culture of which interest you the most and head for the Central Market Hall.
We continue to Fővám tér. It is 2 minutes walk. Head northwest on Sóház utca toward Fővám tér, 20 m. Turn left onto Fővám tér, 75 m. Turn left to stay on Fővám tér, 50 m. The name of the square literally means "Main Customs Square", as merchants have been selling their produce in the adjacent Grand Market Hall, dating back to the 1890-s. Next to the market is the University of Economics. The Liberty Bridge (Szabadság-híd) (see below) on the right leads directly to the Gellért Hotel and Baths on the Buda side. Great views of Gellert Hill & towards the Chain bridge.
There is a Metro station (Fővám tér) of Line 4 beneath the square. It was opened in March 2014. Other ways of access: Buses: 15, 115, Trolleybus: 83, Trams: 2, 47, 48, 49.
We walk west to the anube river to the Liberty Bridge (Szabadság-híd). Liberty Bridge is the third and shortest bridge of Budapest. It was built for the Millennium World Exhibition in 1896, its original name being Francis Joseph Bridge. It was built to plans resulting from a design competition held in 1893. Originally, it was named Fővám Square Bridge after the Fővám Palace, which currently hosts the Budapest Corvinus University, formerly known as Budapest University of Economics. The bridge was designed by János Feketeházy, chief engineer of the Hungarian Railroads at that time. Construction was started in June 1894. It was inaugurated by Francis Joseph I, who hammered in the last silver rivet on the Pest side on 4 October 1896, at the festivities held for the thousand-year jubilee of Hungary. The bridge was named Francis Joseph after the Emperor. Two years later, in 1898 tramway traffic was started on the bridge. It is 333.6 meters in length, 20.1 meters in width. Lateral swings are hindered by its wind tie structure. Both portals are decorated with the coat of arms of Hungary designed by Virgil Nagy and two Turul statues each. Turuls are falcon-like birds, prominent in ancient Hungarian mythology. During World War II, on 16 January 1945, Francis Joseph Bridge, as every other bridge in Budapest, was blown up by retreating German troops. After the end of the war, it would be the first bridge to be reconstructed. Only its central parts had to be rebuilt. It was reopened for traffic on 20 August 1946, its new name being Liberty Bridge. It meant also the first time after the liberation of Hungary that a tram connecting Buda and Pest crossed the bridge. Liberty Bridge is the shortest bridge in Budapest, you can easily walk across it over the Danube in a couple of minutes:
It is a 1.3 km (20 min.) walk further north, along the Danube promenade to the Vigado ter (not far from Deak ter). From Fővám tér continue onto Belgrád rkp., 500 m. Turn left onto Irányi utca, 25 m. Continue onto Pesti alsó rkp., 160 m. Slight right onto Petőfi tér, 190 m. Continue onto Apáczai Csere János utca, 280 m and Vigadó tér is on your left. This is a small public space found in front of the Vigado Concert Hall with its magnificent facade, facing the Danube river and promenade. There is a late 19th century fountain statue in the centre of this small square that is nice to see. There appears to be a lot of people coming and going here especially in good weather. Vigado Concert Hall was closed, has been recently opened after undergoing extensive remodeling for a long period of time. THere is a small park with a lovely group of sculptures, manicured flower beds, benches to rest:
We walk another 500 m. to the aest to finalize our daily route. Head southeast on Apáczai Csere János utca toward Deák Ferenc utca, 65 m. Turn left onto Deák Ferenc utca, 120 m. Continue straight onto Vörösmarty tér, 40 m. Continue onto Deák Ferenc utca, 230 m.
Turn left onto Deák Ferenc tér.